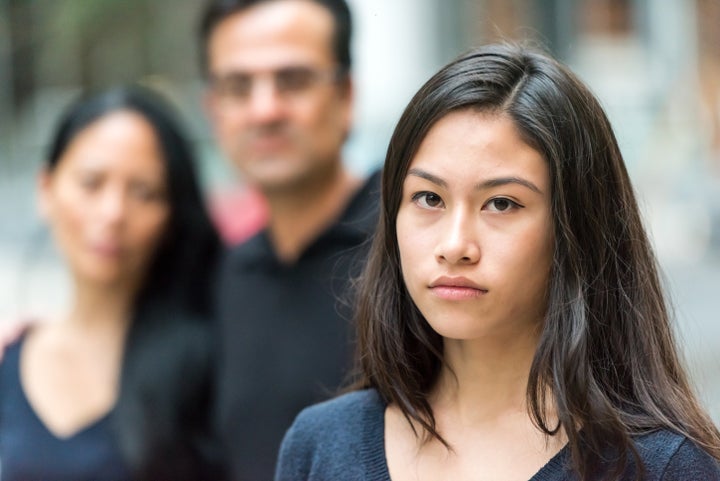 Asian-American activists in California are hoping for another big win on the immigration front following Gov. Jerry Brown's signing of the sanctuary state bill last Thursday. 
Nonprofits are pushing for two of the state's immigration bills that they say would expand protections and services for the immigrant community. The bills are part of a legislative package that includes the sanctuary state bill SB54, which will significantly limit the ways in which state and local law enforcement can cooperate with federal immigration authorities. 
Now, Asian-American organizations are calling on the community to focus on advocating for the remainder of the bundle. Andrew Medina, Asian Americans Advancing Justice-CA's (AAAJ-CA) policy manager, told HuffPost that this is particularly important in light the administration's string of attempted crackdowns on legal and illegal immigration. 
"In an era where Trump is trying to roll back voting rights, bolster his ruthless deportation machine, and scapegoat the Muslim community and other vulnerable communities - California needs to be a leader in the nation in providing these services and protections," Medina, whose organization sponsored several bills in the package, told HuffPost. 
Currently, Asian-American nonprofits are awaiting news on the legislative package's AB 918, which would guarantee language access to voters. They're also hoping for the signing of SB31, aimed at preventing the federal government from compiling a registry based on religious affiliation, national origin, or ethnicity. Both bills would have great significance to the Asian-American and immigrant communities, Medina said. 
The minority group has the country's highest rate of limited English proficiency (LEP), defined as individuals who have limited ability to read, speak, write, or understand English, at 35 percent. And California has one of the highest concentrations of LEP individuals. However, not all of its LEP voters are getting the help they need at the ballots. 
Most bilingual voters are covered under Section 203 of the Voting Rights Act, which stipulates that localities that possess enough members of a certain foreign language group over a threshold are required to provide language assistance to those voters. But as Medina pointed out to HuffPost, this still leaves a huge chunk of Asian-Americans as well as Latino voters unaccounted for. That's more than 530,000 constituents who live in precincts without proper language assistance.
Though it'd create some cost for the state, AB 918 could greatly bolster voter turnout in the Asian-American community, Medina says. Success has been seen in areas with greater language assistance. In fact, after San Diego County boosted its language services, it saw a more than 20 percent increase in voter registration among Filipino Americans. And Vietnamese American registration surged by 40 percent. 
As for SB31, Asian-Americans can attest to how registries based on religion or ethnicity can be used to harm an entire group of people's civil liberties. After all, they've been through it. 
"We only need to look to the history of Japanese internment to see how programs that scapegoat a certain community is a blight to our democracy," Medina points out. 
What's more, such registries have not shown success in protecting the U.S. The National Security Entry-Exit Registration System (NSEERS), a Bush-era program for registering non-citizen visa holders, overwhelmingly targeted those from Muslim-majority countries. While NSEERS was intended to highlight the "vulnerabilities of our immigration system" and "provide a vital line of defense in the war against terrorism," as then-Attorney General John Ashcroft said, the results show otherwise. The program monitored more than 80,000 registrants and placed more than 13,000 in deportation proceedings, a report from Penn State Law indicated. But it failed to result in a single known terrorism conviction. 
"History has demonstrated that registries based on religious affiliation and national origin are not effective law enforcement or anti-terrorism tools," Medina said, underscoring the importance of SB31. 
Medina added that following President Donald Trump's travel ban and the cancellation of DACA, among several other policy moves, he's observed a  heightened level of fear in the Asian-American community. With California being a majority-minority state, the bills would serve as a way to protect its at-risk populations, he said. 
"While we have made many strides in this legislative session establishing protections, resisting harmful Trump policies, and advancing services, there is still more work to be done to ensure that our most vulnerable populations can succeed.   
The governor has until Oct. 15th to act on the pending legislation.  
Calling all HuffPost superfans!
Sign up for membership to become a founding member and help shape HuffPost's next chapter