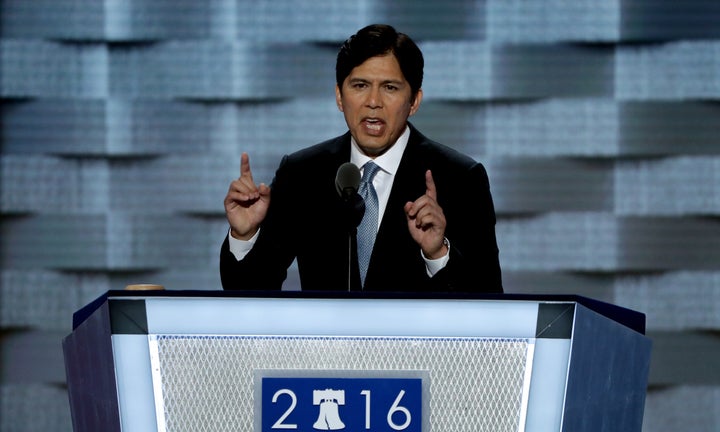 In a press conference, Kevin de León (D-Los Angeles), the state senate president pro tempore, and Anthony Rendon (D-Paramount), the state assembly speaker, announced that both chambers of the legislature ― which now have Democratic supermajorities ― passed identical resolutions calling on Trump to abandon his campaign promise to deport millions of undocumented immigrants.
"Immigrants are vital to many of California's industries such as technology, health care, agriculture, construction, hospitality, and domestic services," reads the resolution. "Immigrants also represent a large percentage of small business owners and create [economic] prosperity and needed jobs for everyone."
The lawmakers also announced the introduction of two bills to help undocumented immigrants if Trump pursues his aggressive deportation plan. SB 6, authored by state Sen. Ben Hueso (D-San Diego), would establish a legal aid fund for people facing deportation. (A similar program is also under consideration in New York.) AB 3, authored by Assemblyman Rob Bonta (D-Oakland), would set up training centers to educate legal workers on immigration law.
"California celebrates diversity," said de León. "We don't deport it."
According to the Public Policy Institute of California, 2.67 million undocumented immigrants lived in the Golden State as of 2013. A 2014 study conducted by the University of Southern California and the California Immigrant Policy Center found undocumented immigrants made up nearly 10 percent of California's workforce and contributed $130 billion annually to the state's GDP.
Monday's announcement is likely to be the first of many legislative moves aimed at challenging the president-elect. California officials have vowed to "lead the resistance" against policies that threaten the state's progressive values, arguing that Trump's views are "inconsistent with the values of the people of California."
"California has long set an example for other states to follow. And California will defend its people and our progress," de León and Rendon said in a joint statement following the election. "We are not going to allow one election to reverse generations of progress at the height of our historic diversity, scientific advancement, economic output, and sense of global responsibility."
California Gov. Jerry Brown (D) issued a similar warning to Trump, pledging to "find common ground whenever possible" while still standing up to the new administration.
"As Californians, we will also stay true to our basic principles," he said. "We will protect the precious rights of our people and continue to confront the existential threat of our time – devastating climate change."
Popular in the Community