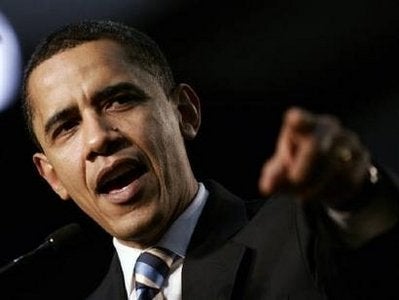 With 441 delegates to the Democratic National Convention up for grabs in next Tuesday's California primary, the Golden State remains the golden ring of the Super Tuesday contests.
California's roughly 3 million independent voters - who make up the fastest-growing segment of the state's voter pool - have long been eyed by each of the Democratic candidates as necessary to push across the finish line on Feb. 5.
But California's complex primary voting rules mean that campaigns have to go the extra mile to get those independent voters to the polls and make sure they actually receive a Democratic ballot on Election Day.
Those efforts have taken on a new urgency inside the Obama campaign, with new data showing the Illinois senator now leading chief rival Hillary Clinton among independent voters in California.
According to a new Los Angeles Times/CNN/Politico poll released Monday of likely Democratic primary voters in California, Obama leads Clinton by 13 points among so-called "decline to state" voters, 41 percent to 28 percent. In an earlier poll conducted by the same media outlets in mid-January, Clinton was leading Obama 52 percent to 29 percent.
The latest poll was conducted before Obama's victory in the South Carolina primary, and has a margin of error of 3 points.
One week ahead of Super Tuesday, Clinton is still considered the favorite to win the California contest. But opinion polling conducted since early voting states went to the polls shows a tightening race.
Observers have long seen Obama as a favorite among independent voters nationally, with much discussion ahead of the New Hampshire primary as to whether the Granite State's famous unaffiliated voter pool would break for Obama or GOP candidate John McCain.
The Obama campaign itself has told California reporters that "independent voters were crucial to Obama's win in Iowa."

But without a concerted effort by campaigns to educate independent voters about how to obtain a Democratic ballot, neither Obama nor any of his Democratic rivals can expect much of a boost from the unaffiliated set.
Californians registered as "decline to state" can vote in the Democratic primary, but they have to specifically request a Democratic Party ballot on election day. Otherwise, they'll be handed a ballot that only contains state measures and propositions.
And voters who want to cast their ballot by mail must specifically ask their county registrar for a Democratic ballot, another step that advocacy groups say is a barrier to getting independents to vote in presidential primaries. Independent voters cannot vote in the GOP primary in California.
"Independent voters are making an unprecedented impact on primary elections across America this year. But in California, if you don't know to ask for a Democratic ballot, you don't get to vote for President," said Rick Jacobs, founder of the Courage Campaign, a progressive grass-roots organization in California that has launched an effort to inform independent voters about voting in the presidential primary.
Jacobs' group points to the low number of independent voters who cast ballots in 2004 - 207,000 - as evidence that California's primary rules are a barrier to entry for independent voters.
The Obama campaign, recognizing that independents are key to pulling out a win in California, have been pushing precinct captains and volunteers to remind independents that they can indeed vote in the Democratic contest.
Calling all HuffPost superfans!
Sign up for membership to become a founding member and help shape HuffPost's next chapter