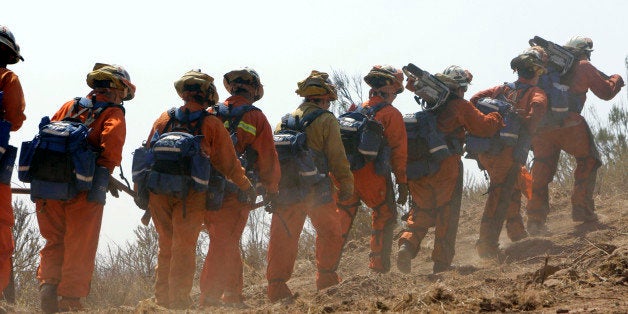 As one of the most threatening wildfire seasons in state history looms, Californians will be relying on some unlikely protectors: prisoners.
More than 4,300 inmates live at approximately 40 locations across California as part of the Conservation Camp Program, which allows low-risk prisoners to spend their sentences fighting fires instead of sitting in cells. A partnership between the California Department of Forestry and Fire Protection (Cal Fire) and the state Department of Corrections and Rehabilitation (CDCR), the program is the country's biggest and oldest program of its kind, NBC News reports, dating back to 1946.
Making up about a third of the force, these inmate fire crews will be essential to protecting a drought-stricken California, Cal Fire spokeswoman Lynne Tolmachoff told The Huffington Post. This year the state has already seen triple the number of wildfires as the same time period in years past.
"The crews are very vital to us, especially this year being as difficult as it could possibly become," Tolmachoff told HuffPost. "They're a great part of our department and a great resource for us to go to. We utilize them quite heavily."
The program is only open to prisoners without a history of arson, murder or other violent crimes, and mainly hosts inmates nearing the ends of their sentences, Tolmachoff said. The CDCR reports that on average, participating inmates are facing two-year sentences and spend eight months at the conservation camps.
The selected inmates all undergo a rigorous training month split between physical challenges and fire instruction before stepping into their new roles. They're paid a few dollars an hour, Tolmachoff said, but the real reward is time off their sentence -- many as two days for each day of work, Time reports -- and an opportunity that paves their way for reentering society.
"There's this great camaraderie when these crews work together," Tolmachoff told HuffPost. "It's a real privilege and it's something a lot of them learn lessons from. Some will actually go on to work for Cal Fire."
In a state prison system overcrowded with non-violent criminals, the Conservation Camp Program is a win-win for inmates and state finances. According to the CDCR, inmates' cheap labor saves California taxpayers $80 million a year, a sum inmate fire crew advocates hope will keep such work programs intact in the future.
"Perhaps it is not surprising that as rehabilitation again becomes a focus in California at least at the level of discourse... fire camps have recently come under renewed attention and interest," the CDCR shared on its website. " Given the malleability of the Conservation Camp Program, it seems likely fire camps will be around for many decades to come."

Calling all HuffPost superfans!
Sign up for membership to become a founding member and help shape HuffPost's next chapter
BEFORE YOU GO
PHOTO GALLERY
Rim Fire Near Yosemite National Park