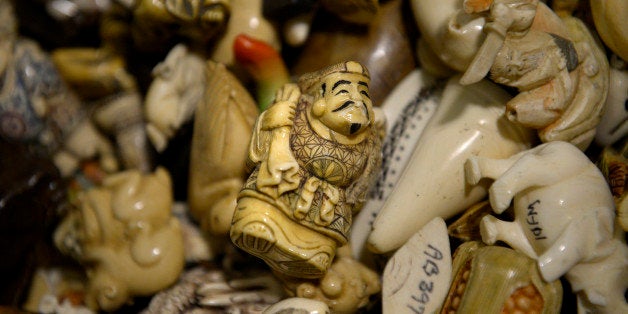 A bill introduced in the California legislature would enforce a strict ban on ivory sales in the state amid conservationists' urge to protect vanishing African elephant populations.
Stricter than U.S. law by a few years, California's current ivory code bans elephant parts imported after 1977. The bill introduced Wednesday by Assembly Speaker Toni G. Atkins and Senator Ricardo Lara does away with that exemption and prohibits "purchasing, selling, offering for sale, possessing with intent to sell, or importing with intent to sell elephant ivory or rhinoceros horn, except as specified under very limited educational and scientific circumstances."
John Casey, a spokesman for Atkins' office, told The Huffington Post that antiques containing 5 percent ivory or less and antique musical instruments containing 20 percent ivory or less -- usually vintage pianos -- will also be exempt.
Allowing the sale of old ivory has let illegal transactions flourish under the radar, a press release from the lawmakers backing the bill says, as certifying when ivory pieces were imported is often impossible. Many merchants have also taken to artificially aging the appearance of new ivory items in order to flout the 1977 rule.
Illegal sales are especially pervasive in California, where San Francisco and Los Angeles trail only New York City in ivory imports, according to a Natural Resources Defense Council (NRDC) study carried out last spring. Even more troubling, up to 90 percent of ivory for sale in Los Angeles and approximately 80 percent being sold in San Francisco is likely illegal, the NDRC found. Much of that ivory is being paraded as antique, but it is not. Overall, the U.S. is second only to China in terms of the size of ivory markets.
"As long as demand for ivory remains high and enforcement efforts are low, the legal trade will continue to serve as a front for criminal syndicates," said John Calvelli, director of the 96 Elephants campaign, which works to end ivory sales, in a press release from Atkins' office. "A California ban on ivory sales is an important step forward in this global effort to save elephants."
An average of 96 African elephants are killed each day -- roughly one every 15 minutes -- for their tusks, which sell for up to $1,500 a pound on the black market, the San Francisco Chronicle reported, contributing to a 76 percent decline in their population over the last few decades. And beyond conservation concerns, regulators and wildlife conservationists say the ivory trade also provides funding for some terrorist organizations, according to the Chronicle.
Peter Knights, executive director of the conversation organization WildAid, told HuffPost that while similar bans were put into place in New York and New Jersey last year, California has a real opportunity to lead the way on further action.
"People all around the world see California as cutting edge," he said. "What happens in California happens around the county."
Casey told HuffPost that Atkins' office has not received any negative response to the bill so far, but ivory collectors have come forward in recent months to defend their pastime.
"All of us want to find the right solution to stabilize elephant populations in Africa through sound economic and conservation policies," ivory collector Godfrey Harris wrote in a Los Angeles Times op-ed. "But the answer must not come at the expense of collectors who play such an important role in preserving important, interesting and revelatory objects in our cultural history," he said. Harris added that the International Ivory Society, on whose advisory board he sits, believes removing valuable antique ivory objects from circulation will simply increase the market price for raw ivory abroad and further endanger elephants.
Calling all HuffPost superfans!
Sign up for membership to become a founding member and help shape HuffPost's next chapter
BEFORE YOU GO
PHOTO GALLERY
Elephant Overload