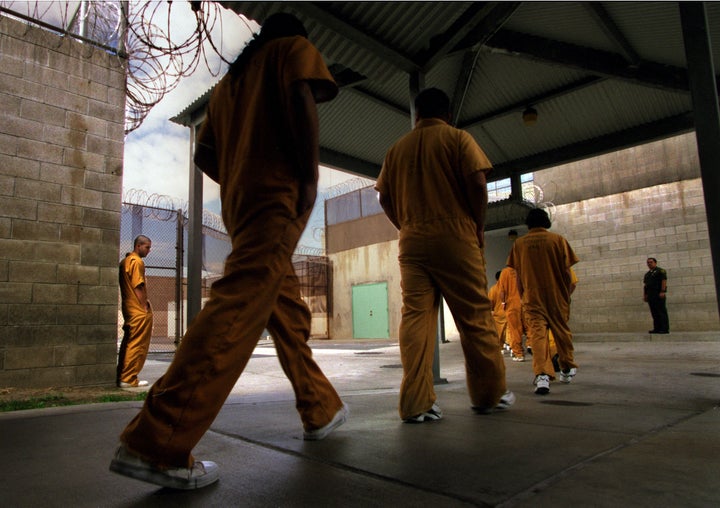 The Orange County Sheriff's Department illegally recorded more than 1,000 confidential calls between inmates and their attorneys since at least 2015 ― a violation of attorney-client privilege, considered to be one of the most sacred aspects of criminal law — a department employee revealed in court testimony this week.
The revelation adds to the turmoil in a county that has for years been roiled by a scandal linked to the illegal use of jail informants by the sheriff's department and district attorney's office. That matter, which includes the use of illicit recordings of inmates by law enforcement, is believed to be the largest informant scandal in U.S. history.
"The law has been clear for decades that calls between prisoners and their lawyers are confidential and may not be listened to or recorded. But this kind of unlawful eavesdropping occurs with alarming frequency," said David C. Fathi, the director of the American Civil Liberty Union's National Prison Project. "Whether it's inadvertent or intentional, prisons and jails need to have robust protections in place to ensure that this kind of snooping doesn't happen."
The testimony from the sheriff's department employee came after a letter was presented in court from Global Tel Link Corp., the department's contractor for the jail phone system, that said a "technical error" led to the recording of 1,079 inmate calls from January 2015 to July 2018. The sheriff's department or GTL staff accessed 58 of those recorded calls 87 times, the letter states. The letter was sent to Orange County Sheriff Sandra Hutchens on July 27.
Joel Garson, the defense attorney who discovered the breaches, said that some of those recordings were shared with other law enforcement agencies.
During testimony, the sheriff's department employee said that the department had taken no action to notify any of the attorneys or defendants who were recorded but that it would begin to do so.
Garson represents Josh Waring, 29, who is charged with attempted murder in connection to a 2016 shooting in Costa Mesa and is one of the inmates whose calls were recorded. (He is also the son of a former "Real Housewives of Orange County" cast member.) Garson has argued that Waring's case should be dismissed because of outrageous government conduct.
"This could potentially unravel some convictions or pending cases," Garson said. "There's been a lot of cases in the United States that say attorney-client privilege is one of the most sacred of privileges, especially in the criminal realm, and there have been many cases dismissed where that has been breached one way or another."
Of the calls that were accessed, Garson said, almost all were to public defenders' phone numbers. "Having seen that list, I am expecting that the vast majority of the calls on the 1,079 list were to public defenders."
Garson said he's not convinced that the sheriff's department didn't know about this years ago. "In all those calls listened to by the sheriff's department or another law enforcement agency and you hear a defendant talking to their lawyer, someone should know the system isn't working and that they shouldn't be listening to this, yet no one was notified."
Orange County public defender Sharon Petrosino called the recordings and sharing of them with law enforcement agencies a clear breach of attorney-client privilege.
"While I understand that computer glitches happen, this became more than that," she said. "At some point, they knew they were recording attorney-client conversations and not only kept doing it but compounded it by sharing that with other agencies."
In a statement emailed to HuffPost, Hutchens said she learned of the glitch that apparently led to the recordings in June. Since then, she said, sheriff's department staffers "immediately" directed the phone contractor to correct the issue. Her statement did not reveal why she delayed disclosure of the unlawful recordings for two months.
"I am deeply disappointed that this technical glitch by GTL occurred and concerned about the serious consequences it may bring," Hutchens wrote. "The Sheriff's Department is looking to review the terms of our agreement with GTL, considering action for breach of contract and taking into serious consideration our options for providing inmate telephone services."
She added that she intends to request the county's Office of Independent Review to look into the issue.
The Orange County District Attorney's Office said that it learned of the issue this week after the court testimony and that it will review any cases affected by the recordings.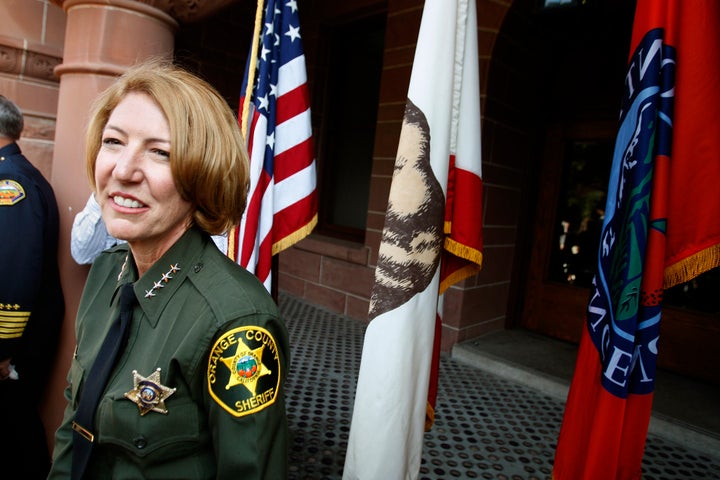 A county already in crisis plunges deeper
The illegal recordings add to the criminal justice crisis that has plagued the county for years. The recordings raise further doubts about the purported yearslong probes by California Attorney General Xavier Becerra and U.S. Attorney General Jeff Sessions in the county. Both have said they are overseeing investigations into the Orange County District Attorney's Office and the Orange County Sheriff's Department over their roles in the jailhouse snitch scheme. The fact that the illegal recordings were made for many years ― during which the state and federal governments said they were investigating county agencies plagued by a lack of disclosure of evidence ― raises unsettling questions about the investigations.
In 2014 an assistant public defender, Scott Sanders, alleged that prosecutors and law enforcement officers in Orange County for decades ran an illegal jailhouse informant program that violated inmates' rights ― including those of his client, Scott Dekraai, a tugboat captain who killed eight people at a Seal Beach salon.
Sanders contended that in multiple cases, the district attorney's office and the sheriff's department colluded to plant informants in county jail cells in order to obtain damning information from defendants who were awaiting trial and were represented by lawyers ― a violation of an inmate's right to counsel. According to Sanders, prosecutors then presented that evidence in court but withheld evidence that could have been beneficial to the defense — a violation of a defendant's right to due process.
The judge who presided over the Dekraai case, Thomas Goethals, barred District Attorney Tony Rackauckas' entire office from further prosecuting the case because of prosecutorial misconduct. Dekraai was sentenced to multiple life sentences, rather than death, because of concerns his rights were violated during years of hearings that were marked by a disturbing lack of disclosure of evidence and false statements by law enforcement officials during testimony.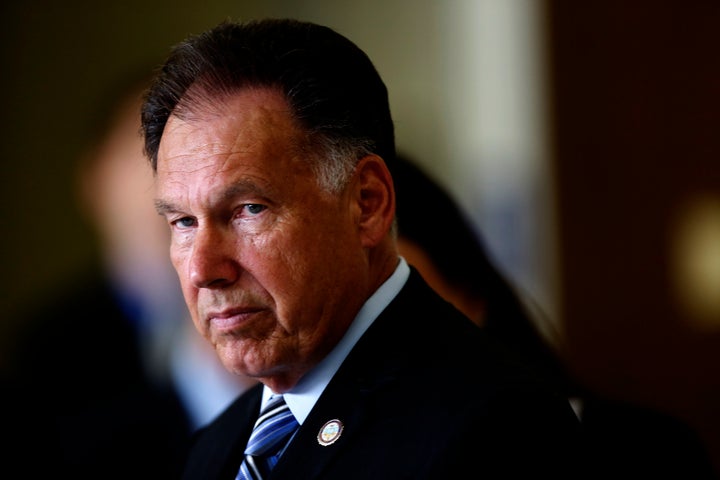 The recording of defendant-attorney communications is occurring with disturbing frequency around the nation
In jails and prisons across the U.S., it's typical for a third-party private company to contract with law enforcement to provide the facilities with phone services. Recording inmate calls is commonplace and easy. There are legitimate reasons for law enforcement to record some calls — for example, if a defendant is under investigation — but there are state statutes and the Sixth Amendment right to counsel that prohibit authorities from listening to conversations with their lawyers. But these protections are frequently not as robust as they might seem, nor are they uniform from state to state.
In Louisiana, for example, judges have held that incarcerated defendants have essentially waived their right to speak confidentially with their attorneys over the phone because at the beginning of every jail call is a recorded message that says the conversation may be monitored. More alarming is that authorities have been caught covertly recording communications between attorneys and their clients with disturbing frequency around the nation for years. Multiple incidents — in California jails and most recently in a Los Angeles courthouse last month — have surfaced, as well as in jail facilities in Texas, Pennsylvania, Florida, Kansas and others.
Peter Joy, a law professor at Washington University in St. Louis who has studied government surveillance of privileged attorney-client communications, said that in recent years, there is evidence of an increase in reports of secret recordings of calls between inmates and their lawyers.
"We do not know how extensive secret recordings are," he said, adding that the recordings usually come to light only when turned over by a prosecutor who is seeking to use the recordings as evidence or when a public defender office has asked a court to look into whether secret recordings are being made.
This sort of behavior from authorities is extremely damaging to the work of defense attorneys. If lawyers can't speak openly and candidly with their clients about their cases, it's impossible for defense attorneys to do what they are constitutionally required to do.
Criminal defense attorneys and public defenders often must rely on phone calls to incarcerated clients. Those defendants are, of course, unable to meet anywhere outside their facilities. And defense attorneys, who frequently carry large caseloads, are often unable to visit their clients in person as often as they might want to in order to discuss their cases ― discussions that any client who isn't incarcerated expects and deserves.
"The real problem is that people who are presumed innocent ― but held in jail ― are effectively stripped of all privacy," said Peter Santina, a former public defender who is now a private defense attorney in Oakland, California. "The denial of the right to a confidential legal consultation is only one symptom of this dehumanization. For those that the state insists on incarcerating, the state should still allow for some amount of privacy and dignity."
Thomas Frampton, formerly a public defender in New Orleans and now a lecturer at Harvard Law School, said he continues to hope it's rare that authorities are regularly recording and reviewing attorney-client calls but "with each new story like this, I'm beginning to wonder whether it's not much more widespread than we've all assumed."
He said that even if it is relatively rare, it can still have an enormously destructive impact.
"Even if this is only happening in a few jurisdictions, it can have a ripple effect that undermines the administration of justice anywhere defendants have to put their faith in the system to allow confidential communications," Frampton said.
Disturbingly, the only ones who know for sure whether law enforcement is or isn't recording communications between defendants and their attorneys are law enforcement agencies and the companies they contract to provide phone services.
"That's a serious problem," Frampton said.
Popular in the Community