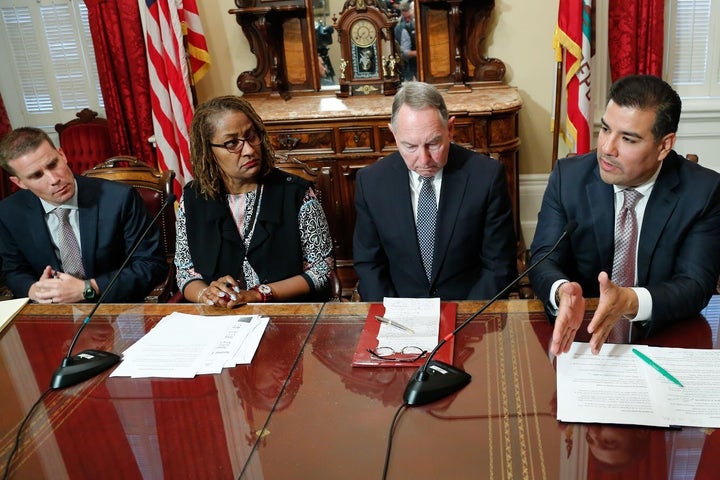 Today, the California legislature passed the first bill in the country to put a moratorium on immigration detention expansion and give a state agency the power to monitor federal immigration detention facilities.
California's budget bill, Assembly Bill 103, gave the Attorney General of California the power to monitor all California immigration detention facilities―both private and public. California also appropriated $1 million dollars per year for the next 10 years for the Attorney General to oversee immigration detention facility conditions.
In addition, the state of California implemented a moratorium on all new contracts between California municipalities and the federal government for immigration detention facilities. This includes contracts for both adult and child detention facilities. The budget action also prevents current municipalities, such as Orange County, from modifying their contracts to expand their publically-run immigration detention facilities.
In May, the Orange County Board of Supervisors voted to expand their immigration detention bed space by 120 jail cells. If signed by Gov. Jerry Brown, Assembly Bill 103 should block this expansion from going into effect.
This bill comes on the heels of the Trump administration's announcement that it will curtail protections for detained immigrants, while expanding the immigration detention regime.
ICE and its contractors already operate with impunity in California. My organization, Community Initiatives for Visiting Immigrants in Confinement (CIVIC), filed a federal civil rights complaint and we gathered data through the Freedom of Information Act about sexual and physical assault in detention. We found that in the last 6 years, the Office of the Inspector General (OIG) at the Department of Homeland Security (DHS) received over 33,000 complaints of sexual or physical assault against DHS component agencies. DHS' Inspector General investigated less than 1 percent of these complaints.
If the federal government is unable or unwilling to regulate detention facilities, it is time for the state of California to provide its own oversight over immigration detention.
Today's budget action goes hand in hand with the Dignity Not Detention Act, Senate Bill 29, which will get local government out of the business of for-profit immigration detention in California.
This week, 42 women and men went on hunger strike to protest inhumane detention conditions at the Adelanto Detention Facility, the largest for-profit immigration detention facility in California. Rather than addressing their concerns, ICE and the private prison corporation GEO Group have adopted a head-in-the-sand approach, denying that any problems exist. Earlier this week, GEO guards drenched the men in pepper-spray, beat them, and took them into a high security part of of the prison. The women were threatened with the same abuse.
The Dignity Not Detention Act, which will end for-profit immigration detention contracting for facilities such as Adelanto, passed the California Senate last month and is headed to the Assembly floor this summer. Together, AB 103 and SB 29 will provide a comprehensive response to our complex and broken immigration detention system.
This bill sends a very loud and clear message. We will not permit the Trump administration to expand its detention regime in the state of California or operate with impunity behind locked doors. We hope that this bill inspires others states to take our lead.
Support HuffPost
The Stakes Have Never Been Higher
Popular in the Community