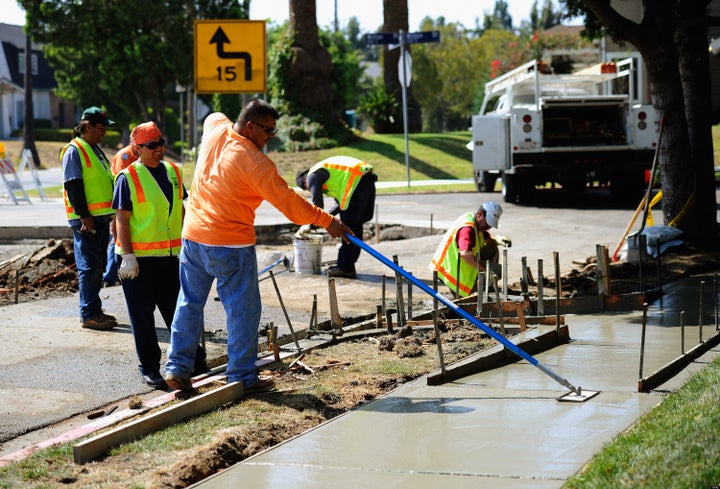 Even as they openly criticized the federal stimulus program as a waste of money, several members of Congress from California wrote to federal agencies asking for their share of the $800 billion in spending, an investigation by the nonprofit Center for Public Integrity has found.
Some of the state's most outspoken stimulus critics - including Republican Reps. Kevin McCarthy, Tom McClintock and Dana Rohrabacher - have filed letters backing various transportation and telecommunications projects, at times invoking their potential to create jobs while publicly arguing that the stimulus would fail to create jobs.
"At a time when our state unemployment is significantly higher than the national average, this project will quickly put people to work," McCarthy, who is from Bakersfield, wrote in an August 2009 letter requesting funding for a highway improvement project.
Just a few months later, McCarthy quipped on the stimulus' one-year anniversary that, "the percentage of Americans who believe that Elvis is still alive is greater than those who believe the stimulus effectively created jobs."
McCarthy's spokeswoman did not respond to multiple phone calls and e-mails requesting comment.
A similar disconnect has played out again and again across the country, according to the Center for Public Integrity, an investigative reporting nonprofit based in Washington D.C. To tell the statewide story, California Watch, a partner of the center, obtained documents from the center.
Nationally, the center found that scores of Republicans and conservative Democrats who criticized the stimulus mounted behind-the-scenes campaigns on behalf of projects in their districts. In other cases, Democratic leaders who had boasted about blocking special spending requests from fellow lawmakers later lobbied on behalf of funding for the same special-interest groups.
National conservative advocacy groups in particular saw a touch of hypocrisy in the funding requests, according to the Center.
"The GOP should not be taking this money and spending it regardless of where it came from," Rob Gaudet, national coordinator for Tea Party Patriots, told the Center for Public Integrity. "They should be fighting against it with every fiber of their elected beings."
Others, including some members of Congress, argued that lawmakers would have done their constituents a disservice by not applying for the funds.
"A lot of them probably do this with a little bit of a sick feeling in the pit of their stomach," said Jon Coupal, president of the Howard Jarvis Taxpayers Association. "They say 'We don't like it, it's a bad program,' but once it passes, what are you going to do? Let (the money) sit there?"
In California's delegation, dozens of Republicans and Democrats signed their names to letters requesting funding for specific projects, documents show. Support for the stimulus here has broken along party lines, with Republicans opposing it and Democrats supporting it.
The center's investigation turned up at least a dozen California Republicans who wrote federal agencies backing stimulus projects in their districts, including several of the program's outspoken opponents.
In one case, Rohrabacher, an Orange County Republican, argued in a letter that high unemployment rates around Long Beach should help justify the funding of an emissions reduction program at California State University, Long Beach.
"I am keenly aware of the critical need for economic stimulus in the City of Long Beach where the July 2009 unemployment rate was 13.7% compared to the national rate of 9.7%," Rohrabacher wrote last September in a letter to U.S. Transportation Secretary Ray LaHood.
But five months later, Rohrabacher posted a statement assailing the stimulus as a "boondoggle," and writing that "334,000 Americans, just in the past year, have been desperately looking for work but have given up, no thanks to the stimulus." His spokeswoman did not return calls and e-mails requesting comment.
Most of the California support letters uncovered by the center related to transportation and broadband expansion projects.
Dozens of lawmakers, including Democratic Sen. Barbara Boxer, wrote administration officials in support of projects that would extend broadband Internet access into rural and inner-city areas. Boxer specifically supported such projects in rural areas like the North Coast and Nevada County.
But many of the largest projects requested by lawmakers were for transportation infrastructure.
Rep. Jerry Lewis, R-Redlands, opposed the stimulus as the ranking member of the House Appropriations Committee. But last October, he wrote a letter in support of $365 million in so-called TIGER grants for a variety of projects that would improve shipping capacity and upgrade rail lines in Southern California.
"I encourage your support of the Group's grant application," Lewis wrote. "The combination of job creation and economic impact, not only in Southern California but nationwide, make these projects a cost effective and exemplary use of TIGER funds."
"As a general rule, the congressman sees it as his responsibility in representing his constituents in his district," said Lewis' spokesman, Jim Specht. "I don't think he sees it as a particular inconsistency. His opposition to the stimulus came because it was substantially overfunded and used in ways that he thought were inappropriate."
McClintock, an Elk Grove Republican and outspoken critic of government spending, wrote at least five letters supporting transportation projects, records show. Rep. Mary Bono Mack, R-Palm Springs, was singled out in a White House report along with McCarthy for boasting about stimulus projects without supporting the stimulus itself.
Others, including Rep. Dan Lungren, R-Gold River, have been called out by media reports and opposing campaigns for much the same thing in recent months. Lungren, along with Rep. Jim Costa, D-Bakersfield, teamed up to support $70 million in grant requests to a Rancho Cordova company developing zero-emission power plants.
The argument over whether stimulus opponents should pursue money under the program is nothing new. Earlier this year, Gov. Arnold Schwarzenegger even took time to criticize his fellow Republicans for touting stimulus grants.
"I find it interesting that you have a lot of the Republicans running around pushing back on the stimulus money and saying this doesn't create any new jobs," Schwarzenegger said in a February interview on ABC's This Week. "Then they go out and they do the photo ops and they're posing with the big check and they say, 'Isn't this great?'"
Although none came from California, the center's investigation also found examples of Democrats who sought funding despite their opposition to the stimulus.
Rep. Walt Minnick, an Idaho Democrat, was one of 11 Democrats to vote against the bill, but he later wrote letters to Commerce Secretary Gary Locke requesting funding for four different broadband projects.
His communications director, Dean A. Ferguson, told the center that Minnick "voted against the bill, but said from that day forward that his obligation is to help his constituents. So he went to work not only writing letters but also making people aware of the many new rules and procedures."
Derek Cressman, regional director of the watchdog group Common Cause, echoed that sentiment. Taking a political position against the stimulus, but then seizing on the funding opportunities it creates, could be seen as a candidate working in the best interests of their constituents, he said.
"But if their argument is that this wouldn't work to create a job, ever, then they write saying 'This project will create 47 jobs in my district,' then I think that's interesting," Cressman said.
Calling all HuffPost superfans!
Sign up for membership to become a founding member and help shape HuffPost's next chapter