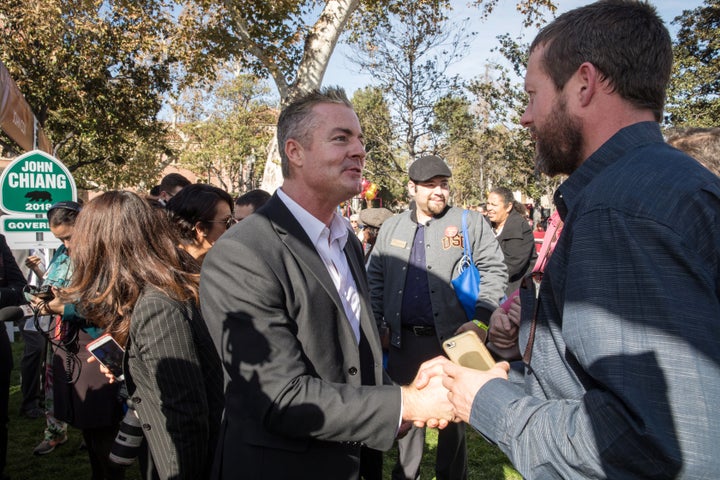 California state legislative leaders on Friday released records on a dozen sexual harassment investigations dating back to 2006 and implicating several current and former state lawmakers, including one currently running for governor.
Republican gubernatorial candidate Travis Allen and five others who were members of the California State Legislature at the time of the incidents were named in the unprecedented release. The documents lend weight to what female lawmakers have decried as a "pervasive" culture of misogyny and sexual impropriety in the state Capitol.
The cases listed in the heavily redacted records describe incidents where disciplinary action was taken or warnings were delivered to elected officials or their employees on the basis of well-founded allegations.
The 2013 allegation against Allen, a state assemblyman from Huntington Beach, involved one female staff member who said he seemed to "make a practice of being unnecessarily close to her." She said that during a briefing, as they were sitting next to each other, he "slid his foot over so that it was touching hers." 
Another woman in Allen's office allegedly told the staff member that he held onto and "petted" her hand after shaking it.
According to the records, Jon Waldie, then-chief administrator of the State Assembly, told Allen that two women had filed complaints against him and reminded him "to be very conscious of his conduct." Allen reportedly responded that he "could not recall a time when he might have been too familiar with staff," but suggested that two women had been "overly friendly" with him during an event.
Allen's office did not respond to requests for comment.
The records detail sexual harassment complaints against three other current lawmakers ― Assemblywoman Autumn Burke (D-Marina Del Rey), Sen. Tony Mendoza (D-Calif.) and Sen. Bob Hertzberg (D-Calif.).
They also note investigations into misconduct by several now-former assembly members, chiefs of staff and other high-ranking legislative employees. Former Assemblyman Raul Bocanegra (D-Pacoima), who resigned last year amid allegations of harassment by multiple women, was among those named.
Mendoza is currently on paid leave-of-absence amid an investigation into accusations that he sexually harassed young women working in his office. But the documents do not appear to show that any of the current lawmakers were formally disciplined.
The release comes months after media outlets first requested access to the records, according to The Associated Press, and in the wake of a public letter from nearly 150 female legislators and political consultants on abuses in the Capitol.
"Men have groped and touched us without our consent, made inappropriate comments about our bodies and our abilities. Men have made promises, or threats, about our jobs in exchange for our compliance, or our silence. They have leveraged their power and positions to treat us however they would like," the letter said.
"Why didn't we speak up?" it added. "Sometimes out of fear. Sometimes out of shame. Often these men held our professional fates in their hands. We're done with this."