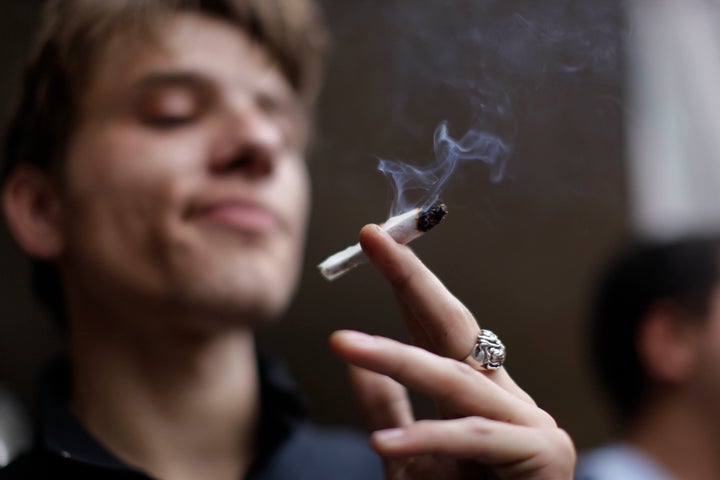 It's a fine time to be a criminal in California. Arrests in every category of crime are down -- way down: Arrests for rape, murder, and theft have all decreased by two-thirds since 1990, according to a study published last week by the Center for Juvenile and Criminal Justice.
Annual busts for simple possession, with no sales, transporting, or other penalty enhancements added, have doubled since 1990 to 54,800 arrests in 2010, according to California Department of Corrections and Rehabilitation statistics.
As usual, the vast majority of those incarcerated for simple possession are black, the study says. But in an interesting twist, they're not just black -- they're young and black, with over half of these busts involving teens.
These arrests were all made before Jan. 1, 2011, when a law that makes possession of less than an ounce an infraction punishable by a fine, with no court appearance required. To be completely unfair, marijuana possession comprised 8 percent of all drug busts in 1990, and 30 percent today.
It's probably safe to assume marijuana use has increased since 1990, as the drug itself has become much more prevalent since the state passed the nation's first medical marijuana laws in 1996. And without context or further details on each arrest, it's impossible to know if those busted were hauled in with a minuscule 2 grams or a saleable 2 pounds (though unless your District Attorney is, or was, Terrance Hallinan, the latter is almost certainly going to be charged as a felony).
It's worth mentioning that the Bay Area is largely a safe haven for victims of this cannabis crackdown. San Francisco and Contra Costa counties are among the places where a Californian is least likely to be imprisoned for a marijuana offense, according to a rundown of where the 1,224 Californians incarcerated for marijuana in 2010-2011 were sentenced. Still, a black person is 10 times more likely to be put behind bars for pot than a white person.
This trend appears not to be isolated, and in fact, it is much more prevalent in other places: In New York City, where marijuana was decriminalized way back in 1977, police arrested 50,000 people for simple possession, according to reports, or about as many arrests in the entire state of California.
SF Weekly attempted to contact a representative from the California Narcotics Officers Association to explain the huge surge in pot busts. A receptionist at the CNOA's Southern California headquarters informed us that no one was available to comment. Turns out they're all in Reno for a conference, and won't be back until next week.
So we turned to Mike Males, the senior research fellow at the CJCJ who authored the study.
"This is simply the inevitable evolution of the War on Drugs," said Males, who notes that more people use marijuana than any other drug because it's the safest. He also pointed out that the drug war focuses on them because that's where it can cause the most harm. "The War on Drugs is not intended to solve the drug problem -- it's intended to maxmize the harm drugs cause in society."
Related
Popular in the Community