LOS ANGELES ― California is now the largest state in the nation to have legal and regulated recreational marijuana. And while that alone is a blow to the prohibitionist policies of the failed war on drugs, a lesser-known provision in the state's new law, along with efforts in a few local jurisdictions, aims to repair some of the damage that the criminalization of marijuana has done to so many communities.
"California's Proposition 64 ballot measure was not only about marijuana legalization, it was one of the most progressive sentencing and criminal justice reforms in the entire country," said Eunisses Hernandez, a policy coordinator at Drug Policy Alliance, a leading drug policy reform group.
A year ago, voters approved Proposition 64 to legalize marijuana for recreational purposes and reduce criminal penalties for various marijuana-related offenses for adults and juveniles. It also authorized a new process for individuals in the state to get previous marijuana-related convictions retroactively reduced, reclassified as lesser offenses or dismissed altogether.
The process could end up helping hundreds of thousands of people whose lives have been disrupted or derailed over activities that became legal as of Jan. 1. Criminal convictions can have devastating consequences long after the offense was committed, making it difficult to obtain employment, bank loans and housing.
"In many ways, Proposition 64 has already been a success because we've ended the unnecessary and arbitrary criminalization of Californians around this issue, and helped tens of thousands of people who were unjustly unable to seek career and education opportunities due to prior non-violent marijuana offenses," Lt. Gov. Gavin Newsom told HuffPost.
But relief is not automatic under the new law. Individuals who want their marijuana convictions reclassified or cleared must submit an application to a court. They may also need to hire an attorney to help them through the process. About 5,000 people have so far applied to have marijuana sentences reviewed for possible relief, according to data compiled by the Judicial Council of California. And while it's encouraging that some are taking advantage of the new process, it's an extremely small fraction of the number of people who have been arrested for marijuana offenses in the state.
California produces vast amounts of marijuana and has done so for years. In 1996, it became the first state to legalize medical marijuana. And despite the passage of more permissive laws, there were still thousands of marijuana-related arrests annually. From 2006 to 2015, there were nearly 500,000 people arrested for marijuana offenses, a recent DPA report found. And Rodney Holcombe, a legal fellow at DPA, said that there may be close to 1 million people in the state who have convictions that could now be eligible for relief.
"Creating a safe, legal and tightly regulated system for adult-use marijuana is, at its core, about criminal justice reform and fixing a broken system that has disproportionately harmed low-income Californians and communities of color," said Newsom, a proponent of Prop. 64.
Beyond sentencing, some local governments are making efforts to further repair damage from criminalization by enacting "equity programs" that allow for victims of the war on drugs to have application priority during the marijuana business licensing process.
"As we know, communities of color have been most negatively impacted by marijuana prohibition throughout the years ― folks have been incarcerated for activity that is now completely legal ― and you have a new demographic now coming in taking over these spaces making millions of dollars through this industry," Holcombe said. "These programs can provide a tremendous opportunity for low-income folks, folks of color, folks who have lived in neighborhoods that have been over-policed, especially during the height of the war on drugs."
To that end, Oakland launched the nation's first equity permit program earlier this year. It sets aside half of all medical and recreational marijuana business licenses for applications by individuals hit hardest by marijuana criminalization. In their research during the development of the program, Oakland City Council found that over the past two decades, the black community has been extraordinarily over-represented in marijuana-related arrests in the region. In 1998, up to 90 percent of marijuana arrests involved a black suspect. By comparison, just 3.9 percent of those arrested were white.
To qualify as an equity applicant, individuals must be an Oakland resident whose annual income is less than 80 percent of the average in the region and either have a previous marijuana conviction or have lived in over-policed areas of the city for 10 of the last 20 years. For those who qualify, the application fee is also waived.
City councils in Los Angeles, San Francisco and Sacramento are also considering equity programs.
Holcombe hopes that local jurisdictions ― and other states that may legalize one day ― give a leg up in the industry to even more people, especially those who don't have the funds to start a business and who may have a marijuana conviction that makes getting a bank loan difficult. Holcombe said cities could address this through allocating a portion of marijuana sales tax to fund these equity applicants' start-up businesses while also prioritizing women and minority business applicants.
The state's marijuana industry already has a projected value of $7 billion, and, as more marijuana retailers obtain permits, state and local governments are expected to collect $1 billion annually in tax revenue. With such an enormous marketplace, California should prioritize access for those who had been targeted by anti-marijuana laws, Erik Altieri, executive director of marijuana policy reform group NORML, told HuffPost.
"As states start dialing back their war on marijuana consumers," Altieri said, "it is important that those who were most negatively impacted by our oppressive prohibition are able to see previous harms remedied as best as possible and be given the opportunity to participate in the benefits that come along with legalization and regulation."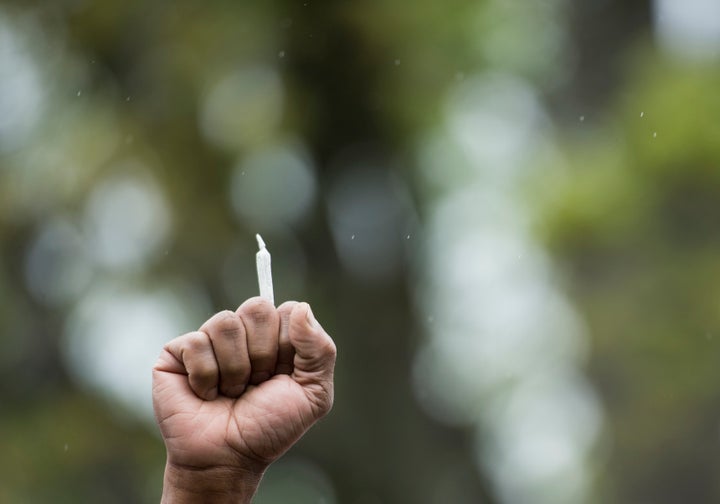 Popular in the Community