Supporters of a drive to legalize recreational marijuana for adults in California said on Wednesday they had collected more than enough signatures to qualify the measure for the November ballot, formally launching their campaign to win over voters.
Democratic Lieutenant Governor Gavin Newsom, leading a coalition of supporters that includes billionaire high-tech entrepreneur Sean Parker, said the campaign had gathered some 600,000 petition signatures, well above the 365,880 minimum required.
The signatures must still be officially certified by state election officials, but "you can rest assured this will be on the November ballot," Newsom told a San Francisco news conference to kick off efforts to build voter support for the initiative.
The initiative, dubbed the Adult Use of Marijuana Act, would allow an individual aged 21 or older to possess and use as much as an ounce of marijuana for private recreational use, and permit personal cultivation of as many as six marijuana plants.
The measure would also establish a system to license, regulate and tax sales of marijuana, while allowing city governments to exercise local control over or disallow commercial distribution within their borders.
Opinion polls show attitudes have shifted more in favor of liberalized marijuana laws since California voters defeated a recreational cannabis initiative in 2010.
California led the way in legalizing marijuana for medical purposes in 1996, with 22 other states and the District of Columbia following suit, although cannabis remains classified as an illegal narcotic under U.S. law.
Voters in four states - Colorado, Washington, Oregon and Alaska - plus the District of Columbia, have gone a step further since 2012 in permitting recreational use for adults.
Opponents of liberalized marijuana laws have argued that such measures carry major public safety risks and would make pot more accessible to youngsters.
But supporters of the California initiative said the measure included a number of provisions aimed at keeping marijuana out of the hands of minors, including a ban on marketing to children, explicit warning labels on cannabis products and safe-packaging restrictions.
They also said hundreds of millions of dollars in state tax revenue from pot sales would be earmarked for substance abuse prevention and treatment, law enforcement and research.
One key organization backing the latest ballot measure is the NAACP civil rights group, which has embraced the argument that current marijuana laws have led to a disproportionate number of minorities being incarcerated for minor drug offenses.
Before You Go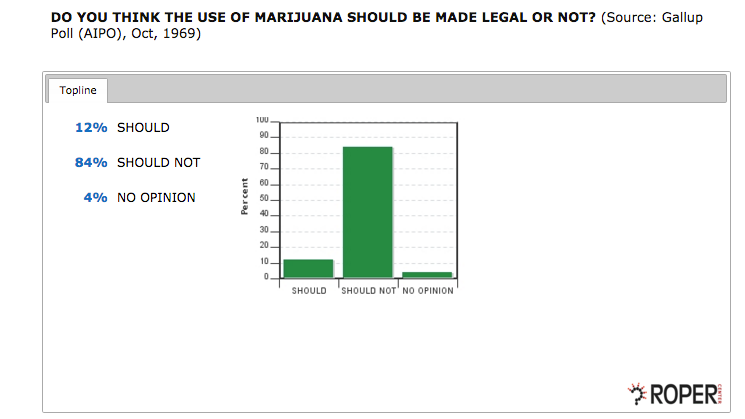 50 Years Of Marijuana Polling
Popular in the Community