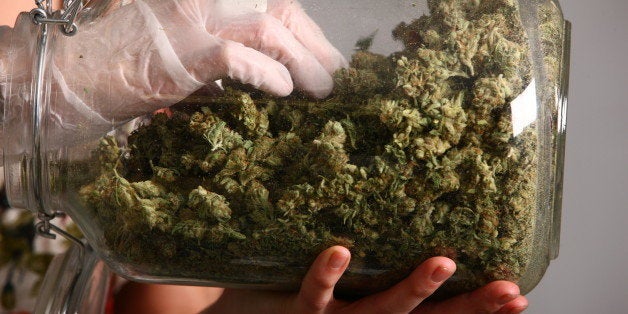 SAN FRANCISCO -- With just a few days left in session, California Assembly member Tom Ammiano (D-San Francisco) has introduced a bill aimed at regulating the state's somewhat ambiguous medical marijuana industry.
The bill, A.B. 604, would create a new division within the Department of Alcoholic Beverage Control to oversee the industry, and would develop more defined regulations for marijuana cultivation, sale, distribution and use. The bill would give the ABC 18 months to develop regulations, and would outline a plan for current operators to follow in the interim.
Ammiano attempted to pass a similar proposal in May, but was struck down by opponents who argued the bill didn't address key issues, such as marijuana transportation, environmental impacts of cultivation or regulating doctor recommendations.
"This bill clarifies all of the concerns mentioned," said Diane Goldstein, a retired lieutenant commander and spokesperson for the policy reform group Law Enforcement Against Prohibition (LEAP). Goldstein spent more than 20 years with the Redondo Beach Police Department -- an experience she claims revealed the shortcomings of the war on drugs.
"What's important is that it continues to allow a city to ban marijuana if it wants to," she said of the measure, "while still supporting great cities like Oakland, San Francisco and West Hollywood, where regulation has occurred and is successful."
A.B. 604 is a combination of Ammiano's earlier bill and one presented by Senate President pro Tem Darrell Steinberg (D-Sacramento).
"They listened to the concerns from law enforcement officials very closely," said Nate Bradley, a former deputy sheriff and the executive director of the California Cannabis Industry Association. "That's what makes this a good bill; it understands that regulation will take a while, and offers a plan for the meantime."
"This is a much needed move toward comprehensive regulation," said Tamar Todd, senior staff attorney for the Drug Policy Alliance, in a release. "California medical marijuana providers have been targeted by the Federal government. We have not seen the same thing happen in states with comprehensive, state-wide regulation and control of medical marijuana."
"In California, it's been the wild, wild west," said LEAP's Goldstein. "The laws have been too vague, and when the laws are too vague, it allows people to undermine the law -- both the bad apples in the industry and law enforcement officers."
Calling all HuffPost superfans!
Sign up for membership to become a founding member and help shape HuffPost's next chapter
BEFORE YOU GO
PHOTO GALLERY
Legal Marijuana Across The U.S.