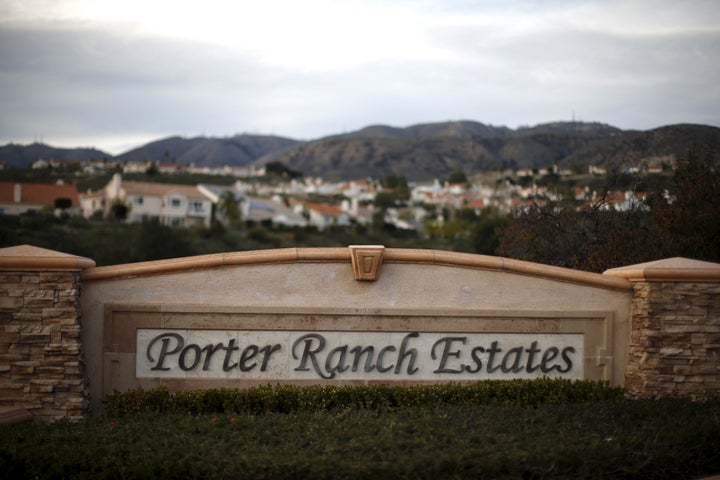 LOS ANGELES -- Matt Pakucko was coughing.
"This gas, it's an invisible tsunami," he said, struggling to clear his throat.
He is a resident of the affluent Porter Ranch neighborhood's Highlands community, closest to where an enormous volume of natural gas is spewing from a broken well at the Aliso Canyon natural gas storage facility.
"The last three or four days, I've been coughing, aches and pains in my shoulders -- kind of like flu symptoms without the flu part," Pakucko said of the symptoms he attributes to breathing air tainted with the gas. "When I get to fresh air, if it's really bad when we leave, it can be an hour or two before the feelings from the gas end. And that's pretty typical, what everyone in our community is reporting."
Like many other residents, Pakucko evacuated from his home, following an order from the Los Angeles County Health Department. For now, he lives in a hotel in Burbank most of the time, but goes back to his home in Porter Ranch frequently because that's where he operates his music production business -- which he could lose if he doesn't keep working.
"I have a studio in my house, that's where I work, so I have a big problem," he said. "I do go there often, but sometimes I can't stay there; I have to leave because of the gas."
The Southern California Gas Company, which manages and operates the natural gas storage facility where the rupture originates, has told residents it could be another three to four months until the situation is cleaned up and residents can comfortably move back home. Officials have required SoCalGas to offer financial assistance to residents who wish to relocate.
At first blush, Porter Ranch is the American Dream materialized -- full of beautiful upscale homes, most of them locked away in gated communities, that can cost anywhere from $400,000 to more than million, according to a search on Zillow.com. The views are spectacular. Well-appointed parks are distributed around the designed communities. High-end SUVs dot the wide and quiet city streets. And there are great schools for the thousands of families that live in this Los Angeles suburb nestled into the foot of green and brown rolling hills.
Catastrophe has never looked so peaceful and idyllic. But make no mistake -- while imperceptible to the eye, a massive environmental disaster is unfolding. It's a nightmare, and one that smells like rotten eggs.
That's because from deep inside those hills, a little more than a mile from the Porter Ranch neighborhood, tens of thousands of metric tons of odorless methane gas -- plus an additive that gives the gas its pungent stench -- has been spewing forth into the atmosphere and blowing toward homes in the area for months.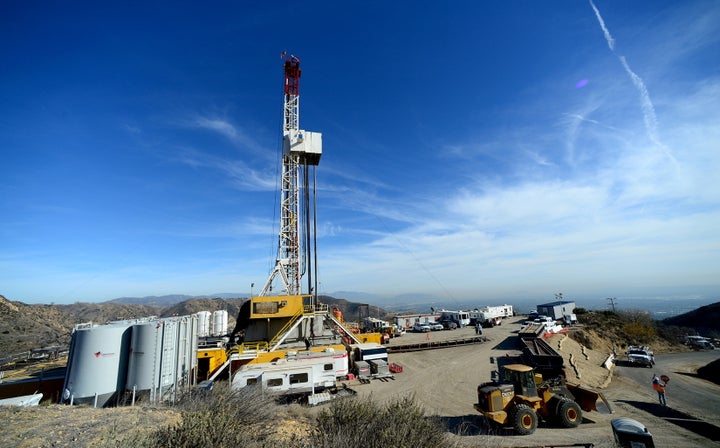 The blowout has been compared to BP's oil well failure in the Gulf of Mexico in 2010, which caused tremendous damage to the environment. But due to the invisibility of the gas, it's more difficult to ascertain the true scale of the problem.
In Los Angeles, there aren't oil slicks or blackened wildlife covered in crude, but there are residents suffering from fits of nausea, coughing, headaches and nosebleeds. There are roughly 3,000 people who have already evacuated, uprooting their lives and businesses and relocating to hotels miles away. The leak has thrust thousands of residents' lives into chaos, causing illness for some and loss of livelihoods for others. And just this week, California Gov. Jerry Brown (D) declared a state of emergency over the disaster.
SoCalGas says that the gas began to blast out from a broken well at the Aliso Canyon natural gas storage facility in October. But residents told The Huffington Post that they'd been noticing adverse health effects before then, even as early as 2014.
"This is not one of our prouder moments," said Dennis Arriola, the president and CEO of SoCalGas, in an address to the community last month.
The Aliso Canyon site behind Porter Ranch is one of the largest of its kind. The gas company injects methane gas into depleted underground oil fields thousands of feet below the earth's surface, which serve as a storage area that can hold as many as 86 billion cubic feet of gas. According to a real-time counter created by the Environmental Defense Fund, about 80,000 metric tons of methane are estimated to have already escaped the Aliso Canyon facility since Oct. 23, the day SoCalGas says the leak began.
A missing safety valve on the leaking well is what caused the mess. Rodger Schwecke, a SoCalGas executive, told LA Weekly that the company removed the valve in 1979 when it stopped functioning and didn't replace it. It was an older, hard-to-find part, and SoCalGas determined that it wasn't on a "critical" well, within 100 feet of a road or a park or within 300 feet of a home.
"Our focus remains on quickly and safely stopping the leak and minimizing the impact to our neighbors in Porter Ranch," Schwecke told HuffPost this week. "SoCalGas reaffirms our prior commitment to mitigate the environmental impact of the actual amount of natural gas released from the leak."
But the damage has already been done. Methane gas isn't toxic, but the negative health effects that residents are reporting may stem from heavy exposure to mercaptan, a gas mixed with methane that gives it a distinctive rotten smell and can pose a health threat.
"Mercaptans ... do pose a health threat to the community," the county health department said in a November notice. The agency said inhaling the gas can produce "short-term" neurological, gastrointestinal and respiratory symptoms.
And while the enormous release of methane gas may not itself pose a health hazard, it has climate scientists concerned. That's because methane is an especially potent greenhouse gas -- one that carries 84 times the warming power of carbon dioxide after it is released, according to the Environmental Defense Fund.
Right now, 2.3 percent of California's carbon footprint is rising from Porter Ranch, increasing the state's methane emissions by 21 percent, LA Weekly reported.
"It's really a massive leak," Rob Jackson, an environmental scientist at Stanford University, told HuffPost. Jackson studies hydrocarbon emissions, water and air quality associated with oil and gas extraction.
Jackson also said that comparing the Porter Ranch blowout to BP's spill or the Exxon Valdez spill in Alaska in 1989 isn't quite right, because the gas billowing out of the Los Angeles hills is going directly into the atmosphere, whereas the crude oil spills were released into the ocean.
"As tragic as that was for ocean life, those were a tiny blip for greenhouse gases that made it to the atmosphere," Jackson said. While the economic fallout from the BP spill will probably be greater than the Porter Ranch disaster because it put so many people out of work, Porter Ranch's blowout is a bigger issue in terms of climate change, he said.
Gas leaking from the Aliso Canyon storage facility is invisible to the naked eye, but can be seen in this infrared video from the Environmental Defense Fund.
"[T]his leak is bigger than the methane emissions from all industries in California, including oil and gas," Jackson added. That includes manufacturing, refineries, oil and gas extraction and power plants. "This leak is as big or bigger than all of those put together, day to day. The leak is also bigger than all of the landfill emissions in California combined."
The leak's daily global warming potential is about equal to that of one large coal-fired power plant, Christine Ehlig-Economides, a professor at the University of Houston's Petroleum Engineering department, told HuffPost.
"This isn't just a Porter Ranch problem -- the gas doesn't know borders." Pakucko said.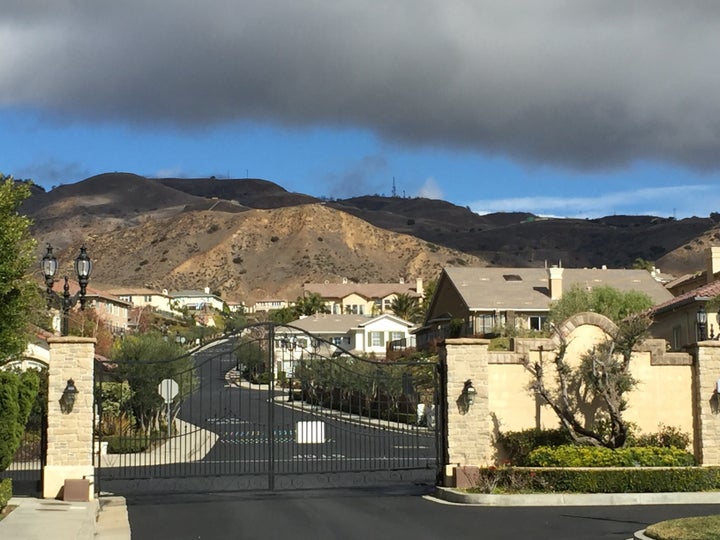 Living in Porter Ranch has been profoundly difficult, especially for parents with young children.
When Daniela Derderian, who lives in Porter Ranch with her husband and two kids, noticed that her 8-year-old daughter was starting to have asthma attacks and painful coughing fits a few months ago, she tried to eliminate any allergens; she even took down their Christmas tree. Meanwhile, both she and her 10-year-old son started experiencing headaches, and she developed a sore throat and a persistent dry, bloody nose.
At school, where special air filters were installed in response to the leak, her daughter felt slightly better. Whenever they left the area, her daughter's symptoms went away.
"It's like flipping a switch," she said. "As soon as she's there, she starts coughing to the point where she can't breathe. As soon as we leave, within an hour or two, she's much better."
The day after Christmas, Derderian moved her family and their dog into an apartment in Sherman Oaks funded by SoCalGas's relocation services.
"The day we moved here is the day she stopped coughing," she said.
The landlord told her that after offering her the apartment that six other families in the same situation called, some offering extra money to get the spot.
Like many others in the area, Derderian's children are temporarily attending school in Northridge and will finish out the school year there.
Whenever they go back to soothe the kid's homesickness and visit the four cats and a bearded dragon they had to leave behind, her daughter starts coughing as soon as they get on the Porter Ranch freeway offramp.
Derderian says nothing frustrates her more than hearing she doesn't have to worry about her family's health.
"What really upsets me is when people say it's safe and that the levels are safe," she said. "I'm like, what is your definition of 'safe'? Safe from carcinogens? I'm not worried about her having cancer in 30 years at this point; right now I'm thinking, what is going through her lungs right now? What is it doing to her nervous system? … Stop telling me it's safe when they're obviously getting sick."
Another infrared video of the gas leak from Morgan & Morgan, one of the firms involved in representing Porter Ranch residents in lawsuits against SoCalGas.
Porter Ranch resident Melissa Barrett said she didn't realize how ill she and her 12-year-old daughter were feeling until they evacuated to a hotel room at the beginning of December.
"It's interesting to realize just how good we feel when we leave there," she said. "I think we had just gotten too used to not feeling great."
Whenever Barrett goes back to the house to do laundry, all her old symptoms return: sore throat, runny nose and burning in her eyes. Her daughter was sick with a cold "more than ever" this year and had "literally no voice for about two weeks," she said. Even her dog had started throwing up.
And the stress doesn't end when families get out of Porter Ranch.
"Not having a kitchen or access to laundry has made us go back and forth to wash and dry our clothes," resident Megan Park said of living in a hotel for the last month. "We've had to relocate my elderly, non-English-speaking grandfather into a hotel that can accommodate his schedule and comfort. [My father's] commute has doubled and sometimes tripled."
As a single mom, one of Barrett's biggest concerns is the decline in her home's value, which she's already spoken to a lawyer about.
There may be as many as 1,000 lawsuits pending from residents already, and that number appears to be growing.
Robert Glassman, an attorney with Panish Shea & Boyle LLP, one of several law firms representing Porter Ranch residents in a large class-action suit and a large number of individual suits, told HuffPost that the disaster has made his clients deeply concerned about their personal health, their families' health, their businesses and the value of their homes.
"I think there would be a lot of peace of mind if the gas company not only stops this leak but then takes steps to remove [the storage facility] from the community," Glassman said. "I know a lot of people would have never moved in there knowing that this much natural gas is being stored in their backyard."
Anna Almendrala contributed reporting.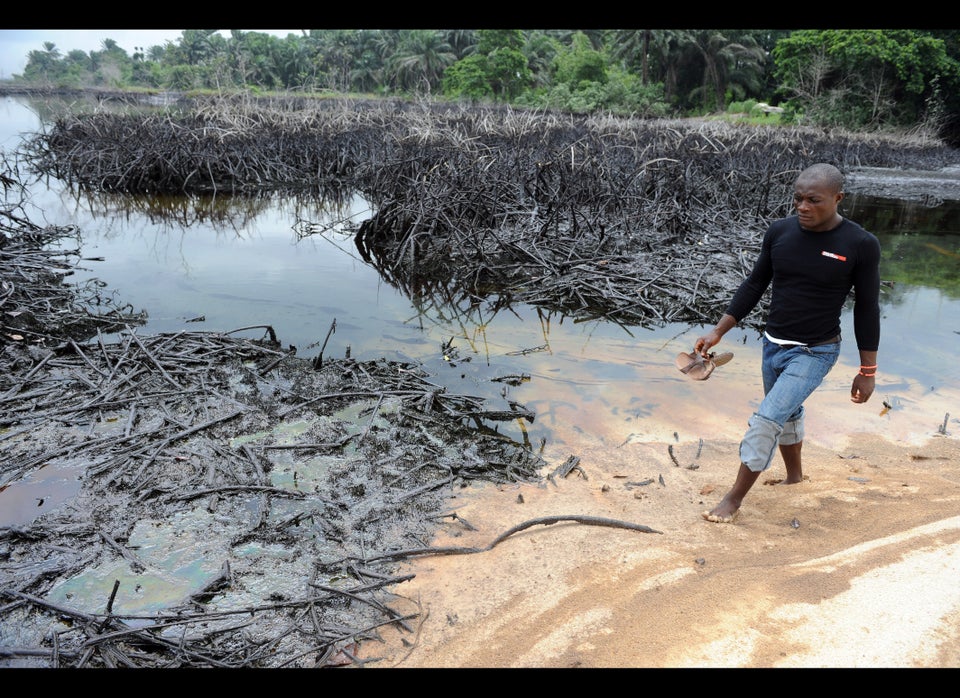 Oil Spills Since The Gulf Disaster
Popular in the Community