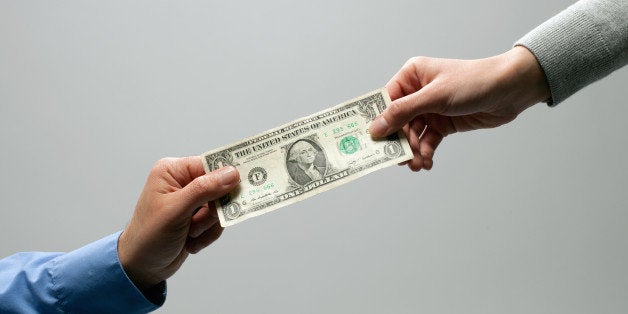 One day after Gov. Jerry Brown backed a plan to raise California's minimum wage to $10 by 2016, a number of Los Angeles-area business groups criticized the legislation, saying it would unfairly burden companies.
Stuart Waldman, president of the Valley Industry and Commerce Association, called the hike "obscene" and said it's unrealistic to increase wages 25 percent in two years.
Prices will rise on consumer goods, restaurant patrons will pay more for eating out, and more companies would leave the state, Waldman predicted. "This is clearly being done by people who don't understand business."
California's minimum wage is currently $8, higher than the $7.25 federal minimum wage but lower than, say, Washington and Oregon, where workers make $9.19 and $8.95, respectively.
Supporters of the California wage hike say it will add $4,000 annually to a wage earner's paycheck, money that will flow back into local economies. The legislation raises California's minimum wage to $9 per hour by 2014, then $10 by 2016.
The bill was passed the Senate Thursday afternoon and was sent back to the Assembly for a final vote before heading on to the governor. Brown has endorsed the legislation.
"The minimum wage has not kept pace with rising costs," Brown said in a statement this week. "This legislation is overdue and will help families that are struggling in this harsh economy."
But major business groups, such as the California Chamber of Commerce and the California Restaurant Association (CRA), oppose the legislation.
Smaller local groups like the Central City Association, a downtown organization that advocates for the Los Angeles business community, also oppose the hike. The wage increase will present complexities to companies who have employees in a number of states, CCA president Carol Schatz predicted.
"It's a big increase over a short period of time, and it doesn't give companies a lot of time to plan," she said.
Brian Holbrook, owner of the Blue Cube, a small downtown diner, said he already pays his employees above the minimum wage.
Holbrook moved to California from Florida in 1981 but doesn't believe today's business climate is particularly inviting to restaurants. "I just don't see how they could afford (the increase)," he said. "Where are they going to get the money?"
Assemblyman Luis Alejo, a Democrat whose district includes the agricultural communities of Salinas Valley in Central California, wrote the bill. In a statement, Alejo said the hike will put "money directly into the pockets of workers struggling to provide food, clothes and housing for their families."
State legislators are undertaking a flurry of bills before they recess Friday. ___
(c)2013 the Daily News (Los Angeles)
Distributed by MCT Information Services
Calling all HuffPost superfans!
Sign up for membership to become a founding member and help shape HuffPost's next chapter
BEFORE YOU GO
PHOTO GALLERY
Countries With A Higher Minimum Wage Than U.S.