Victims of the powerful mudslides that swept through the Southern California community of Montecito range in age from 3 to 89, authorities said Thursday as they continued to search the wreckage for missing people.
At least 18 people have died in the tragedy, according to the Santa Barbara County Sheriff's Office.
Jonathan Benitez, 10 years old
Kailly Benitez, 3
Martin Cabrera-Munoz, 48
David Cantin, 49
Sawyer Corey, 12
Peter Fleurat, 73
Josephine Gower, 69
John McManigal, 61
Alice Mitchell, 78
James Mitchell, 89
Mark Montgomery, 54
Caroline Montgomery, 22
Marilyn Ramos, 27
Rebecca Riskin, 61
Roy Rohter, 84
Peerawat Sutthithepn, 6
Richard Taylor, 67
At least 28 people have been injured in the mudslides, which have also destroyed 65 single-family homes and damaged 446 more in Santa Barbara County.
Thanks to more than 500 first responders and 10 search dogs working across the region, hundreds of people have been rescued, including 10 individuals who were found by the dogs.
"Right now, of the entire debris flow area, we have covered 75 percent with the primary search and 25 percent have had a secondary search," Amber Anderson, public information officer with Santa Barbara Fire, told HuffPost.
But the areas are difficult to access, she added, with mud that is 10 feet deep in certain places.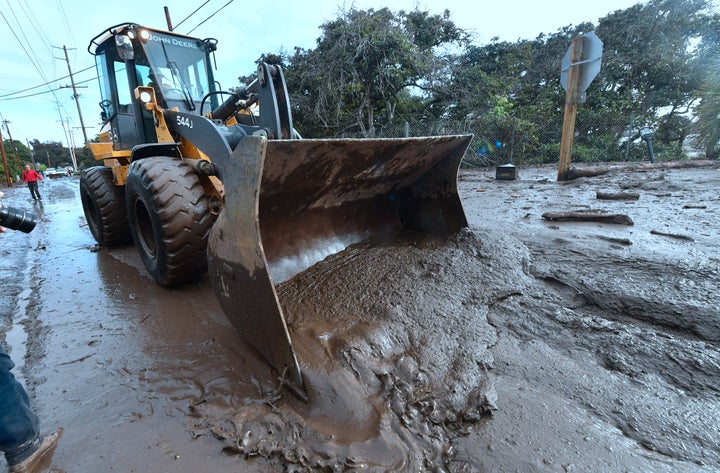 Friends and family have made appeals on social media for help combing through the muddy wreckage to look for missing persons.
Josie Gower was in her Montecito home when she was swept downhill for several miles, several friends wrote on Facebook.
"I told her to stay on the second floor but she went downstairs and opened the door and just got swept away," her son, Hayden Gower, told KSBY. He searched through debris at her now-destroyed home until receiving confirmation of her death.
Roy Rohter, the founder of a local Catholic school, also died when he was swept away from his Montecito home on Tuesday, the school announced. His wife, Theresa, was in stable condition.
Crews continued to search the area, with a particular focus on people who could be trapped under heavy debris and flooded homes, according to Santa Barbara County spokeswoman Yaneris Muniz.
Heavy rain over a short period of time on Tuesday caused a torrent of debris ― including mud, tree branches and boulders ― to barrel through Montecito, located roughly 100 miles northwest of Los Angeles. Dozens of homes were swept away during the storm, according to AP.
The mudslides ravaged this part of Southern California less than a month after it was devastated by wildfire.
"It's going to be worse than anyone imagined for our area," Eliason told the Los Angeles Times on Tuesday. "Following our fire, this is the worst-case scenario."
Popular in the Community