Last week multiple state and federal agencies came together for a disaster-response exercise in California, Nevada, and Arizona called Vigilant Guard.
This year the California and Nevada National Guard personnel hosted the event. There were two primary events being simulated: a 6.7-magnitude earthquake along the Frenchman Mountain fault line in Nevada with an epicenter east of Las Vegas and a 7.8-magnitude earthquake with an epicenter in San Bernardino County. A total of more than 1,200 members from state and federal agencies participated in the exercise.
Oakland Search and Rescue Battalion Chief Vince Hobbs said, "This is only the second time in the nation that all of these entities have come together and integrated this way."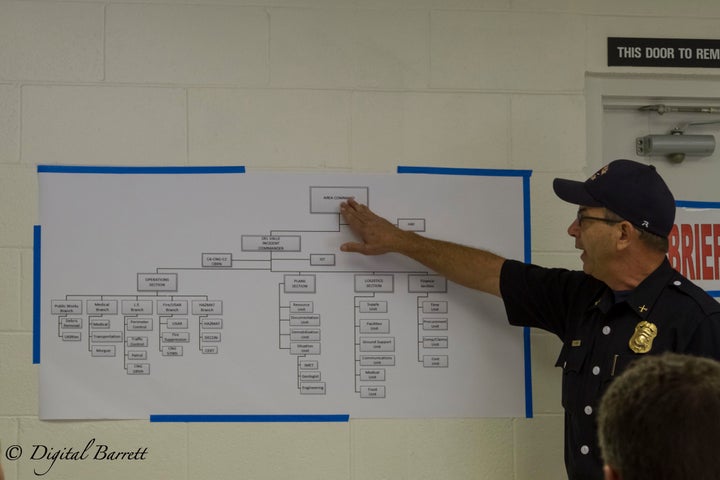 California National Guardsman Maj. Richard Chappell echoed the need for practicing integration prior to an actual disaster: "It's important that we're meeting face-to-face now and understanding each other's capabilities."
There were several sites across California simulating various aspects of the disaster.
At the Del Valle Regional Training Center in Castaic (L.A. County), emergency personnel simulated multiple Urban Search and Rescue (USAR) scenarios, mass decontamination procedures, and high-angle rescues (i.e. car over a cliff). Members of the California National Guard, Los Angeles County Fire, FEMA Task Force 4 (based out of Oakland), and others participated in search and rescue scenarios involving as many as 75 role player victims. Chuck Wong and Kino of FEMA Task Force 4 were among the canine search and rescue units on site searching for victim role players.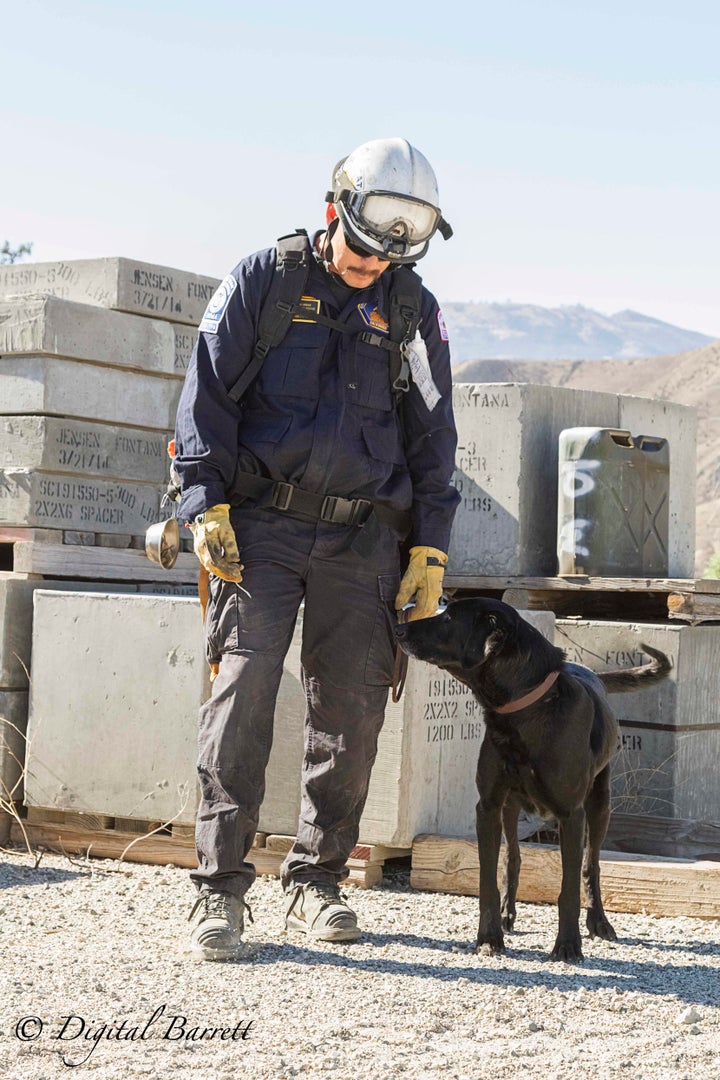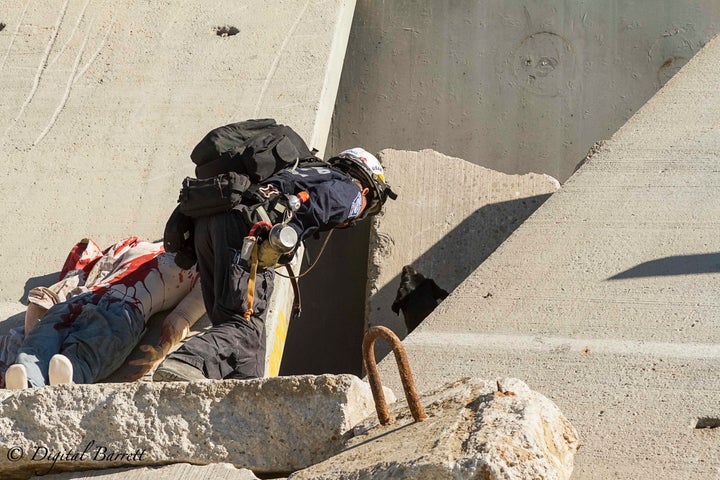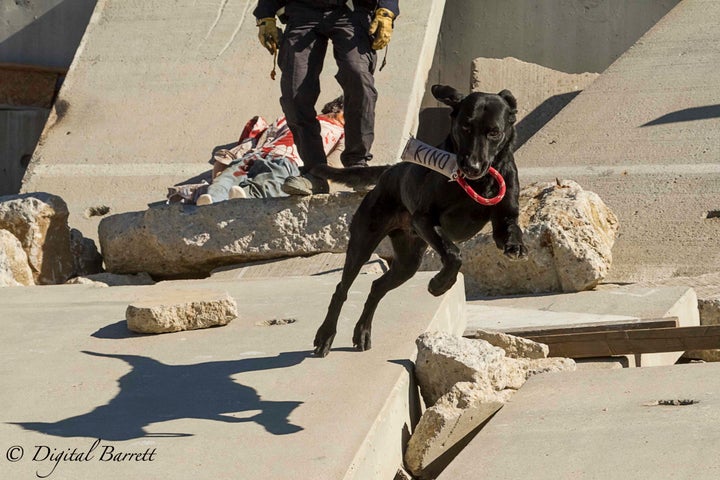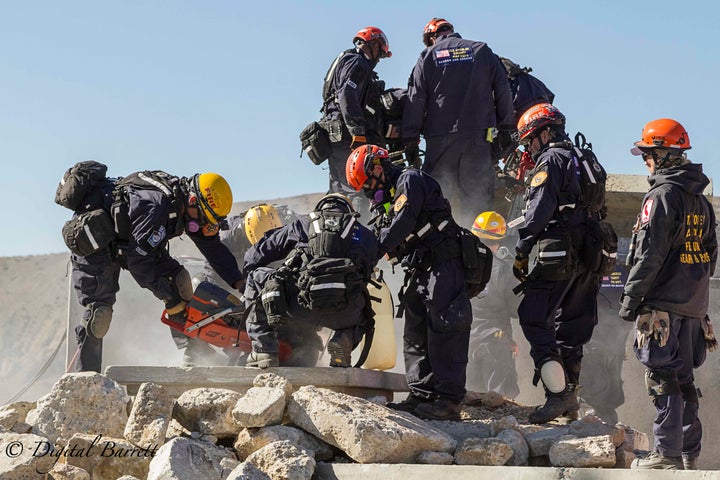 The Del Valle facility is 60 acres and has been active since 1940. The facility has staged scenarios including a collapsed hotel and parking structure, victims trapped in underground pipe systems, and a building struck by a small airplane. These scenes are as "true to life" as possible. Over a year of preparation was needed for Vigilant Guard.
"We try very hard to simulate reality," said Los Angeles County Fire Battalion Chief Mike Lewis. "It may take somebody three hours to go through a six-inch piece of concrete, and they need to know that now."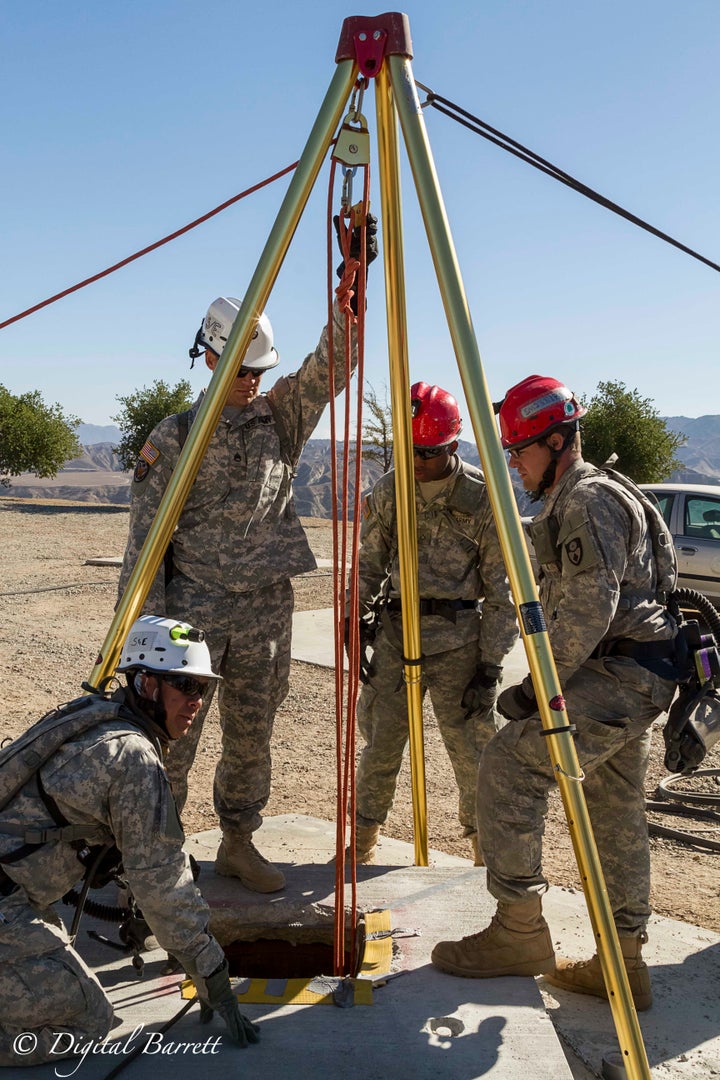 In addition to human victim role players, sophisticated mannequins were also used.
"These mannequins will scream at you, bleed on you, and vomit on you," said Master Sgt. Jerry Davis of the California National Guard, with a smirk.
The exercise spares no one in trying to make the experience as true to life as possible.
Each agency had specific exercises they wanted to practice. The Los Angeles Police Department (LAPD) knew that in the event of a catastrophic earthquake, they would need to provide police escorts for convoys delivering food and water to various parts of Los Angeles. During the week, the LAPD actually escorted a convoy across the city to determine what logistical problems they may have to overcome.
In Irvine, a Commodities Point of Distribution (C-POD) was set up. A C-POD site provides food, water, and other commodities to up to 20,000 people in a single day. The C-POD is a joint effort between the military and local Community Emergency Response Teams (CERT). The CERT volunteers load boxes of food, water, and ice into cars that have lined up to receive assistance. The food is military issue "Meal, Ready-to Eat" (MRE) packages. Each package is self-contained and holds an entire meal, providing about 1,200 calories each.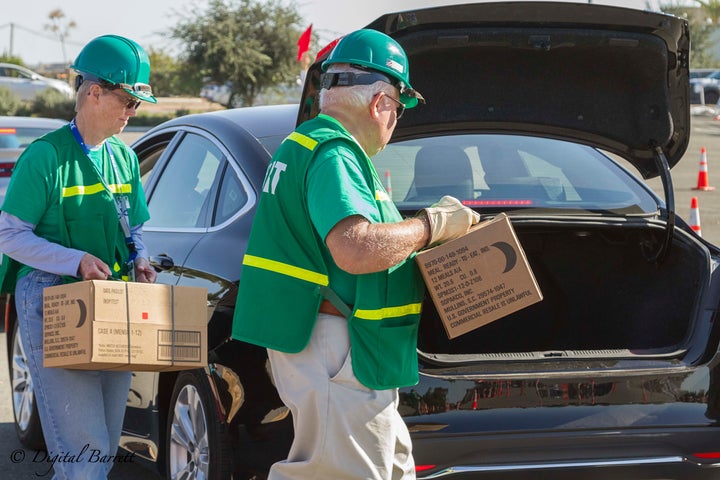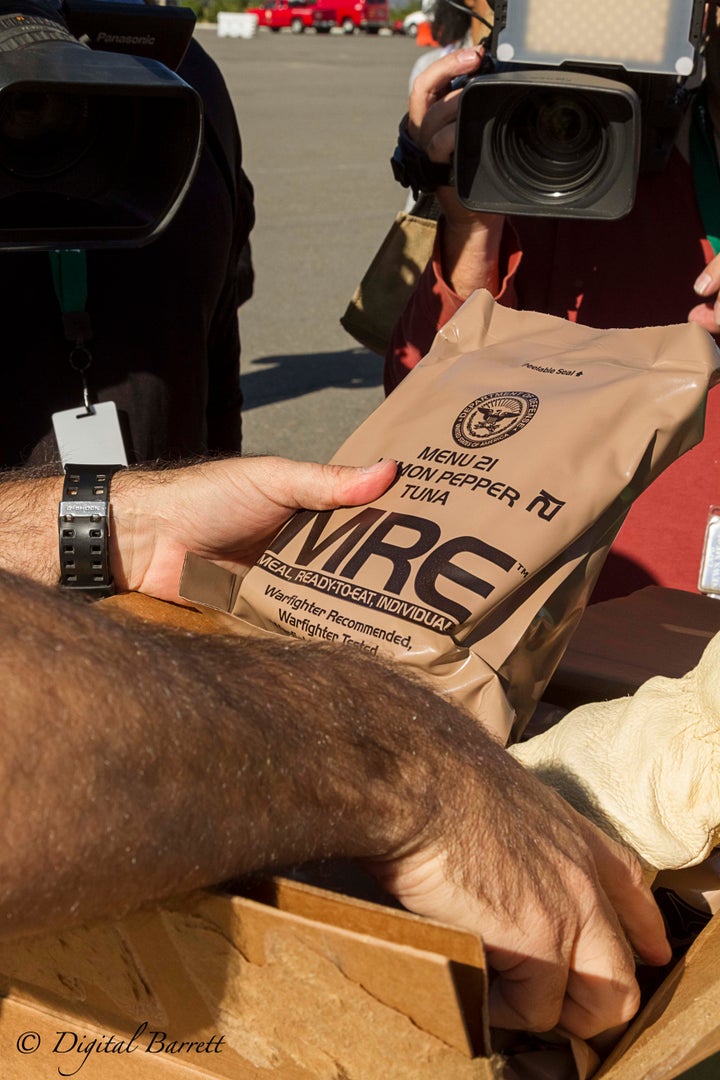 There were additional sites in Sherman Oaks and Camarillo simulating search and rescue scenarios. The Air National Guard station in the Channel Islands provided aeromedical capabilities, simulating patient care and transport to medical facilities out of state in the event that local hospitals were destroyed or overflowing. One important aspect of providing medical care to injured people is tracking them once they've been rescued.
"Once the victim has been rescued and transported, we have to figure out how we are going to track that person so their family knows where they are. It's possible they could be transferred to an out of state hospital for treatment. So we need to know how we will keep track of them," said Chappell.
In order to have a coordinated response to a disaster, state and federal agencies need drills such as Vigilant Guard in order to practice how all of these agencies will operate as one unified response.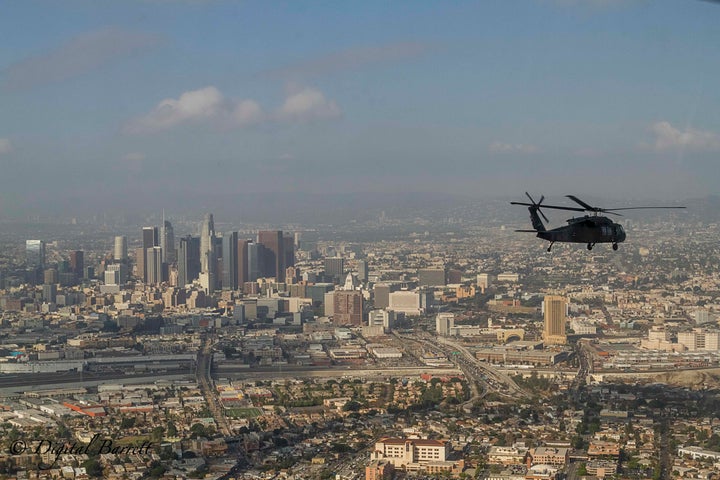 The California National Guard (Cal Guard) has a long history of working with other California state agencies in responding to disasters. Every year, Cal Guard works with CAL FIRE to suppress wildfires in California. Because of the specialized nature of the work, a CAL FIRE liaison accompanies every Cal Guard helicopter to smooth communications between the Cal Guard helicopter crews and the CAL FIRE assets on the ground during a wildfire. But it simply isn't possible for a liaison to be assigned to each Cal Guard aircraft during a disaster such as an earthquake.
Col. Daniel Anderson of the California Army National Guard said, "It would depend on the mission or function that we were serving. But in general, no, we would not have a liaison on board each aircraft."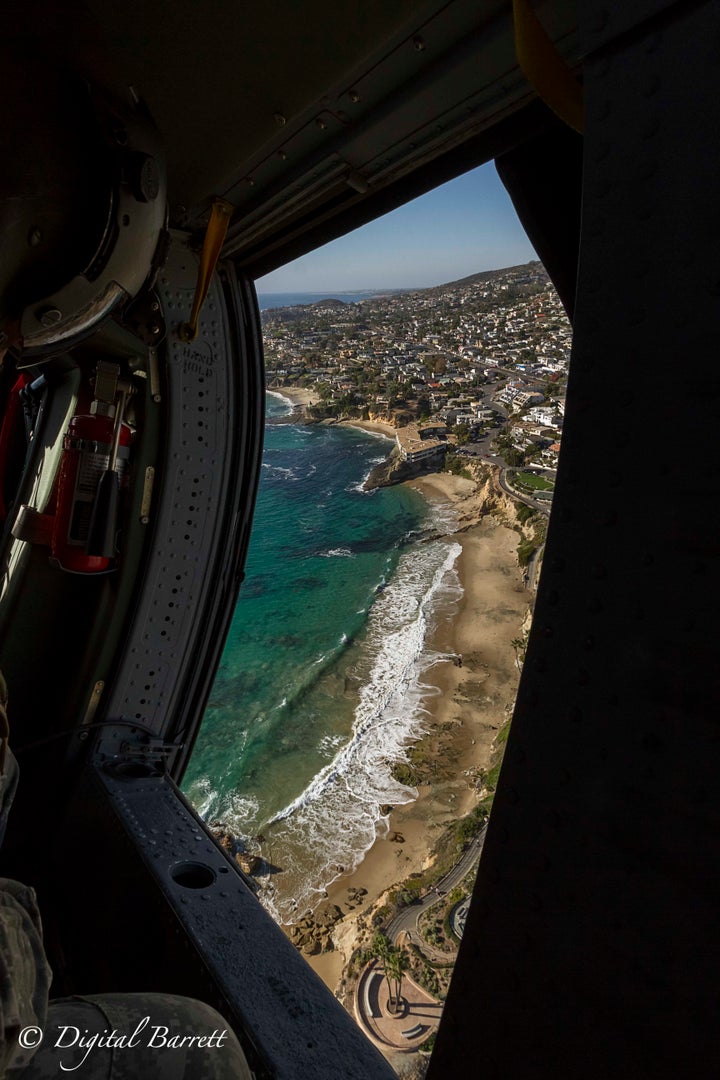 There may be circumstances where a Cal Guard aircraft could be used to assist another agency. Anderson continued, "We could team up with a USAR team and integrate them if needed. We do a fair amount of search and rescue ourselves, but we don't have that many search and rescue technicians. So we could ask an agency, 'If you give us four qualified rescue technicians, we will put them on the aircraft and be able to support more rescues.'"
The Vigilant Guard exercise is an invaluable tool for emergency personnel to practice and integrate prior to a real world disaster where lives are on the line.
Related
Popular in the Community