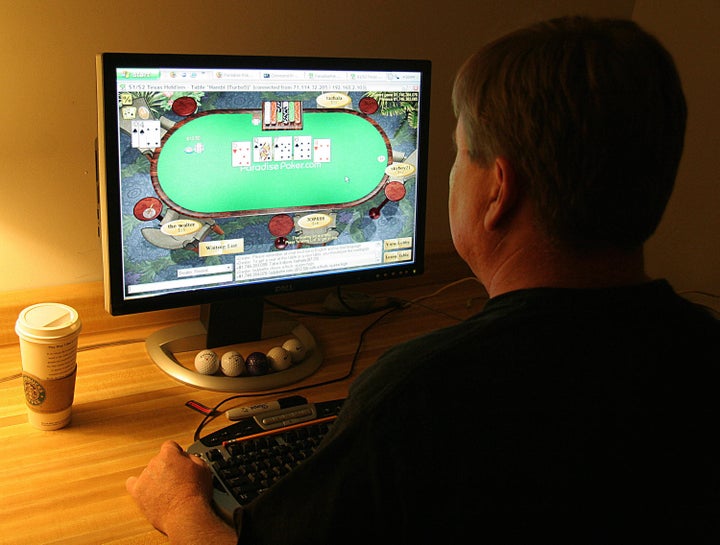 Once again, it's shaping up to be a case of tribe vs. tribe in the latest effort to encourage politicians to legalize online poker in California.
In one corner is a coalition of tribes worried that opening online poker rooms may choke off business to their casinos. In the other are the San Manuel and Morongo bands of Mission Indians, which, along with several other tribes and industry groups representing card rooms, are pushing to allow online poker in the state.
The fight, which flared up anew this week with a series of radio and television ads promoting a measure sponsored by state Sen. Lou Correa, D-Santa Ana, is a continuation of a years-long battle between the pro- and anti-online poker interests that has reached both state and federal government levels and has cost millions on both sides.
The lengthy battle has turned many traditional political relationships in the gaming community upside down.
Both the tribes that support and oppose the legalization of online poker often work together on other issues related to gaming, and card-room interests - which traditionally butt heads with casino operators - have joined forces with the pro-online poker tribes to help push through the legislation.
At stake is potentially hundreds of millions in tax revenue, but also billions in business for California casinos and card rooms. The organization opposing the legislation, the California Tribal Business Alliance, has said repeatedly that it does not believe Correa's bill will give all tribes an equal chance to profit from online poker.
Both sides clearly see the measure as an important investment. As The Sacramento Bee's Laurel Rosenhall reported earlier this month, the Morongo and San Manuel bands of Mission Indians, which support the bill, alone have spent more than $600,000 on state lobbying since the beginning of 2010.
Not to be outdone, opposing tribes spent $1.2 million in lobbying last year alone and are continuing to spend massive amounts this year, according to The Bee. Both also have spent millions duking it out in Congress, according to data from the Center for Responsive Politics.
Many of the tribes involved wield tremendous political influence. Three of them are top 10 members of the state's so-called "Billion-Dollar Club" - a collection of interest groups identified in a California Fair Political Practices Commission report [PDF] last year. Fifteen of the groups identified in the report collectively spent $1 billion trying to influence California policy since 2001.
The Morongo band alone has spent $83 million influencing state policy since 2001, according to the report.
In addition to their lobbying efforts, both sides have tried at different times to court the support of Correa, among many, many others.
An independent expenditure committee run by the Tribal Business Alliance gave at least $7,500 to run phone banks in support of Correa's re-election last year. Several casinos have given money to an account Correa has established to run for attorney general in 2018, and others - including the San Manuel band - supported his re-election bid in 2010.
Chase Davis is an investigative reporter for California Watch, a project of the non-profit Center for Investigative Reporting. Find more California Watch stories here.