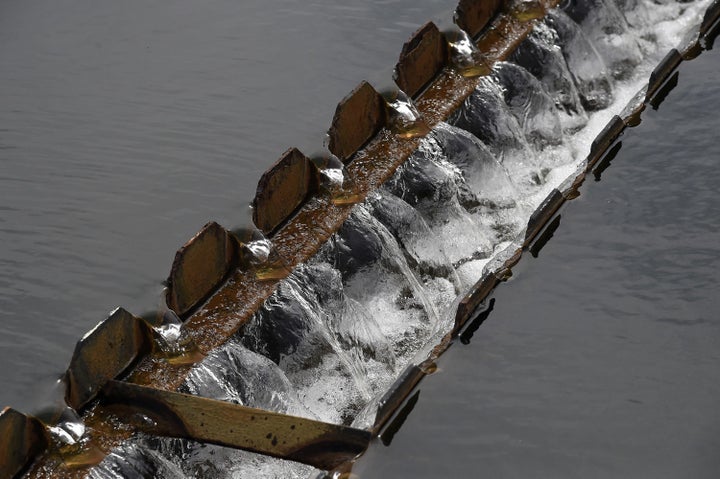 We're in the midst of a hot, dry summer. While you're thinking about how you'll cool off, consider this: four times more Californians than the entire population of Flint, Michigan do not get clean, safe water from the tap in their homes. They live where water must be trucked in for drinking and cooking. Where they wait in line to shower in public trailers. And where they've been living like this for a long time.
California's drought didn't cause these third-world country problems, but it certainly exacerbated them.
The hardest-hit communities, most in rural areas that are not served by large municipal water agencies, relied on groundwater sources that are contaminated or dry. Their small water agencies don't have the funding to operate and maintain new infrastructure projects that could treat the water or bring in drinking water from other regions. And the customers – most living well below the poverty line – simply cannot cover the high cost of this expense.
This tragic situation is a study in paradox. It cuts very close for me, in part because of the experiences of my professional life, but perhaps more by virtue of having grown up in a farm worker family.
In California, the sixth largest global economy – and one of the most affluent—more than 500 communities are served by water agencies that cannot provide clean, safe water to their residents.
California's Central Valley is one of the most productive agricultural regions in the world, yet it is also one of the poorest regions in the state, where fringe communities have been hardest hit by the lack of clean water. Nearly 50 percent of the economically disadvantaged communities in the southern Central Valley have documented water quality problems.
Lack of water means more than daily inconvenience and devastation to meager family budgets. Contaminated drinking water causes health problems such as gastrointestinal illnesses, impacts to nervous and reproductive systems, and chronic diseases such as cancer.
In addition, the University of California, Davis, Center for Poverty reports that a lack of access to clean drinking water in rural California communities is leading residents to turn to sugary drinks and soda, which contributes to an increase in obesity and Type 2 diabetes.
It will come as no surprise that the Californians hardest hit by lack of water are primarily people of color.
California's Community Water Center reports that water systems serving predominantly Latino and low-income communities have disproportionately high occurrences of arsenic and nitrate contamination, and that many low-income residents in affected areas are paying up to 10 percent of their monthly income to purchase clean, safe water.
California doesn't just have a water crisis. It has a human crisis.
We must all advocate for local, national and global policies that provide safe drinking water to every Californian. As a compassionate and innovative society, we must tenaciously work to find solutions to these problems.
The impact of California's long drought has motivated collaboration among formerly competing interest groups to find solutions that were previously unthinkable. This situation calls for the same kind of willingness to do what is right.
Matt Rodriquez, secretary of California's Environmental Protection Agency, reported last year that hundreds of millions of dollars have been committed to emergency water supplies, water conservation, and water infrastructure projects across California. The state encouraged troubled water systems to voluntarily consolidate with larger, better-funded systems, and in some instances forced such consolidation. Where consolidation is not an option, the state offers technical and managerial assistance to the water agencies that are struggling.
This is good progress, but it is clearly not enough. California needs additional near-term and long-term solutions.
In 2015, California voters approved $500 million in bond funds to pay for new water infrastructure, but bond funds can't be used to cover the costs of operating and maintaining new water projects.
Federal and state agencies must find a way to cover these additional costs, and the poorest citizens should be offered subsidized water rates. It is also imperative that local residents be engaged in governing their local water resources.
For the long-term, California must develop sustainable water management systems that effectively accommodate the state's changing climate and water supply realities.
California's drought has been a wake-up call on many fronts. Let's use this renewed interest to drive action. By 2021 we should provide 300,000 Central Valley residents with a reliable, affordable supply of clean, safe water.
People need water. Hundreds of thousands of Californians are suffering without it. It is time to permanently solve the problem.
Cruz Reynoso is a former associate justice on the California Supreme Court and the Third District Court of Appeal. He is currently is professor of law and the Boochever and Bird Chair for the Study and Teaching of Freedom and Equality at the UC Davis School of Law. Reynoso has also been professor of law at UCLA and the University of New Mexico. From 1994 to 2004, Mr. Reynoso served as vice chair of the U.S. Commission on Civil Rights. Earlier in his career, he was director of California Rural Legal Assistance, Inc. and deputy director of the California Fair Employment Practices Commission. He is the son of Mexican immigrants and was a farm worker in California fruit orchards. In 2000, Reynoso received the Presidential Medal of Freedom, the country's highest civilian honor, for his lifelong devotion to public service. He also is a recipient of the Hispanic Heritage Foundation Award in Education.
Popular in the Community