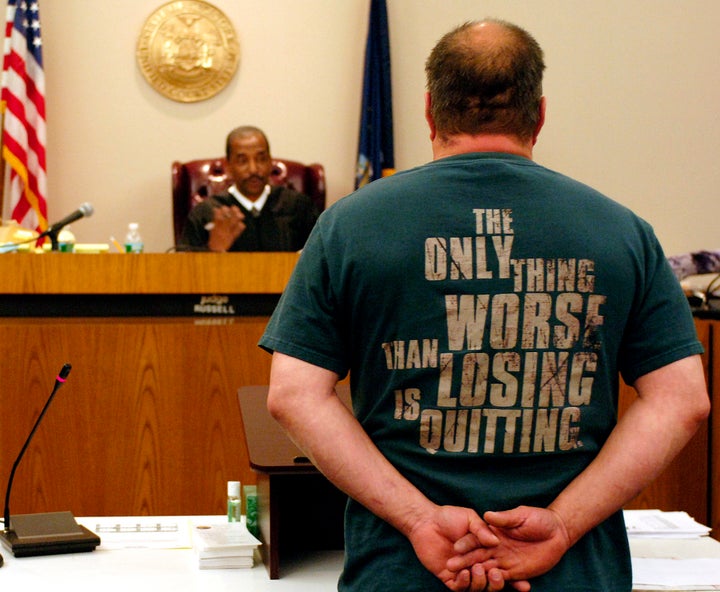 Though specialized veterans courts can save taxpayers up to $12,00 per client, some states have squashed the initiative to curb budget spending.
As many as 25 to 30 percent of returning veterans suffer from mental illness, according to the National Association of Drug Court Professionals, a statistic that inspired Buffalo, NY to establish the first Veterans Treatment Court in 2008. Modeled after drug courts, it aims to lead veterans down the road of recovery and sobriety, instead of throwing them behind bars. While more than 80 such courts have cropped up in the last three years, states like California have nixed their opening to cut spending, the Bay Citizen reports.
"Nobody knows what the hell these guys are going through. It can quickly spiral out of control," Ken Gardner, a veteran who now practices law, told Lancaster Online. "We certainly owe it to them to at least look at another option [for prosecution]."
Lancaster, PA—home to more than 250 imprisoned veterans—is slated to open a veterans court in January, the news outlet reported.
Though offering troubled veterans access to drug and alcohol treatment, mental health counseling and employment services has proven to help them rehabilitate and kick their criminal past, California Gov. Jerry Brown recently vetoed a bill that would've expanded the system, according to the Bay Citizen.
California's judicial branch is reeling from $350 million in cuts this year and it costs $108,000 more annually to operate a special diversion court than it does a regular one, according to the Bay Citizen.

But, veteran advocates are keen on making clear just how sound of an investment these specialized courts are. Drug Courts have proven to save taxpayers between $4,000 and $12,000 per client by reducing prison expenses, repeated arrests trials, and victimization,
according to the NADCP.
Oftentimes, these courts can even develop from a pre-existing drug court infrastructure, Christopher Deutsch, NADCP director of communications, told the Huffington Post. More than 2,600 drug courts currently operate throughout the country.
"In most cases, these courts can launch without additional funding," Deutsch said. "Where states can support these courts—they should—because there's going to be a return on the investment."
The specialized program has been credited with both saving state resources and veterans' lives.
Plagued with severe post-traumatic stress disorder and gruesome memories of killed comrades, Staff Sgt. Brad Eifert watched his life spiral out of control when he returned from Iraq, The New York Times reports. Eifert hit rock bottom when he found himself in a police standoff in a forest near his Michigan home a year ago, pleading with an officer to shoot him.
When Judge David L. Jordon, founder of a veterans court in East Lansing, read about the standoff the following day, he felt compelled to step in.
"I thought, boy, that sounds like an attempted suicide by cop and it sounds like a veteran who just gave up and wanted to be done with things," Jordon told The New York Times.
Once the prosecution reduced the charges, the court—which typically doesn't try violent crimes—
was able to consider Eifert's case. He is now undergoing strict treatment through the Veterans Affairs hospital in Battle Creek, works part time and hasn't drank alcohol since his arrest.
While it's too soon to make any sweeping conclusions about these specialized courts' effectiveness, those involved say that the military environment is oftentimes enough of an impetus to get veterans to sign on and adhere to the rehabilitative program.
"What we're hearing is that it's a pretty quick transformation," Deutsch said. "When you get these veterans in the courtroom with other veterans, it's fostering a culture of understanding. They're recalling the honor they learned during the military service. In drug court, it takes time to buy into the concept of treatment and recovery."

Support HuffPost
The Stakes Have Never Been Higher
Related
Popular in the Community