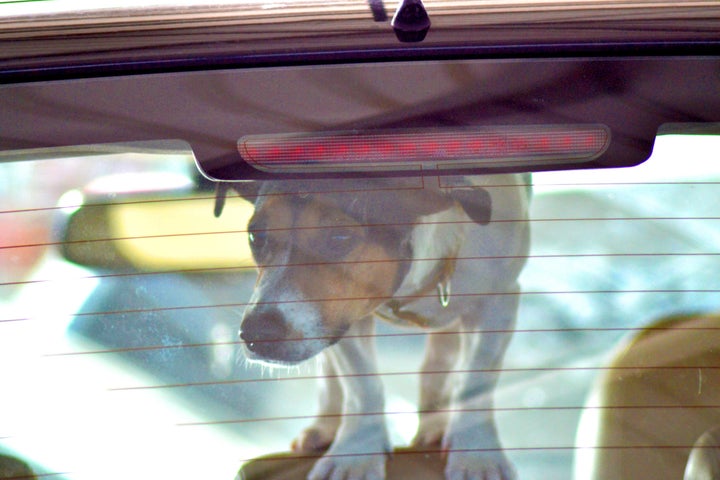 California is now one of a handful of states that allows bystanders to break into hot cars to rescue animals without facing legal ramifications.
Gov. Jerry Brown (D) signed AB 797, the so-called Right to Rescue Act, into law on Saturday following a series of pet deaths across the state.
According to AB 797's requirements, rescuers must have no other way to gain access to the animal and must have a reasonable, good-faith belief that the animal is in imminent danger. They must also contact law enforcement before entering, must use no more force than necessary and must remain at the scene, with the animal in a safe location, until law enforcement arrives.
It only takes 10 minutes for temperatures inside a car to become dangerously hot, according to the Humane Society, which supported the bill. On a 70-degree day, car temperatures can reach 89 degrees within 10 minutes. When it's 72 degrees outside, it takes about an hour for car temperatures to reach 116 degrees.
In California, it's already a crime to leave an animal unattended in a vehicle under dangerous conditions like excessive heat or cold, or with a lack of ventilation, food or water. The state also has good Samaritan laws that protect people who rescue someone during an emergency situation.
"Every year, hundreds of animals suffer, and many die, in Los Angeles County from being left in hot vehicles. By the time a citizen spots an animal trapped in a hot vehicle the situation is often dire, and requires immediate action," he said.
Law enforcement and peace officers alerted by bystanders may not always respond to the scene in time, Felizzatto said.
"AB 797 provides a legal framework for a good Samaritan to follow in order to remove an animal from a hot vehicle, without fear of legal repercussions," he added.
Popular in the Community