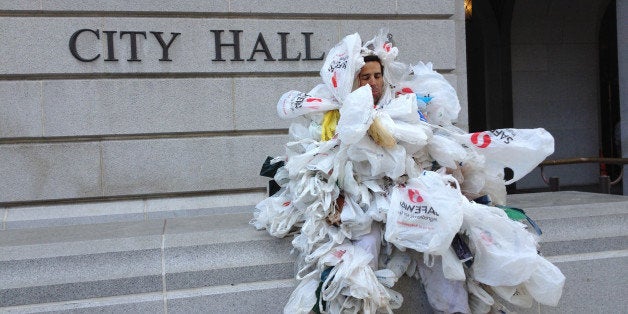 The nation's first statewide plastic bag ban will not go into effect on its summer start date if signatures submitted by the ban's opponents Monday are verified.
A proposed ballot measure to overturn California's ban on single-use plastic bags may appear on the state's November ballot if the 504,760 signatures collected by the referendum's backers are confirmed. If the measure qualifies, the ban set to take effect in July will be put on hold until voters weigh in.
In a statement released Monday, the deadline for submitting signatures, the American Progressive Bag Alliance (APBA) -- the referendum's major backer -- announced it had submitted more than 800,000 signatures from California voters.
The ban, which Gov. Jerry Brown signed into law in January after it was intensely lobbied against by plastic bag manufacturers and unions, is being touted by opponents as a scheme for grocers to make extra money off consumers.
"SB 270 was never a bill about the environment," APBA said in its statement. "It was a back room deal between the grocers and union bosses to scam California consumers out of billions of dollars in bag fees without providing any public benefit."
The bill banning single-use plastic bags requires grocers to charge at least 10 cents for each recycled paper bag or reusable bag given to consumers. It also provides $2 million in competitive loans to aid plastic bag manufacturers in converting their business to produce reusable bags.
But conservation groups say it's the plastics industry that's out to make a buck at the cost of the environment. Californians Against Waste calculated that manufacturers stand to sell an additional 9 billion plastic bags for a total $145 million in just the 16 months that the ban could be in limbo, according to the Orange County Register.
"It is clear that the plastic bag industry is more interested in their own profits than reducing an unnecessary source of pollution and waste that threaten California's wildlife and pollutes our ocean, coast, and our communities," Mark Murray of California vs. Big Plastic said in a statement, according to the Sacramento Bee. "Californians overwhelmingly support the law."
Plastic bag bans will remain intact throughout much of California regardless of whether the referendum makes it on the ballot. According to Californians Against Waste, 109 local ordinances have been passed against plastic bags.