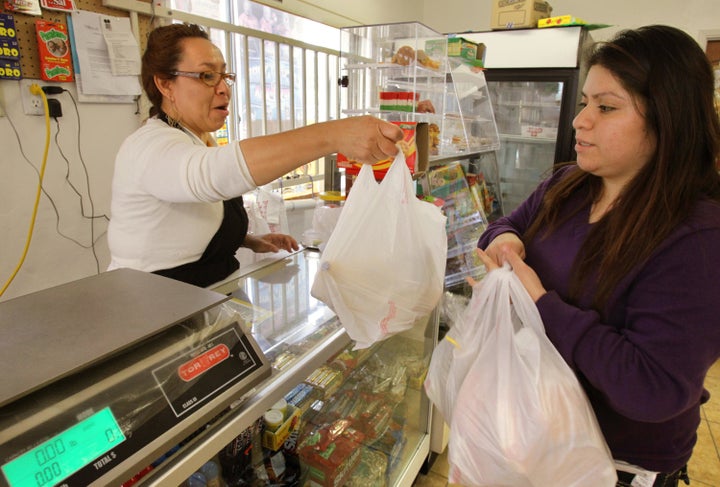 SACRAMENTO -- The years-long attempt to ban plastic bags from grocery stores in California began anew Monday when an Assembly committee backed a 2013 version of a bill that would require shoppers to bring a reusable cloth bag or buy a recycled paper bag at the checkout stand.
The bill resembles legislation carried by then-Ventura County Assemblywoman Julia Brownley the past two years that narrowly failed each time. In the intervening years, more than 70 cities and counties in the state have adopted ordinances banning plastic bags, and about one-third of California now live in a jurisdiction with such a ban.
"The negative impact of single-use plastic bags is well documented," said Assemblyman Marc Levine, D-San Rafael, author of AB 158. He said plastics constitute 80 percent of marine debris, and estimated the state spends $25 million to discard plastic bags properly.
The ban would apply to all grocery stores with at least $2 million in annual revenue and retailers that have at least 10,000 square feet of store space that includes a pharmacy. It also would apply to convenience stores beginning in 2016.
Levine said his bill would not pre-empt local ordinances already in place.
The measure was approved by the Assembly Natural Resources Committee on a mostly party-line vote, with majority Democrats, including Assemblyman Das Williams, D-Santa Barbara, in support. It now advances to the Appropriations Committee.
The measure, as those before it, was backed by environmental organizations. Unlike Brownley's bill proposed last year, however, it was not supported by the California Grocers Association.
"In concept, we support a ban," said lobbyist Don Gilbert, representing Rite-Aid. "The current local ordinance system, to our surprise, really has been OK."
Opposition came from the paper and plastic bag industries.
"We think there are alternatives to banning," said lobbyist Paul Bauer, representing the American Progressive Bag Alliance, a group of plastic-bag manufacturers. "We believe that more than 70 percent of plastic bags are being reused or recycled. Reuse of plastic bags is a big deal."
He said that while recycling rates remain low compared with rates for other recyclable products, plastic bags are in a class by themselves in terms of reuse. He said people use them for lining cat boxes and garbage pails, packing their lunches and carrying dirty laundry.
Assemblywoman Shannon Grove, R-Bakersfield, condemned the bill as an attempt "to regulate behavior by punishing job creators."
Williams said the experience in Santa Barbara and Ventura counties has been that fewer than 10 percent of such plastic bags are being recycled and that "the amount of plastics going into the waste stream is pretty large."
A similar bill has been proposed in the Senate by Sen. Alex Padilla, D-Pacoima.
Industry representatives said they favor a third bill, which Bauer called "more holistic," that seeks to reduce plastics pollution through a variety of means. That measure is AB 521 by Assemblyman Mark Stone, D-Scotts Valley. ___
(c)2013 Ventura County Star (Camarillo, Calif.)
Distributed by MCT Information Services
Calling all HuffPost superfans!
Sign up for membership to become a founding member and help shape HuffPost's next chapter
BEFORE YOU GO
PHOTO GALLERY
The History Of The Plastic Bag