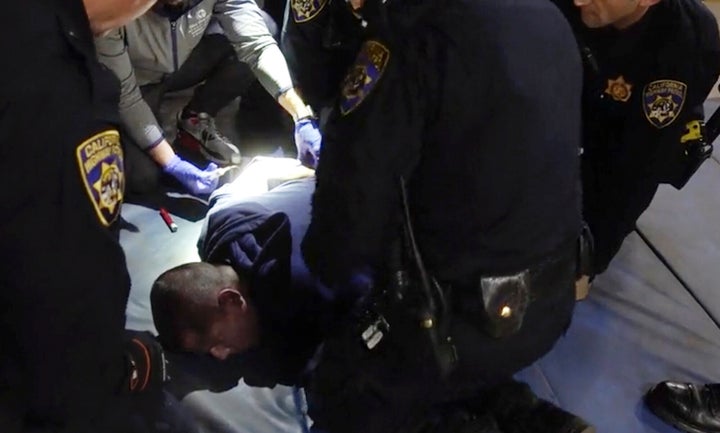 LOS ANGELES (AP) — Prosecutors charged seven California Highway Patrol officers and a nurse with involuntary manslaughter on Wednesday in connection with the 2020 death of a man who screamed "I can't breathe" while multiple officers restrained him as they tried to take a blood sample.
Los Angeles County District Attorney George Gascón announced the charges in the death of Edward Bronstein, which the LA County coroner said was caused by "acute methamphetamine intoxication during restraint by law enforcement."
"The officers had a legal duty to Mr. Bronstein," Gascón said during a news conference. "He was in their custody. We believe that they failed their duty and their failure was criminally negligent, causing his death."
In a statement, CHP Commissioner Sean Duryee extended condolences to Bronstein's family and said the agency's mission is to prioritize all Californians' safety.
"I am saddened that Mr. Bronstein died while in our custody and care. Any death in custody is a tragedy that we take with upmost seriousness," Duryee said. "I recognize this case will now move through the court system, and I respect the judicial process."
Bronstein, 38, was taken into custody by CHP officers March 31, 2020, following a traffic stop. Bronstein died less than two months before George Floyd was killed by police in Minneapolis as he, too, repeatedly told officers, "I can't breathe."
A nearly 18-minute video showing the officers' treatment of Bronstein was released last year following a judge's order.
The six CHP officers and one sergeant charged in his death face one count each of involuntary manslaughter and one felony count of assault under the color of authority. They each face up to four years in prison.
The registered nurse is charged with involuntary manslaughter.
An arraignment has not yet been scheduled.
Popular in the Community