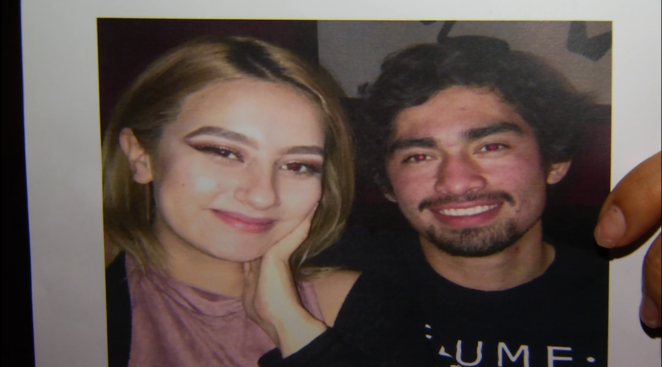 California police failed again Friday to find the boyfriend of a woman found dead near a mangled car hundreds of feet below Pacific Coast Highway.
Olivia Gonzalez and beau Brian Fernandez of North Hollywood were reported missing at Christmas by family members who were unable to reach them while they were on a road trip together with their two dogs to Big Sur. The bodies of Gonzalez and both dogs were found outside a tan sedan that had crashed 325 feet below the highway along the rugged Pacific coast in central California.
There was no sign of Fernandez. The steep coast and heavy rains hampered the initial search. Dogs, a California Highway Patrol helicopter and an Underwater Search and Recovery Team resumed the hunt for hours Friday — but again found no sign of the missing man. With severe weather expected, the search was suspended until next week.
It's possible Fernandez's body was "ejected into the water," Tony Cipolla, a spokesman for the San Luis Obispo County Sheriff's Office, told the Los Angeles Times. The car came to rest in rocks near the surf line.
Police did recover the car, which is being examined by investigators, who described the case as suspicious to KABC-TV in Los Angeles. Police, however, told other media outlets that foul play was not suspected. Autopsy results on Gonzalez are pending.
Fernandez, 21, and Gonzalez, 20, were last seen Dec. 23 when they left for their holiday trip, according to the Los Angeles Police Department. They were expected to return on Christmas Day.
A passing driver on Highway 1 reported wreckage about 10 miles north of Hearst Castle, near San Simeon, to police Tuesday. The bodies of Gonzalez and the dogs were found outside the crashed car.
Gonzalez's sister Vanessa Guzman told KTLA-TV in Los Angeles that her husband had received a text from the missing woman the day the couple left, saying they were two hours away from Big Sur. Their phones were turned off or went dead soon after.
Guzman told the Los Angeles Daily News that she had never met Fernandez but had heard from friends that his relationship with her sister was "rocky" and she was "concerned" that they were going on a road trip together.
"The body they found on the rocks is that of my sister, Olivia. She was a beautiful soul," Guzman wrote in a statement. "Prayers for my family at this time is greatly appreciated, we are grieving at this time."
REAL LIFE. REAL NEWS. REAL VOICES.
Help us tell more of the stories that matter from voices that too often remain unheard.