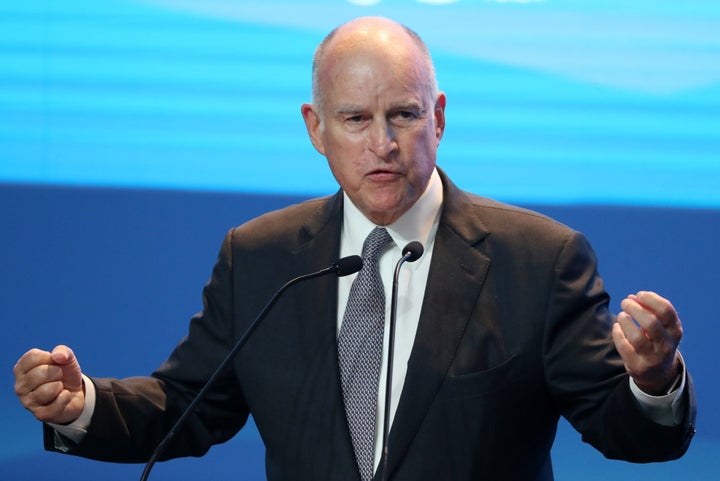 SAN FRANCISCO ― California Gov. Jerry Brown (D) signed a bill Wednesday moving the state's presidential primary from June to March, a change geared toward increasing the influence of the nation's most populous state in selecting presidential nominees.
Senate Bill 568, the "Prime Time Primary" bill, written by state Sen. Richard Lara (D-Bell Gardens), would move presidential and statewide primary elections to the first Tuesday after the first Monday in March, on what is typically known as Super Tuesday, when many other states also hold nominating contests. California had held its primary on the first Tuesday after the first Monday in June.
The new schedule will go into effect in 2019, setting California up to be one of the first states in the nation to cast ballots in the 2020 race.
Lara and other proponents of the bill hope that by moving the race to primary season's "prime time," Californians will have more say in the process. They've cited the 2016 primary, when both the Democratic and Republican nominations were all but formally locked up by the time California voted, as an example of why the change would benefit the state's voters.
"Moving California's presidential primary to March from June means candidates in both parties can't treat immigration, climate change, criminal justice reform and investing in jobs and innovation like afterthoughts, as they did too often in 2016," Lara said in a statement after the bill passed the state Assembly. "The prime-time primary will lift up the voices of Californians on issues where we are leading the nation if not the world."
The bill's proponents also argued that moving the primary up will engage more voters and increase turnout. They've pointed to 2008 — when California moved its primary to February and saw the highest turnout since 1980 — as an example of how an earlier election could increase interest. (California's Legislature moved the primary back to June in 2011.)
"Too often California is relegated to serving as a political ATM for presidential candidates," California Secretary of State Alex Padilla (D), a sponsor of the bill, said in September. "Moving up California's primary will strengthen the voice of California voters in the presidential nominating process."