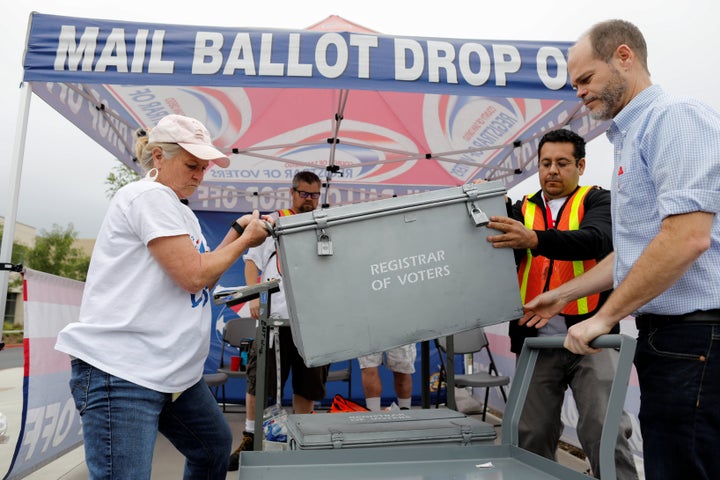 Don't expect to know who won the June 5 primaries in California on June 5.

California's use of mail-in ballots, its complicated top-two primary system and a glitch in Los Angeles' voter rolls all make it unlikely we'll have final results for who will advance to November's general election on Tuesday night for several districts. And final tallies could take weeks. 
The question of who advances is most crucial in California's 39th, 48th and 49th Congressional Districts, where a glut of Democratic candidates has the party fearing it could be locked out of a Republican vs. Republican general election. A lockout could hurt Democratic chances of winning the U.S. House in November.
But early returns might not be indicative of the final results. In the 2016 primary, nearly 60 percent of voters cast their ballot by mail ― and the ballots, which can be postmarked as late as election day, don't even need to arrive until Friday to be counted.
In the 2016 Democratic presidential primary, former Secretary of State Hillary Clinton had a 13-point lead on election night. After every ballot was counted, she defeated Sen. Bernie Sanders of Vermont by just 7 percentage points. 
In the general election in 2016, it took nearly three weeks for The Associated Press to declare GOP Rep. Darrell Issa the winner over Democrat Doug Applegate. Issa won by just over 1,500 votes. 
With multiple serious candidates running in each district, the margins between second and third place could be tight, so don't expect news organizations to make final calls quickly. 
Adding to the confusion? The names of about 120,000 voters in Los Angeles County were left off the voter rolls, according to the Los Angeles Times. That's equal to about 2 percent of all of the voters in the county. Voters were supposed to be allowed to cast a provisional ballot if their name wasn't on the rolls.
Heck, even the Fonz had to cast a provisional ballot. 
Calling all HuffPost superfans!
Sign up for membership to become a founding member and help shape HuffPost's next chapter