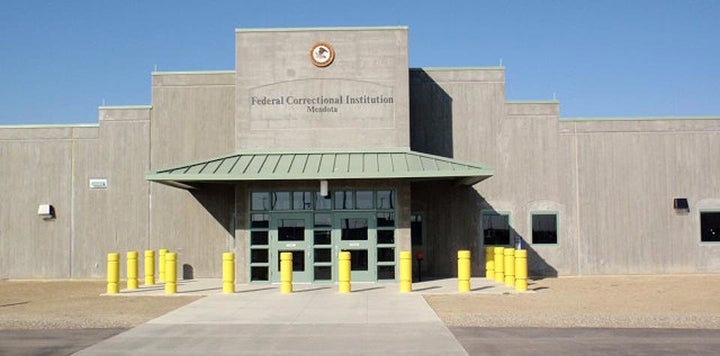 A federal prison complex home to roughly 880 inmates near Fresno, California, has endangered the health and safety of both inmates and staff through its neglect of basic facility services, triggering multiple federal investigations, whistleblowers told HuffPost.
The Federal Correctional Institution Mendota is being investigated by the Senate Committee on Homeland Security and Governmental Affairs and the U.S. Office of Special Counsel. According to Aaron McGlothin, head of the prison staffers' local union, the House Judiciary Committee and the Justice Department's Office of Inspector General have also raised questions. All these inquiries have focused on two major issues: a broken air conditioning system during a record-breaking heat wave that drove prisoners to wrap their heads in damp towels and toxic mold growth that allegedly led to respiratory illness among the prison's staff.
Mendota is not alone among prisons in struggling with these issues. As climate change has led to hotter penitentiaries, there is a growing judicial consensus that "inhumane" temperatures constitute "cruel and unusual punishment."
Or as David Fathi, director of the National Prison Project of the American Civil Liberties Union, put it: "Air conditioning is not a matter of comfort or luxury. It's a matter of life and death."
There is no national standard for temperatures in prisons and jails ― and many don't even have air conditioning ― although the Federal Bureau of Prisons operations manual states that its prisons should aim for "76 degrees Fahrenheit in the cooling season and 68 degrees Fahrenheit in the heating season," with acceptable variations of a few degrees.
Meanwhile, mold incidents like that at Mendota have been on the rise as prison infrastructure has worn down amid a lack of funding for maintenance and repair, said Eric Young, national president of the Council of Prison Locals. The council, which is part of the American Federation of Government Employees (AFGE), represents federal prison workers.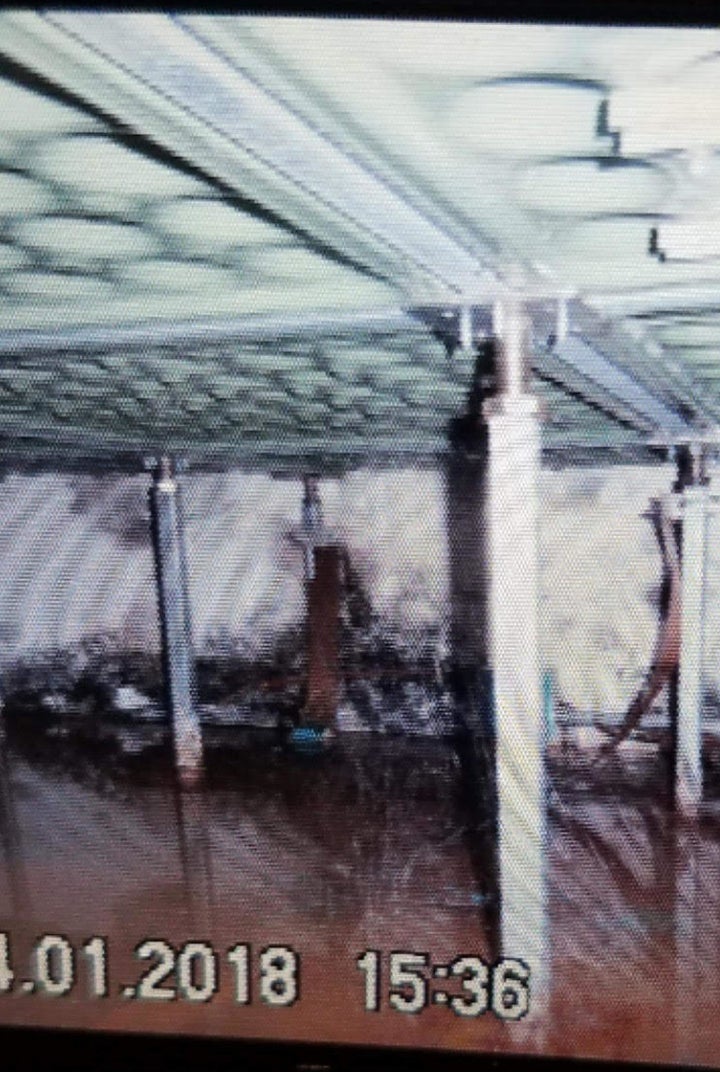 The Occupational Safety and Health Administration has seen more and more complaints filed over mold in the penal system. According to The Intercept, 81 OSHA complaints about mold in prison were filed in 2015.
But there are no federal regulations for mold either. The Environmental Protection Agency and the Centers for Disease Control and Prevention do generally advocate that mold should be removed immediately due to potential health risks.
Prisons Feeling The Heat
BOP Director Mark Inch resigned abruptly in May. Hugh Hurwitz has been acting director since then. McGlothin, president of AFGE Local 1237 and a correctional officer at Mendota, said he has emailed Hurwitz multiple times about the mold, air conditioning and other issues and has yet to get a response.
The Bureau of Prisons declined to comment on the allegations, instead providing the following statement:
The health and safety of staff and inmates at the Federal Correctional Institution Mendota is our highest priority and the institution continues to contribute to the important public safety mission of the BOP. All staff remain committed to operating a safe, humane and appropriately secure facility and continue to work to resolve any expressed concerns related to this matter.
Meanwhile in Mendota, staffers said that about 70 inmates in the lower-security facility endured indoor temperatures that exceeded 90 degrees during a July heat wave while the air conditioning was broken.
"The inmates are locked in there at night with these extreme temperatures with nothing but general house fans circulating hot air everywhere," McGlothin said. "It's like being in a convection oven."
McGlothin and others described all the inmates covering themselves with wet towels to try to stay cool.
"Thank God nobody died, but it was bad," he said.
"In most cases, the wrong people are on the wrong side of the bars. That's the reality of it."
A facilities manager was alerted in January to a breakdown in the system that controlled heating and cooling units in Mendota's minimum security camp, according to email correspondence shown to HuffPost. But management didn't fix the issue until late July after 20 days of temperatures over 100 degrees.
Meanwhile, prison staff contended with their own environmental health issue ― a colony of Stachybotrys, a type of toxic black mold, growing in the complex's control room. (That identification comes from the whistleblowers' experts. BOP has not officially tested the mold to find out what kind it is.) The room, which requires 24/7 staffing, lacks ventilation, making the mold potentially even more dangerous.
Mold in damp indoor conditions can be linked with "a wide range of respiratory health effects, including asthma development, asthma exacerbation, current asthma, respiratory infections, upper respiratory tract symptoms, cough, wheeze and dyspnoea," according to the World Health Organization.
McGlothin said at least four employees who work in Mendota's control room have gotten sick with mold exposure symptoms, and one man even resigned because of his ailments.
"Who knows if we're bringing [black mold spores] home to our families or not?" said Correctional Officer Josh Brown, who has suffered from bronchitis and other respiratory issues he believes are due to the black mold. "Could be my family, my children are getting contaminated with the black mold. When I walk through the door, it's on my clothes and now it's in my house."
Months When It Was Too Cold Or Too Hot
In January, after Mendota's correctional officers complained of the cold, HVAC supervisor Paul Millan went to the minimum security camp ― which houses white collar criminals ― to investigate.
"I went out there and established none of the equipment was running. It was never integrated in the system," he told HuffPost.
Millan and McGlothin allege that the minimum security camp's heating and cooling units went offline due to an incomplete contracting project and then remained out of commission for at least six months.
Millan said he personally documented temperatures in the high 50s that winter. As he pointed out, that's quite cold considering that inmates are often not allowed extra blankets, which are considered a security risk.
He emailed his management, but never heard a response. As warmer weather approached, he continued to agitate for help. Millan warned managers by email again in April and in late May, after a Mendota facilities manager, Marcos Martinez, emailed him that the camp's "temperature was warmer than normal 77 degrees. Do we have a plan or parts ordered for this issue, hot weather will be approaching fast."
According to Mendota's staff, the prison's temperatures were outside the BOP's acceptable limits for periods of time from January until July. Millan and McGlothin told HuffPost that temperatures in the minimum security camp's sleeping quarters averaged in the high 80s and middle 90s for about a month during the sustained triple-digit heat wave in July ― far above the 80 to 85 degrees that courts across the country have decided is the limit for "cruel and unusual punishment."
However, records of the temperatures during the time the heating and cooling units were down mysteriously disappeared from the system right after Congress demanded answers from BOP, the two men said. The Senate committee has sent two letters addressing the whistleblowers' concerns, but declined to comment further to HuffPost as "oversight efforts are still underway."
The House committee and the U.S. Office of Special Counsel did not respond to HuffPost's inquiries about their investigations, and the Office of Inspector General declined to comment.
"Thank God nobody died, but it was bad."
"Ninety-five degrees at 5:45 in the morning definitely is not safe and humane as the inmates are locked in there all night with no airflow from the outside," McGlothin said after walking through the camp in late July following a tip from Brown.
"It goes against our founding principles of safe and humane treatment of inmates," McGlothin added. "It's not our job to further punish them."
Such extreme temperatures put people at risk for potentially deadly heat stroke, according to a report released by the Human Rights Clinic at the University of Texas School of Law. Fathi also stressed that the growing number of aging prisoners in the federal system, some of whom are housed in Mendota, are particularly susceptible to such dangers.
McGlothin pointed out that overheated inmates also pose a danger to prison workers. "Our assault rate goes way up when it's hot outside as they're agitated and irritated ― and these guys lived a whole summer without A/C and they're pissed off and will take it out on staff members," he said.
Prison Staffers Treated Like 'Lab Rats'
Much of McGlothin's ire is directed at Mendota's Warden Bruce Plumley and BOP's Western regional director Mary Mitchell (who retired last week). The union official accuses them of ignoring and even covering up these health violations.
"The bottom line is it comes down to money, as every penny the warden saves he gets a bonus on it," McGlothin said.
He points to how the Mendota prison has handled the toxic black mold.
Brown, who spends his work days in the locked, unventilated prison control room, was the first to discover the black mold. While working an overnight shift, he tried to track an odd smell. He pulled up a floorboard and discovered that underneath was standing water and about 200 square feet of black mold covering parts of the subfloor area ― about half an inch thick. (Weeks later, he would also discover mold growing up the walls in a corner of the control room itself.)
"I work in that room eight hours every day, five days a week. I'm looking at it thinking it can't be good," he told HuffPost.
On April 2, right after his shift ended, Brown notified his manager, who sent emails to the warden and the safety officer. According to Brown, the safety officer saw the mold and said, "Holy shit, that's bad. Now let me out of here. I will call the facilities department to handle this."
The next day, Brown was briefly given a m95 mask ― one that didn't properly protect against mold, McGlothin said ― while OSHA visited. The warden sent out an email saying that OSHA had found violations related to the risk of electrocution given the standing water, but initially didn't alert staff to the presence or dangers of the mold.
On April 30, the Bureau of Prisons told OSHA they had abated the mold completely. But McGlothin said they didn't send in a professional cleaning crew trained in mold abatement ― just a group of their own workers with sledgehammers to destroy the sheetrock the mold was living on and rip out the infected drywall.
Afterward, McGlothin and Brown collected and sent samples to Northwest Hazmat Inc., an environmental company that specializes in testing and cleanups. The samples showed that the Stachybotrys mold was still present in heavy concentrations.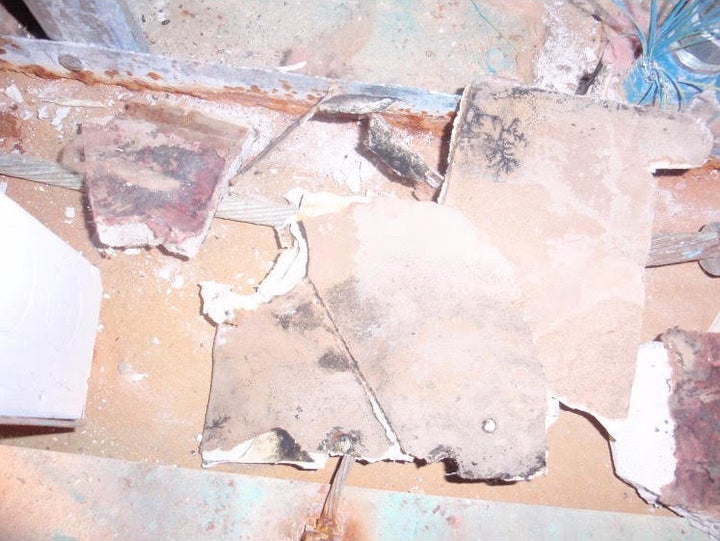 Brown was particularly disturbed by two incidents. The first was when he brought his concerns to Warden Plumley, who he felt dismissed them. "There's mold on my desk. There's mold on the floor. There is mold everywhere," he said Plumley told him.
The warden, through the Bureau of Prisons, declined to comment about their exchange.
The second was when the BOP's central office sent out Sylvie Cohen, chief of occupational and employee health, to take a look at the mold in late May. She put on a hazmat suit to examine it for a few minutes ― while Brown and McGlothin said the control room workers would be given nothing to protect themselves for months.
"It's just insane that we have to be subjected to basically being the lab rats as to what health risks we face," Brown told HuffPost.
Even without any mold-specific regulations, the prison's demands on facility staff managed to violate a few of OSHA's workplace safety requirements. For one, facilities workers vacuumed up water with a regular shop vac while electricity was still running in the area, thus risking electrocution. Moreover, the control room remained occupied during the entire abatement process ― which did not receive an OSHA violation, but did go against agency recommendations.
Brown, a former Marine, said he never had any health issues until this year, when he repeatedly had a hard time breathing. He believes his extended exposure to the mold was what led him to take 80 hours of sick leave this year for what the Department of Veterans Affairs has diagnosed as bronchitis.
Brown filed a labor claim for an occupational hazard, but McGlothin said it was denied because the prison refused to test the mold ― they're not required to by law. That meant Brown's symptoms couldn't be linked to the mold exposure and the prison couldn't be held liable, said McGlothin.
Brown has continued to document the presence of mold underneath and in the control room, which he and McGlothin said persists in leftover debris from the sheetrock, despite the prison's assurances to the contrary. And while the prison had told multiple authorities ― OSHA, BOP and the Senate ― that the issues that caused the initial flooding have been fixed, the control room subfloor had some water in a corner on Thursday, McGlothin told HuffPost.
"The area that the agency claimed to have fixed, the water breached the very first rain of the season," McGlothin said. "If we get two or three days of rain like we've gotten in the past, that is going to flood again," he added, and it'll just exacerbate the current mold problem.
Millan had a pointed assessment of the situation at Mendota.
"In most cases, the wrong people are on the wrong side of the bars," he said. "That's the reality of it."
Popular in the Community