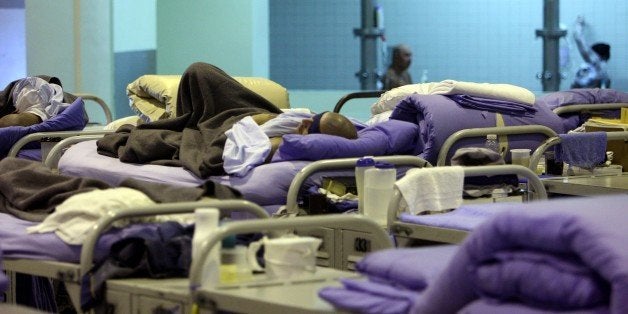 Top California lawmaker Darrell Steinberg (D) on Wednesday unveiled a plan to reduce the state's prison population by thousands of inmates over the next three years, a move that is likely to pit the Senate leader against Gov. Jerry Brown in a public debate over how to ease crowding in the state's notoriously overcrowded prisons.
The plan, which would allow the state to comply with a federal court order to reduce the population density of its prisons, aims to curtail long-term sentences for low-level drug offenders and to decrease the prison system's admissions rate. The state would boost funding for substance-abuse treatment centers, mental health programs, reentry programs, and other services that have been demonstrated to reduce recidivism, according to the proposal. It would also establish a public safety commission to advise the governor and legislature on criminal justice strategies.
The proposal stands in sharp contrast with Gov. Brown's own plan, which Brown revealed in a press conference on Tuesday. Brown's plan calls for the state to comply with the court order by transferring inmates to county jails and leasing space from private prisons. This solution, which Steinberg on Wednesday likened to "an expensive Band-Aid on a hemorrhage," would cost the state $315 million in its first year and at least $700 million total.
According to Steinberg, his plan would save the state money. Both plans would require legislative approval.
California's prison system is one of the largest and most crowded in the country. In 2009, a panel of federal judges ruled that overcrowding was compromising the health and safety of inmates. The panel gave the state until Dec. 31 of this year to reduce the population of its facilities by about 10,000 inmates, and the U.S. Supreme Court this month refused to review this decision. Steinberg's plan, however, would require a three-year extension of that deadline.
"The federal courts have put us in the untenable position of either releasing thousands of inmates from our prisons early, or putting our prison capacity on steroids by renting new prison beds at the cost of hundreds of millions of dollars for years to come," Steinberg said in a statement on Wednesday. "Neither option makes any sense. We can do far better, and it would be wrong to give up now."
It's unclear whether the federal judges who ruled against the state would grant the extension requested by Steinberg, but the plaintiffs in the overcrowding case are amenable to the idea, according to a statement issued by their attorneys.
"Senator Steinberg's substantive proposals are acceptable to us, and we are open to an extension if an agreement produces an effective and sustainable approach that will resolve the chronic overcrowding problem in the state's prisons," said Donald Specter, director of the Prison Law Office.
For now, California's Democratic establishment appears to be divided over the opposing visions. Rhys Williams, a spokesman for Steinberg, said that the Senate Democratic Caucus, which makes up two-thirds of the Senate, supports Steinberg's proposal. But Brown's plan has been endorsed by House Speaker John A. Pérez.
Brown has also secured the support of the state's powerful prison guard union, the California Correctional Peace Officers Association.
"We are confident in the governor's ability to get California on the right track," wrote JeVaughn Baker, a union spokesman, in an email.
Under Brown's plan, private prisons would be staffed with union prison guards, and the union could see its membership grow further as the prison system expands.
The standoff between Steinberg and Brown comes as support is growing for a reversal of the drug war policies that have led to mass incarceration nationwide. In recent months, congressional representatives from both parties have teamed up to introduce legislation that would cut back on severe penalties for low-level drug crimes. This month, Attorney General Eric Holder called for "sweeping, systematic changes" to the justice system and announced that the Obama administration would try to end the practice of handing out lengthy, mandatory prison terms for nonviolent drug offenders. States around the country have invested in substance-abuse treatment programs and other alternatives to incarceration. And Newark Mayor Cory Booker (D) announced on Wednesday morning his own ambitious plan to reform the criminal justice system, pledging to make it a priority if he wins a U.S. Senate seat this fall.
Under Brown's leadership, California has introduced its own reforms, granting county governments more authority in deciding whether to put low-level drug offenders behind bars or into treatment programs. Between 2010 and 2012, the state's prison population declined by about 25,000 inmates. Yet criminal-justice reformers are hardly satisfied.
Steinberg's plan "has the potential to reduce population and spending," said Glenn Backes, a lobbyist for the Drug Policy Alliance, an advocacy group. "It's a better plan than the governor's. There's still a lot of work to do to address the racist drug war, but this is better."
Calling all HuffPost superfans!
Sign up for membership to become a founding member and help shape HuffPost's next chapter
BEFORE YOU GO
PHOTO GALLERY
People Killed By The War On Drugs