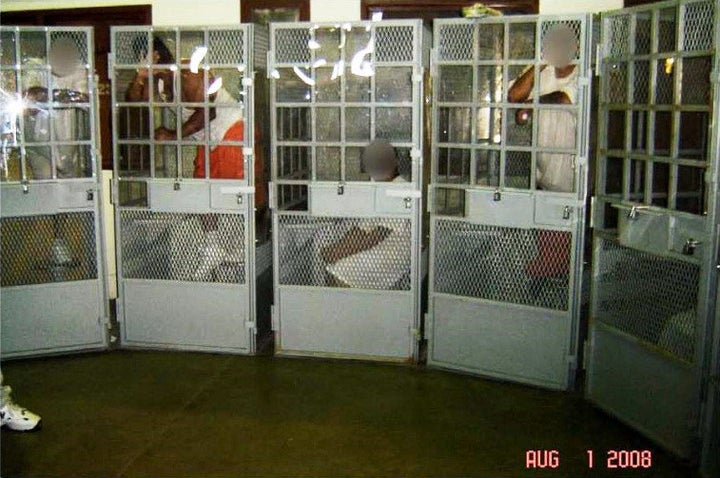 A crumbling building called East Block, a section of California's oldest jail, San Quentin State Prison, houses some of the state's most dangerous death-row prisoners.
But the dining room and dormitories of East Block also provide homes for other things: birds, rodents, cockroaches and pools of standing water mixed with worse substances, a result of an inadequate plumbing system. Keeping the facility even remotely sanitary given the overcrowding is almost impossible, said Jeanne Woodford, former San Quentin Warden who worked at the facility for a total of 27 years, starting as a Correctional Officer.
"These prisons are falling apart," she said.
So are the state's 140,000 inmates. Jam-packed into 33 prisons only built to hold 80,000 individuals, these men and women commit suicide at double the national inmate average, experience unprecedented rates of lock-downs, receive inadequate medical treatment and sometimes live in continuous fear of violence.
Monday, overcrowding-related hazards were deemed so egregious that the United States Supreme Court ruled in a 5-4 decision that these prisons violate the Eight Amendment, which protects against cruel and unusual punishment, and ordered California cut 30,000 inmates over the next two years.
"Overcrowding has overtaken the limited resources of prison staff; imposed demands well beyond the capacity of medical and mental health facilities; and created unsanitary and unsafe conditions that make progress in the provision of care difficult or impossible to achieve," wrote Justice Anthony M. Kennedy for the majority.
Given the close vote and the extreme decision to drastically reduce the prison population—a task that the state will likely accomplish through sentencing reforms rather than a mass exodus of inmates—critics wonder how bad the situation inside the California prisons could actually be. According to those close the system, it's been dysfunctional for more than two decades, with the specific problems changing but the quality of life for most inmates remaining unconstitutionally bad.
The lawsuit decided Monday, Brown vs. Plata, began in 1990 with a suit filed on behalf of the system's mentally ill patients, many of whom were either not receiving their medication or overmedicated to the point of being comatose. Without proper treatment, the inmates often turned to suicide or succumbed to psychosis. Recruiting doctors proved difficult because many of California's prisons are in remote areas of the state, and the facilities lacked qualified professionals. At that time, the prisons weren't overcrowded, and advocacy groups like the Prison Law Office made headway toward establishing legitimate psychiatric wards.
But in the mid-1990s, changes to prison sentencing, specifically moves towards longer sentences and the adoption of a three-strike-rule, created a revolving door of criminals who stayed for longer and longer. The newly built psychiatric wards were quickly converted into dormitories, and and the number of patients overwhelmed the doctors and therapy programs.
Therapy sessions that did occur often took place outside, with each "at risk" inmate squatting in a tiny cage, according to Michael Montgomery, an investigative reporter for California Watch who has been reporting on this story for years. In the written decision, Kennedy noted:
"Because of a shortage of treatment beds, suicidal inmates may be held for prolonged periods in telephone-booth sized cages without toilets. A psychiatric expert reported observing an inmate who had been held in such a cage for nearly 24 hours, standing in a pool of his own urine, unresponsive and nearly catatonic. Prison officials explained they had "'no place to put him.'"
In the early part of the aughts, the situation remained abysmal. In 2001, another suit was filed for inadequate medical treatment. From 2003-2004, one inmate each week died as a result of lack of treatment. In 2006, the suicide rate approached the same level.
A change came in 2006, when a court mandate established a receiver to run the system's medical services, a federal intervention that helped improve the medical care.
Despite such gains, the current receiver, Clark Kelso, supports the Supreme Court's decision.
"There are still some inmates that are not [receiving adequate medical care] in the prisons with the highest overcrowding issue," Nancy Kincaid, director of communications for Kelso, told HuffPost. "It's virtually impossible to deliver medicines or get inmates to appointments … [Kelso] agrees that reducing overcrowding is a primary thing that needs to be done."
Medical treatment remains a problem, but today's issues have shifted toward unsanitary conditions, uncontrollable violence, and lack of educational programs.
With all traditional prison cells filled, hundreds of inmates live in converted gymnasiums lined with rows of triple-level bunk beds so close together that only one man can fit through the aisle. Only two or three correctional officers will oversee the room crammed with 200-300 men.
"Imagine it," said Rebekah Evenson of the Prison Law Office. "The noise level is tremendously high. The heat is overwhelming. And the tension in the air is palpable."
Violence, in this situation, is both nearly inevitable and nearly impossible for correction officers to prevent or treat. At the court hearing, Woodford testified to a situation at California Rehabilitation Center, commonly known as CRC, where an inmate was stabbed in the middle of one such gymnasium. Given the standard level of noise and chaos, the two correctional officers in the room weren't aware of the stabbing for hours. By the time they finally realized it had occurred, the man was dead.
California continues to lead the country in fewest educational and rehabilitative programs offered to its inmates. Riots—including two within the last week alone—remain common. The system's response to such events is to impose race-based confinements that have sometimes lasted for years. This policy, which puts all inmates of a certain race under 24-hour lockdown while the rest of the prisoners resume daily life, served as the impetus for another lawsuit filed by the Prison Law Office a few weeks ago, alleging racial discrimination. The prisons, on the other hand, say that the lockdowns are the only way to manage the jail's bloated, chaotic population.
"It was and continues to be unbelievably bad," said Woodford. "All you have to do is look at the pictures of housing and the people crammed in so tightly and the only option they have is to sit on their box. There's not even a place to walk around it."
Calling all HuffPost superfans!
Sign up for membership to become a founding member and help shape HuffPost's next chapter