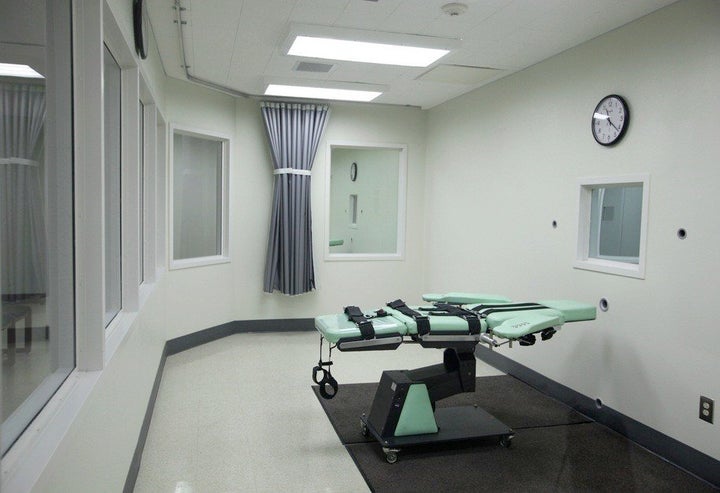 When the Bible commands us "Justice, justice shall you pursue," the repetition is to teach that not only we must have just ends, our means to those ends must be equally just.
Our commitment to that core teaching will be tested next month by our community's response to Proposition 34, which would replace California's death penalty with life in prison without parole, save $130 million each year, devote $30 millon per year for three years to help solve unsolved murders and rapes and require those convicted of murder to devote prison earnings to pay restitution to the families of their victims.
During Yom Kippur, congregants at Kehillat Israel had the profound privilege of hearing Franky Carrillo, a remarkable young man who was released from prison after serving 20 years for a murder he didn't commit. The stark reality of how unjust his fate could have been while we still have the death penalty couldn't help but send shivers down the spines of the congregation.
Knowing that over 140 innocent and wrongfully convicted people have been released from prisons in recent years should alone, be enough to convince us of the necessity to protect the sanctity of justice and eliminate the death penalty.
Religious leaders, civil rights advocates, human rights organizations and others for years have been calling for an end to the death penalty, which has been banned in most democratic nations. But now death penalty opponents have been joined by a chorus of unlikely allies, including victims' rights advocates, prison wardens and law enforcement officials. Jeanne Woodford, who oversaw executions as warden at San Quentin prison now runs the state's largest anti-death penalty organization. Former LA District Attorney Gil Garcetti is a leader on the Prop 34 campaign. Even Don Heller, who wrote the ballot initiative re-instating the death penalty in 1978 now says doing so "was a terrible mistake."

These leaders cite the risk of executing the innocent, the fact that the death penalty is used predominantly against the poor and people of color, and that the high cost of the death penalty (including trials, special prison housing, constitutionally required appeals, extra security and administrative costs) is far more expensive than permanent incarceration. As proposed by Prop 34, the funds saved by eliminating the death penalty could instead go to law enforcement, crime prevention and other public safety priorities.
Proposition 34 would convert death sentences into sentences of permanent incarceration, effectively replacing death in the execution chamber with death in prison. It allows us to still mete out the punishment deserved to the most heinous criminals but in a way that does not run the risk of killing the innocent, wasting money, distorting our criminal justice system and needlessly blooding our hands any further.
In the Jewish tradition, even though the Bible approves of capital punishment in some cases, our early Rabbis understood the danger of putting the power of life and death in the hands of people who could be vengeful, zealous or just mistaken. The Rabbis could not have envisioned the cruel and tragic system of state killing that we have today. It is a patchwork system which struggles to find attorneys competent to defend death cases. It costs over 130 million more per year than life in prison. And, as the Sacramento Bee pointed out in reversing its 155 year old editorial policy by endorsing Prop 34, ones chances of getting the death penalty arbitrarily vary according to what county you live in. And yet even without such a system corrupted by such overwhelming injustice, the Rabbis had the wisdom to reject the death penalty. So even while the death penalty remained in Jewish texts, it did not gain acceptance in Jewish communities.
The instincts of those early Jewish leaders seem even wiser now. This November, we would be wise to follow their lead.
Rabbi Steven Carr Reuben, is senior Rabbi at Kehillat Israel Reconstructionist Congregation in Pacific Palisades.
Steve Rohde, Esq. is a constitutional lawyer and Vice-Chair of Bend the Arc: A Jewish Partnership for Justice.
Calling all HuffPost superfans!
Sign up for membership to become a founding member and help shape HuffPost's next chapter