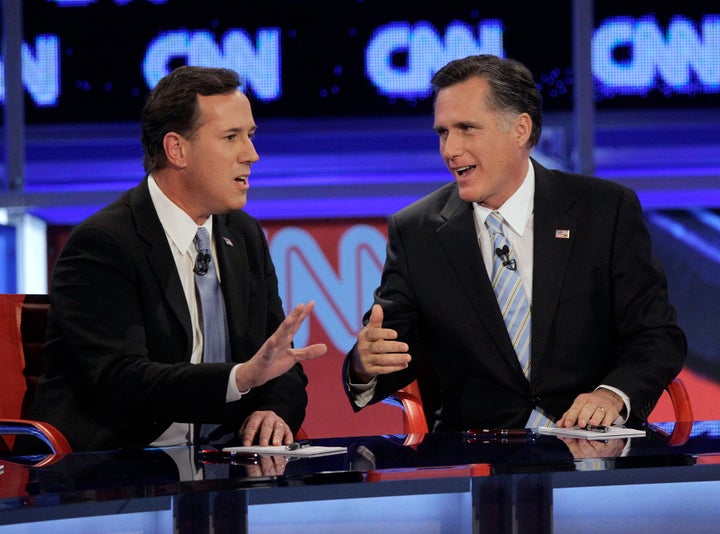 A Field Poll of California Republicans released on Wednesday shows the opinions of Golden State GOP voters in a rapid state of flux as to whom they support to take on President Obama in the fall.
Currently, former Massachusetts Governor Mitt Romeny leads former Pennsylvania Senator Rick Santorum 31 percent to 25 percent.
This six-point gap is the slimmest margin Romney has had over any of his competitors this year and represents his only serious challenge for California's 172 delegates since last November's brief Gingrinch surge put the former House Speaker only three points behind Romney in the state.
The California's mother lode of 172 delegates has long been considered Romney's firewall against a contested or even brokered national convention in Tampa, Fla., in August. A contested convention is the ultimate nightmare scenario for the GOP, which has savored this year as its best chance since Jimmy Carter to deny a second term to an incumbent Democratic president.
Attitudes toward Romney and Santorum are changing so rapidly that pollsters noted a substantial shift during the two-week duration in which the poll was conducted. At the beginning, Romney held a comfortable 20-point lead over Santorum, which shrunk to only six by the end of the survey period, following Santorum's unexpected victories in the Missouri's "beauty contest" primary and the Colorado and Minnesota caucuses.
Mirroring a similar trend nationally, Romeny's support has long vacillated around one-third of Republican voters, with the fortunes of the other candidates rapidly rising and falling as each one took his or her turn as the "anti-Romney" flavor of the month.
Romney's support in California largely comes from moderate sections of the party--younger, coastal dwellers who don't strongly identify with the Tea Party. Santorum's base in California is decidedly more conservative, largely comprised of residents of the state's inland counties and self-described born-again Christians.
Despite his recent slide, Romney's favorability is significantly higher than any of his competitors. Two-thirds of California respondents view Romney favorably compared to 40 percent for Santorum, 35 percent for Gingrinch and 24 percent for Ron Paul.
Only registered Republicans are allowed to vote in California's June 5th primary. Just with California's delegates alone, a candidate would be 15 percent of the way to the magic number needed to secure the nomination.
Check out this video detailing Santorum's recent surge in the polls:
REAL LIFE. REAL NEWS. REAL VOICES.
Help us tell more of the stories that matter from voices that too often remain unheard.
BEFORE YOU GO