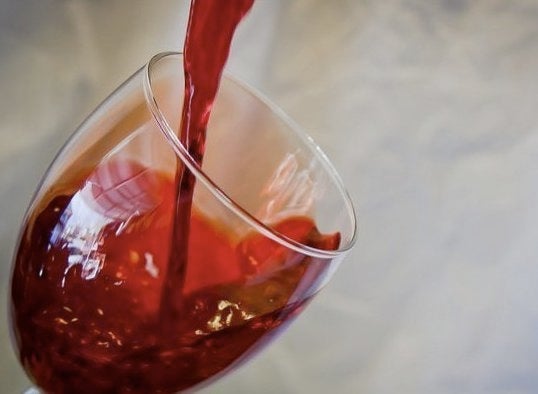 The annual San Francisco Rhône Rangers grand tasting, which was held March 25, got me reflecting on the state of Rhône varieties in California. I've been to this and other Rhône-themed tastings for many years, and there are clear trends in what Rhône grapes do well here, and which have, to date, produced less impressive results.
The Rhône is one of the great wine regions of France, and of the world. Based on centuries of experience with grape growing and working with specific sites, a major division has developed there between grapes grown in the hilly, more rain-soaked north versus the warmer south.
In the Northern Rhône, the sole red grape is Syrah, which is sometimes blended with a small amount of the white grape, Viognier. The white grapes are floral Viognier, and the oily-textured, often very ageworthy Marsanne and Roussanne (the latter two typically blended).
In the Southern Rhône, the dominant appellation is Châteauneuf-du-Pape, France's first official AOC (appellation d'origine contrôlée). There a multitude of grapes are permitted, but the primary red grape is Grenache, which came originally from Spain. Syrah is a fast-rising second, due to heavy plantings of this grape in recent years. Smoky, earthy Mourvèdre, also originally from Spain, is the third most important red grape.
Few wines from the Southern Rhône are made from a single variety. Most are a blend of red grapes, sometimes with white grapes added to the mix. The dominant blend in Châteauneuf-du-Pape and the surrounding appellations, like Côtes du Rhône, Vacqueyras and Gigondas, is Grenache, Syrah and Mourvèdre. This blend is often referred to in the southern Rhône and elsewhere as GSM. There are also several blending grapes grown in small quantities, like Cinsault, Counoise, Muscardin, Vaccarèse and Terret Noir.
Ninety percent of the wine from Châteauneuf-du-Pape is red, but there are some delicious whites too, from that and other Southern Rhône appellations. The main white grapes are Grenache Blanc, Clairette, Roussanne and Marsanne, with small amounts of other blending grapes, like Bourboulenc and Picpoul.
Here in California, a few pioneers -- like John Alban, Randall Graham of Bonny Doon, Josh Jensen of Calera, and Napa's Joseph Phelps -- started planting Rhône varieties in the late 1980s. (Modern Syrah plantings go back to the 1970s, but didn't really take off here until the mid-1990s.)
Their wines gave a much needed shot of diversity to the California wine scene, which until then had been all about Chardonnay, Cabernet and Zinfandel. These pioneers helped start California's Rhône Rangers movement, which produced last month's weekend event.

So which of these Rhône grapes, or blends, do well in California?
The biggest Rhône grape success story in California in terms of quality of offerings and relative value is Syrah. I've written previously here about the different styles of Syrah. California produces a lot of great Syrah, including cooler climate Syrahs that have savory and peppery characteristics reminiscent of Northern Rhône Syrah.
California also excels with Viognier, the white grape that produces the very expensive floral and peach-flavored wines of Northern Rhône's tiny Condrieu appellation. Our versions typically lack the minerally qualities of great Condrieu, but the best producers are capturing Viognier's peach and floral flavors, with good underlying acidity.
California is also starting to do well with Rhône-grape Rosés, typically based on Grenache and/or Mourvèdre. I tasted several dry Rosés at this year's Rhône Rangers event that were reminiscent of French Rosés from Provence and Bandol -- world benchmarks for great Rosé.
California is also having some success with white and red blends. I wouldn't say I've been very excited by any California GSM blends, but blends of Syrah and Mourvèdre, and or Syrah and Petite Sirah with other grapes, including non-Rhône grapes like Zinfandel, are often successful.
Where California does less well is with single variety offerings of grapes that are typically only used as blending grapes in the Rhône -- grapes like Grenache Blanc, Cinsault and Counoise. California has a long tradition of focusing more on varietal wines than blends, but some of these grapes just do not work well in single varietal versions. They need blending partners to help provide some of the characteristics to the wine that an individual grape like Cinsault, for example, low in both tannin and acidity, lacks.
A particular variety that continually disappoints me when I taste California versions is Grenache. This grape is grown widely around the world, but is sharply down in acreage over the last two decades from its height as the world's second most widely planted grape. I think that's due in part to the fact that it rarely makes very distinguished or complex wines.

The grape reaches its true apogee in Châteauneuf-du-Pape, where old vine vineyards, on rocky soils, produce complex wines with a rich cherry core, minerality, and complex additional flavors, like anise and lavender. Here in California, on the other hand, most Grenaches are fairly insipid red wines with berry and cherry flavors, but little real character.
I previously listed here some of California's best Syrah producers. The best Viogniers I've had to date have come from Alban, Calera, Cold Heaven, Jemrose and Nicholson.
The best Rosés I tasted at Rhône Rangers were from Quivira, Sanglier, Unti and Verdad. The best white blends were from Anglim, Edward Sellers, Sheldon and Unti. The best red blends were from Big Basin, Jemrose, L'Aventure, Sanglier, Stolpman, Two Shepherds and Unti.
For more details on these producers and my complete report on 151 wines tasted and rated at the Rhône Rangers event, see my blog here.

Calling all HuffPost superfans!
Sign up for membership to become a founding member and help shape HuffPost's next chapter