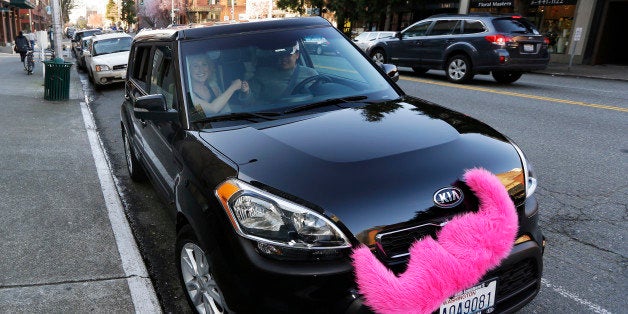 Uber, Lyft, and Sidecar have won the latest battle over government regulation after the California Department of Motor Vehicles retracted a controversial memo telling the companies' drivers they needed to register their cars as commercial vehicles.
"We jumped the gun, and we shouldn't have," California DMV Director Jean Shiomoto said in a statement emailed to The Huffington Post on Saturday.
The DMV's reversal came shortly after all three companies spoke out against a memo the department released earlier this month reminding drivers that "any passenger vehicle used or maintained for the transportation of persons for hire, compensation or profit is a commercial vehicle," and that "even occasional use of a vehicle in this manner requires the vehicle to be registered commercially." The notice did not introduce a new law, DMV spokesman Artemio Armenta told HuffPost, but instead referenced a code that has been in place since 1935.
Typically, rideshare drivers -- whom passengers hail exclusively through smartphone apps -- use their own personal vehicles, setting their own hours and working as much or as little as they like.
The rule would likely have been a major headache for rideshare companies. Obtaining commercial plates, the San Francisco Chronicle explains, requires a DMV appointment, involves hefty paperwork and demands higher fees than personal registration -– all of which could deter new drivers from signing on with rideshare companies.
In statements Lyft, Uber and Sidecar sent to HuffPost, all three companies spoke out against the DMV's original memo, citing agreements with the California Public Utilities Commission (CPUC), the department that oversees these transportation network companies, or TNCs.
"The [CPUC] allows TNC drivers to use personal vehicles with personal registration on the uberX platform," Eva Behrend, an Uber spokeswoman, told HuffPost, adding that Governor Jerry Brown (D) and the California legislature "agreed with the CPUC when they passed a TNC bill that affirms that TNC drivers may use personal vehicles."
Behrend was citing AB 2293, a bill passed last year that requires parent companies to cover drivers' insurance when they are working, and referencing a line in the bill's text defining cars driven in TNCs as "personal vehicles."
Before the DMV backtracked on its memo, Armenta told HuffPost that AB 2293 only relates to insurance and that the matter of registration is a separate issue determined by the DMV. CPUC Director of News and Information Terrie Prosper backed up the DMV's right to regulate, saying that they require TNC drivers to drive private vehicles but do not specify a type of registration.
Now, in addition to retracting the memo, the DMV says it will explore the confusion it raised over the scope of AB 2293 before enforcing any regulations.
"The matter requires further review and analysis which the department is undertaking immediately," Shiomoto's statement read.
The DMV's reversal is a win for rideshare companies pushing an image of their drivers as carpoolers who shouldn't face the same regulations as taxi drivers.
"Over 80 percent of Sidecar drivers are part-time or occasional drivers, giving rides on their way to work or to supplement their income," wrote Sidecar spokeswoman Margaret Ryan. "Everyday Californians using their car in this capacity shouldn't be required to hold a commercial license."
Requiring commercial plates "would essentially treat peer-to-peer transportation the same as a taxi," said Lyft spokeswoman Chelsea Wilson.
This debate is only the latest disagreement over whether rideshare companies should be regulated the same way as traditional taxis, whose drivers have been some of the most outspoken opponents of TNCs. Last month, district attorneys in San Francisco and Los Angeles sued Uber for conducting faulty background checks on its drivers and for a number of other violations, including illegally operating at airports and charging fraudulent airport fees.
Calling all HuffPost superfans!
Sign up for membership to become a founding member and help shape HuffPost's next chapter