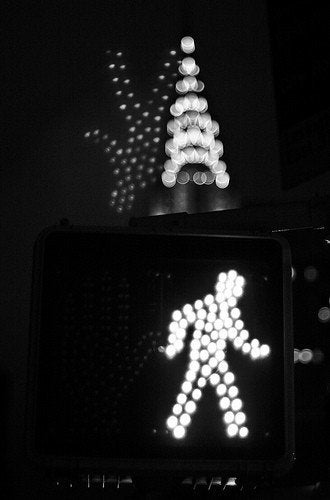 A driver speeds down a hill, loses control of his vehicle and collides with a car travelling the opposite direction, killing a passenger and severely wounding both drivers. No matter what we call it: a crash or an accident, it is a tragedy. Yet the words we use to describe such sad events play an important role in how we think about the problem of road safety.
Calling crashes "accidents" implies that no one was at fault, that it could not have been prevented. Accidents are regrettable but also acceptable, yet we know roadway fatalities and serious injuries are not. We know many crashes are preventable because between 2005-2009 (the most recent data available from California Highway Patrol), a statewide emphasis on improving road safety lead to a consistent decrease in the amount of roadway injuries and deaths.
That mission was awarded this month when Caltrans won the 2011 Roadway Safety Award from the U.S. Department of Transportation for a software program that makes it easier for local transportation authorities to determine which safety projects will have the greatest impact.
The software is called "California's Highway Safety Improvement Program (HSIP) Application and Evaluation Tool for Local Roadways" and it represents the future of road safety governance and oversight in a world connected by data. Not only does the program allow Caltrans to evaluate its own projects, but it also helped the transit authority dole out $75 million in federal funding for 179 safety projects in California.
Aside from the success story, what's heartening here is the appetite to attack a problem by collecting and analyzing the enormous amount of data available on the subject of road safety. Instead of simply paving roads and putting up cautionary signs, Caltrans is going further to account for human error, an element that cannot be extinguished but must be planned for.
This philosophy has been popularized in a Scandinavian nation renown for its cultural emphasis of long term planning. Beginning in 1997, Sweden's parliament sought to entirely eliminate traffic fatalities with an ambitious program called "Vision Zero."
The Swedish National Road Administration implemented a philosophical shift in which "the blame for fatalities in the road system is assigned to the failure of the road system rather that the road user."
Of course road users still bear some responsibility, but Vision Zero asks traffic safety officials not to simply address current ills, but look to the future and design the optimal roadways. That is, the designers of roads are responsible in large degree for how people use them.
Sweden hasn't been able to eliminate roadway fatalities since 1997, and in fact the amount of fatalities has leveled out at around 480 per year or one death per 18,754 residents. But that's still pretty impressive. By comparison, award-winning California lost one person per 12,509 people to a roadway accident in 2009, meaning Sweden's system is about one third safer.
Proponents of Vision Zero in Sweden lament the reality of cost, priority of other policy objectives and "social dilemmas" -- drivers are willing to accept a certain amount of risk to drive how they please. Similar issues, plenty of motorcycles, and a mounting debt crisis will no doubt play a role in Caltrans' quest to eliminate roadway fatalities.
Still, the success of Caltrans -- doing more for citizens with efficient, data driven spending -- is in some ways a model for the rest of the state. Subtly the state's roadways are becoming safer and new projects must meet a rigorous criterion for safety and cost efficiency. It's the kind of thinking and execution that can make California a safer, more responsible and more prosperous state.
Beckley Mason writes a Bay Area street safety blog.

Related
Popular in the Community