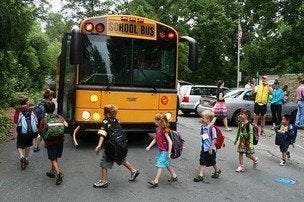 The big yellow school bus is fast becoming a relic in California, as districts eliminate bus drivers and routes to address education budget cuts.
Officials for the San Francisco Unified School District ended bus service for hundreds of children this fall and will make further reductions over the next two years as the district cuts transportation expenses by 44 percent.
In San Diego, about 3,500 students returning to school this month will have to find another ride or switch schools because their bus routes have been eliminated. The 20 percent reduction in bus ridership is one of many cuts, including about 600 laid-off teachers, counselors, nurses and librarians.
"A lot of the students will have longer rides or not have them at all," said Gene Robinson, transportation director for the San Diego Unified School District. "Some will have a farther bus stop to get to. ... We're trying to be more efficient and put as big of a bus on the road as possible."
California is different from most other states in that it doesn't require schools to provide busing except in limited circumstances, including for special education students. The state also covers less of the costs, on average about 40 percent, according to California Department of Education officials.
As a result, the state ranks last in school bus ridership. Just 16 percent of California children ride buses to school, according to a 2003 report [PDF] by the Surface Transportation Policy Project.
Last year, the Department of Education spent about $491 million on busing. That's down from $511 million in 2005, according to a report [PDF] by the California State Auditor.
Advocates of busing say the cuts are shortsighted. They say there's a reduction in quality of life when families have to cope with congested streets to drop off their kids. Some are concerned about the environmental impact of having more cars on the road. They point to bus safety records that show transporting students by bus is safer than by cars.
School buses make up about 25 percent of trips during student commuting hours, but just 2 percent of fatalities. Cars and other vehicles account for 59 percent of school commuting trips and 74 percent of fatalities, according to national statistics compiled by the Surface Transportation Policy Project. The project is a coalition that promotes policies to protect neighborhoods and make better travel choices.
But the regulations that make buses safer are expensive - for example, building buses out of materials that won't crush when they roll over and inspecting vehicles regularly. Many school districts say they cannot provide discretionary bus service if it means making further cuts in the classroom.
Local districts decide how much busing to provide, and at what cost, so there's a considerable range in service across the state. It's becoming increasingly rare for districts to provide neighborhood busing for those living outside a certain distance from their school. Many districts have started charging families hundreds of dollars for an annual bus pass.
This fall, the Long Beach Unified School District is ending bus service for one-third of its riders. Fewer than 10 percent of the students in the district will be bused, and more cuts are anticipated as it phases out busing to its middle schools over the next two years.
"The state is clearly targeting transportation as something it wants districts to stop doing," said Paul Bailey, director of Long Beach Unified's transportation department. "It's a shame we're in the condition we're in."
Eleanor Yang Su is an investigative reporters for California Watch, a project of the non-profit Center for Investigative Reporting. Find more California Watch stories here.
Calling all HuffPost superfans!
Sign up for membership to become a founding member and help shape HuffPost's next chapter