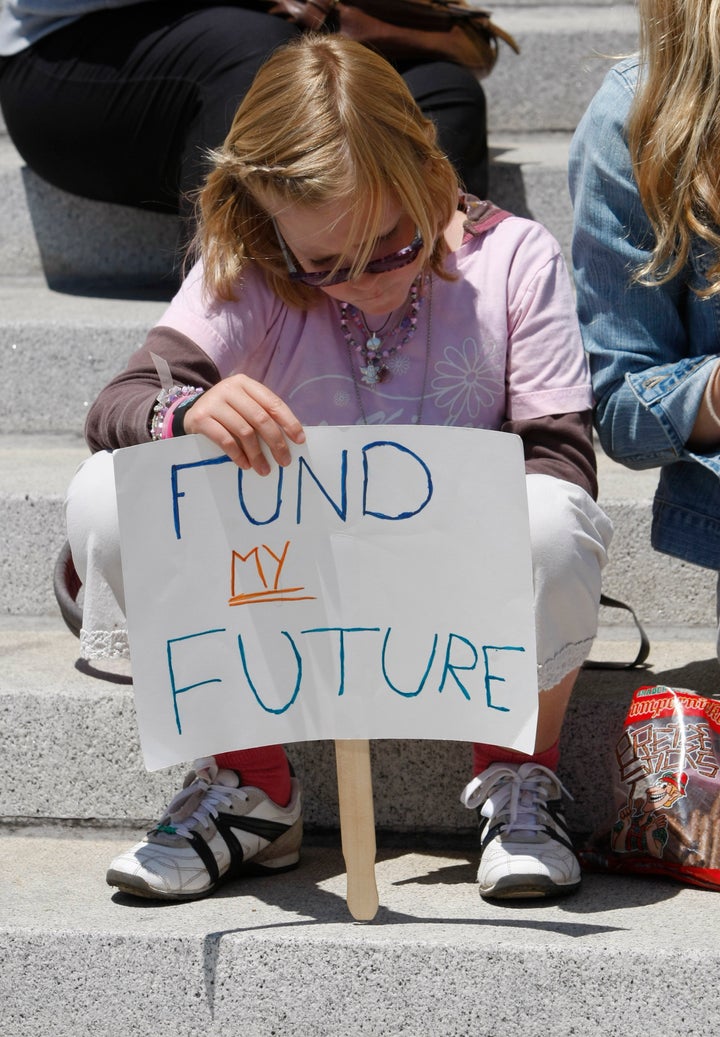 State lawmakers have struggled for decades to bring equality to how school districts are funded, yet some districts receive thousands more per student than others, a California Watch analysis has found. And the data shows spending more provides no assurance of academic success.
Last year, California schools spent an average of $8,452 to educate each student, a figure that includes money from local, state, and federal sources, including one-time stimulus funds.
Figures are typically available only for how much districts, not individual schools, spend on their students. But according to the state's Legislative Analyst's Office, some of the smallest schools in the Sierra foothills, with just a handful of students, received about $200,000 per student.
Public schools consume the largest share of the state's shrinking general fund – 42 percent of the $86 billion total. How those funds are allocated is coming under increasing scrutiny by education leaders, advocacy groups, school districts and lawmakers.
In April, Assemblywoman Julia Brownley, D-Santa Monica, chairwoman of the Assembly Education Committee, introduced legislation to reform education financing. Based on a plan proposed by Gov. Jerry Brown during his gubernatorial campaign, the bill would simplify funding formulas and direct money to students with extra needs, such as those from low-income families.
"We talk a lot about the achievement gap, but there is also a parallel financial gap," Brownley said. Unless the system is reformed, she said, "we will continue to have this disparity and this divide."
As districts struggle to cope with massive budget cuts, an extra few hundred dollars per student can make a significant difference. In a school district like Los Angeles Unified, by far the largest in the state, $500 more per student would yield about an extra $300 million, precisely the amount the district aimed to save when it sent out thousands of layoff notices this spring.
More money, however, does not necessarily translate into better learning. California Watch's analysis shows there is no substantial correlation between how much a school district spends and its Academic Performance Index, which is based on student test scores and other academic measures.
The disconnect between money and academic performance is at the heart of an ongoing debate among educators and researchers.
"Money may be necessary for school improvement, but it doesn't guarantee that improvement takes place," concluded UC Berkeley education professor W. Norton Grubb in his recent book "The Money Myth," after conducting an intensive review on the subject.
In particular, he found that urban schools tended to spend inefficiently for a variety of reasons, including high staff and student turnover and conflicts over how to teach struggling students. At the same time, he said, urban districts often have extra expenses for needs such as security, dropout prevention, or for teaching students who are not proficient in English.
One of those districts with higher expenses is the Ravenswood City School District in East Palo Alto, where about two-thirds of students are English learners. The district has had to hire three full-time Spanish translators – mainly to translate lengthy special education reports as required by law – and has translators working in the school office, in classrooms and at parent meetings.
Ravenswood spends nearly $13,000 per student, yet has cut several programs and may slash two weeks from the next school year, said Superintendent Maria De La Vega.
"It is sad, when you look across the freeway, and see so many other opportunities (for students there)," she said, referring to the Palo Alto Unified School District, in a wealthier community on the other side of Highway 101. "I wish I could do better for our students, but the budget keeps getting worse."
California Watch's analysis is based on the state's current expense of education per student, which includes annual salaries, employee benefits, books, supplies and other educational services. It doesn't include costs for building purchases, construction, retiree benefits and food services.
Many teachers have given up on official funding sources and are spending their own money for classroom supplies. Cheryl Longo, a special education teacher at Canyon Springs High School in the Moreno Valley Unified School District, east of Riverside, estimates that she spent about $800 this year on books, paper, pens and other supplies, including 3-D glasses for an online tour of national parks.
The $100 she got for supplies from her school principal at the beginning of the year was quickly spent on two ink cartridges for her classroom printers. "Thank God for 99-cent stores, Goodwill and yard sales," she said.
Longo has not had a new desk or chair since 1987 – the year her school was built. The rickety desk she has now is propped up with bricks. "If I want a new desk or new chair, I will have to buy one myself," said Longo, who has spent three decades in the classroom.
Last year, financial frustration prompted nine districts, including the Alameda Unified School District, and several dozen parents and students to file a lawsuit claiming the funding system is unconstitutional. The suit, Robles-Wong v. California, is being heard in Alameda County Superior Court along with another suit by the Campaign for Quality Education, which makes similar allegations.
"We are not asking for simply more money," the Campaign for Quality Education suit contends. "We're asking for fundamental reform so that existing and additional funds will be more efficiently spent."
What especially galls education leaders in Alameda is that its district receives substantially less money than nearby districts like Berkeley, Oakland and Palo Alto.
"There is a huge sense that the system is very inequitable in how it operates," said Patricia Sanders, a middle school math teacher who is also president of the Alameda Education Association, the district's teachers union. "For us not to receive the same amount as other districts near us is like saying, 'We are going to value one child more than another.' " The experience of the Norris School District in Bakersfield, with four elementary schools and one middle school, illustrates many of the contradictions of California's school financing system.
The district, which draws its students from suburban tracts that have sprouted amid alfalfa fields and almond groves on Bakersfield's outskirts, is the state's seventh-lowest spending district. Yet the Norris district has achieved a score of 841 on the state's Academic Performance Index, well above the state's goal of 800 and far higher than many districts that spend much more. Every school has fully staffed libraries, music and arts programs, well-maintained buildings, and almost no teacher turnover.
Norris' superintendent, Wallace McCormick, said his district buys only essential instructional materials. It pays principals and staff slightly less than surrounding districts and has maintained a healthy reserve budget.
The district has benefited from rising student enrollments in recent years, which brought in more state funding for each child in attendance. The district also erected new buildings in the last decade, lowering its maintenance costs. Most importantly, he said, "we have learned to live within our means."
Yet McCormick said his district will run out of funds if state budget cuts continue. This year, he was able to avert fiscal disaster by using $1.5 million in one-time federal stimulus funding. The district increased class sizes and spent a third of its $6 million reserve. Unlike many districts, Norris averted layoffs and unpaid furlough days.
"My funding model is that we want to be the last lemming over the cliff," McCormick said.
Norris, however, shouldn't be seen as a model for doing more with less, he says. The district is solidly middle class, he says, and spends less than districts with large numbers of poor students or English language learners with more costly needs.
But even among those districts with more expenses, disparities exist.
Disparities in targeted funds
Oakland and Moreno Valley have a similar number of students, and both have diverse student bodies. In each district, nearly three-fourths of the students are poor enough to qualify for a free or reduced-cost lunch. The districts' test scores are similar.
Yet last year, Oakland spent about $3,000 more per student. It gets nearly twice as much as Moreno Valley in targeted funds for dropout prevention, school safety and other special programs. It also gets nearly twice as much in federal funds intended for poor children, and it received more stimulus funds. On top of that, Oakland receives about $20 million each year from a parcel tax approved by local voters.
These accumulated differences were not anticipated when four decades ago, the California Supreme Court declared the state's system of financing schools unconstitutional. In the landmark 1971 Serrano v. Priest ruling, the court found that using local property taxes to fund schools resulted in vast differences between a wealthy district like Beverly Hills and Baldwin Park, a low-income community east of Los Angeles.
The Supreme Court ruled that differences in the basic amount spent per student – so-called "revenue limit" funding – had to be within $100 across all districts. Taking inflation into account, the permissible difference is now $350 per student. Although larger differences remain among some districts, disparities in the basic amount districts receive from the state have been substantially reduced.
But that reduction has been wiped out by local, state and federal funds for close to a hundred different programs. A large part of the money is based on formulas established in the 1970s for meals, transportation and other services that often have little connection to current student needs.
The inequities the court sought to alleviate with its Serrano ruling persist. About two-thirds of districts now spend at least $500 above or below the state average, according to California Watch's analysis.
"What happened since the Serrano case is that we tried to equalize base funding for students across the state," said Brownley, the Santa Monica assemblywoman. "But since then, we have instituted hundreds of different categorical funds that added to the base. That has taken it to another level and skewed spending again."
Calling all HuffPost superfans!
Sign up for membership to become a founding member and help shape HuffPost's next chapter