A spate of sea otter shootings in California has prompted wildlife officials to offer a $10,000 reward and release a plea to the public to find the source of the fatal attacks.
Three southern sea otters, also known as California sea otters, have been found dead in Santa Cruz County this month, and initial necropsy results show the animals had been shot, according to the U.S. Fish and Wildlife Service.
Two were juvenile males and one was an adult male. Estimates place their deaths in late July and early August. Officials suspect a fourth otter found dead on Aug. 20 was shot as well.
The otters are protected by the Marine Mammal Protection Act and California state law. Killing one is punishable with up to a $100,000 fine and jail time.
"Anyone with information about these or any sea otter shootings should contact the CalTIP line at 1-888-334-2258 (callers may remain anonymous) or the Special Agent of the U.S. Fish and Wildlife Service at 650-876-9078," USFWS said in a statement.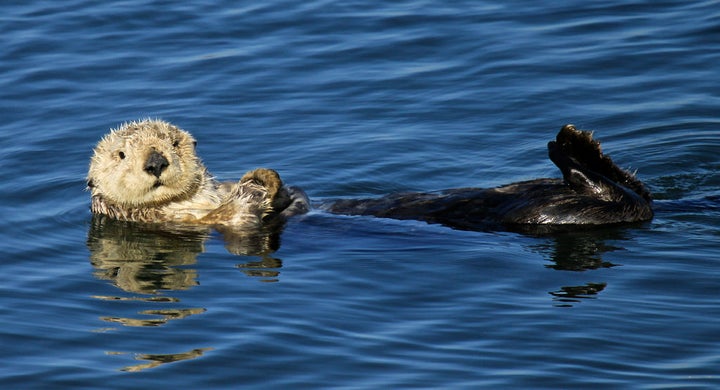 The reward offered ― provided by the Monterey Bay Aquarium, the California Department of Fish and Wildlife and an anonymous donor ― is "at least $10,000" for information leading to an arrest.
Other sea otters have been targeted recently in violent acts. Last year, a 71-year-old man was sentenced to 150 hours of community service and fined after shooting an air rifle at a baby otter. The otter wasn't injured, but officials said the act still warranted punishment for violation of the Endangered Species Act.
And in 2013, three were shot and killed in Pacific Grove, California, in what authorities called an "act of barbarism." No one was prosecuted in that case, according to The Mercury News.
The southern sea otter has been listed under the ESA since 1977 after being hunted to near extinction. There are now around 3,000 of the animals living in California waters, down from historic highs that numbered in the tens of thousands before the beginnings of the fur trade.
REAL LIFE. REAL NEWS. REAL VOICES.
Help us tell more of the stories that matter from voices that too often remain unheard.