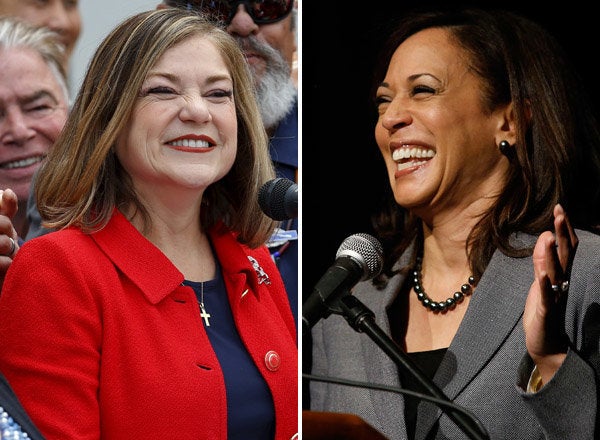 California Attorney General Kamala Harris and Rep. Loretta Sanchez came out on top in Tuesday's primary for California's open seat in the U.S. Senate, all but ensuring a woman of color will represent the Golden State in the upper chamber next year.
Harris and Sanchez are both Democrats. California has what's known as a "jungle" primary system, where candidates from all party affiliations compete against each other in the nominating contest. The top two vote-getters advance to the general election in November. (Thirty-four candidates, including 12 Republicans, ran for the seat this year, but most failed to gain any traction.)
No matter who wins in November, the election is expected to break some important barriers. Sanchez would be the first Latina in the Senate, while Harris would be the first black woman elected to the upper chamber in over two decades. Harris' mother was from India, which means Harris would also be the first South Asian-American in the Senate.
Either Sanchez or Harris would be the first woman of color to represent California in the Senate. November's election will also mark the first time a Republican does not appear on the ballot for a statewide race.
Harris, who has served as the state's top cop since 2011, announced that she would run for Senate shortly after outgoing Sen. Barbara Boxer (D-Calif.) said she would retire at the end of her term. Sanchez, a longtime member of Congress from the largely conservative Orange County, jumped in the race several months later. It's the first time a Senate seat has been open in California since 1992.
Polls going into Tuesday's primary showed Harris with a double-digit lead over Sanchez. But as the race shifts to the general election, that lead may diminish. Some California Republicans are reportedly crossing party lines and supporting Sanchez over Harris, arguing that the congresswoman is more focused on national security than her opponent and has more moderate views on gun control and other issues.
Harris, meanwhile, has drawn support from bold-name Democrats like California's Gov. Jerry Brown and Lt. Gov. Gavin Newsom and Massachusetts' Sen. Elizabeth Warren, as well as from progressive organizations like EMILY's List, Democracy for America and the Sierra Club.
Although this is California's first open Senate contest in over two decades, state voters aren't particularly interested in the race, especially since this year's presidential contest has been so dramatic and unusual. According to a USC Dornsife/Los Angeles Times poll released Friday, just half of likely voters said they're following the Senate race, while 20 percent said they don't care about it.
"The U.S. Senate race has become the abandoned stepchild of the California primary," Dan Schnur, director of the University of Southern California's Jesse M. Unruh Institute of Politics, said in a statement. "The presidential campaign has attracted such a high level of interest that the Senate candidates have barely been noticed."
The USC poll also shows Sanchez leading among Hispanic and young voters, while Harris is carrying the support of most black, white and older voters.
This article has been updated with information about Harris' mother.
Before You Go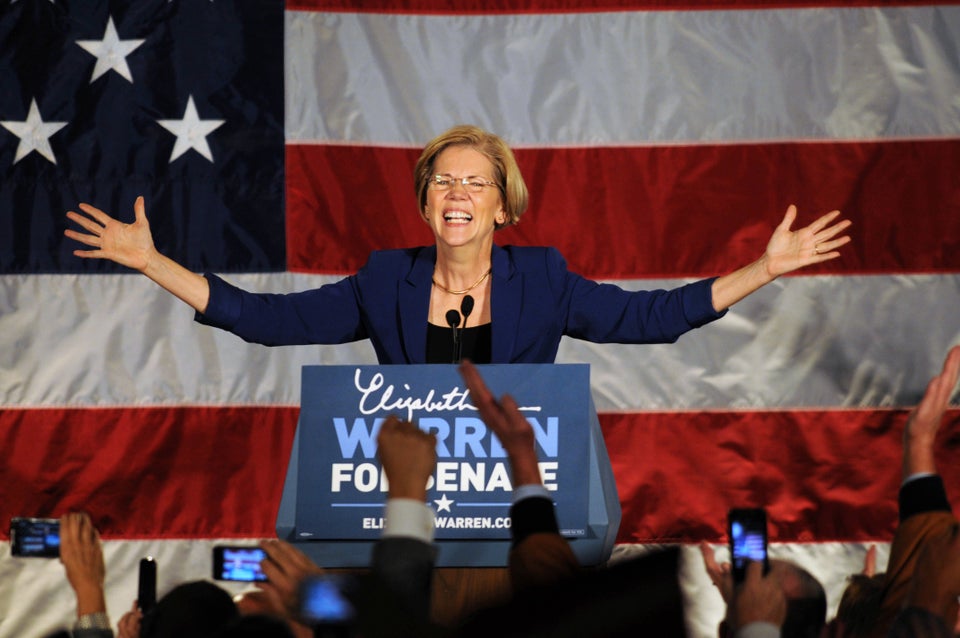 Women In The U.S. Senate
Popular in the Community