WASHINGTON -- At least one and perhaps as many as three men armed with long guns attacked a community center for people with developmental disabilities in San Bernardino, California, on Wednesday, killing at least 14 people. But unlike many mass shooters, the perpetrator or perpetrators of this crime weren't immediately caught. So what do San Bernardino police and other law enforcement agencies do now?
San Bernardino County's emergency operations plan allows for "curfew orders" and other "emergency regulations" in the event of terrorism or other "man-made hazards." But before they take any drastic measures, officials first need to calm a scared public, says Leonard J. Marcus, who co-authored a white paper that examined the police response to the 2013 Boston Marathon bombing as part of Harvard's National Preparedness Leadership Initiative.
"What they need right now is a lot of cooperation from a public that's very frightened," Marcus said.
Constitutional restrictions mean that lockdowns in terrorist or active shooter situations are generally voluntary.
"Generally speaking the police will request -- and they do quite often when you have an active shooter -- that people stay in their homes," explained Scott Silliman, director emeritus of the Center on Law, Ethics and National Security at Duke University. In these situations, police are asking the public for a favor -- and need the public's trust.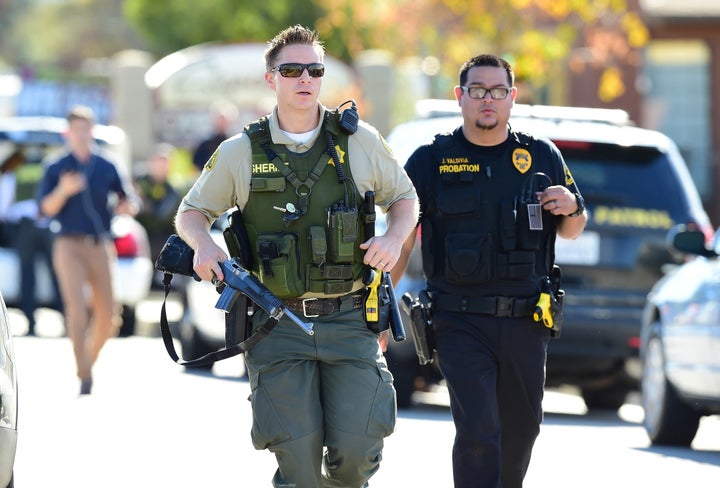 Police in Boston did not face much resistance from civilians in the aftermath of the marathon bombing because of their proactive approach, Marcus said.
"Because of the way that the leaders communicated through the media, the confidence that they established with the public, that people in the area where the manhunt was going on were very, very cooperative," he said.
Law enforcement officers also need to effectively use social media to distribute reliable information, especially because false reports will inevitably surface in such a chaotic situation. Senior law enforcement agencies that work in the area need to coordinate their activities quickly and set aside any rivalries.
"It's hard to know if you're at the beginning of the event, the middle of the event, or at the end of the event," Marcus said. "It's going to be very difficult for them to assure the public about when it is going to be over, and it turns out time is a source of stress in a situation like this."
Sometimes officials turn to bizarre measures to keep the public out of harm's way. After the Rev. Martin Luther King Jr.'s assassination in 1968, Boston politicians used city funds to pay for a televised James Brown concert in hopes of preventing riots by keeping people at home, watching the tube.
Even if the public cooperates with police measures, police themselves can create problems. "More than 2,500 officers from New England and New York arrived in Watertown," Massachusetts, in response to the Boston bombing, "many without orders to do so," the Boston Globe reported in April.
The alleged perpetrator or perpetrators of Wednesday's crime may prove hard to track. Cops are looking for whoever supposedly left the scene in a black SUV. But there are many black SUVs in the greater Los Angeles area. Law enforcement can fairly easily track cell phone signals, but for that, they need to know which number or numbers to track, explained Ross McNutt, who runs Persistent Surveillance Systems, a company that uses aerial surveillance to help law enforcement solve crimes.
There's no indication that cops know which cell phone signals belong to the attackers in this case -- or whether the attackers used cell phones at all.
"You'd need to have some cell phone record or some sort of item of interest" to track, McNutt said. "Otherwise you're in the same place, unfortunately, everyone else is."
Popular in the Community