Grief can be like an ocean — all-consuming and unpredictable in its symptoms. Collective grief is like an ocean if a cloud of fog suddenly descended on it: deep and violent but obscured, somehow not fully accessible.
For the past few days, I've felt the cloud of the collective grief that has consumed many others across the diaspora after two separate California shootings left 19 people, most of them of Asian descent, dead. This is similar to the grief we experienced after the Atlanta shootings in 2021, when six Asian women were murdered across three spas. And yet this time, there's something fundamentally distinct that has complicated our grief. In both instances, the alleged shooters were Asian.
This information provokes a double loss of sorts — a loss of innocent lives and another type that is much more abstract. "For AAPI [Asian American and Pacific Islander] people proximally and relationally removed [from the shootings], this could be an ideological loss — the disruption of the notion that we could feel safe from shootings within our own AAPI enclaves," Josiah Teng, a New York City-based psychotherapist, tells me.
At first glance, the identity of a perpetrator should not diminish our feelings around what they did — his background doesn't, in any way, change the outcome of the shootings themselves. But what it does do is send many of us into a state of emotional paralysis. What do we do with the knowledge of what feels like an unfathomable betrayal, that in both instances, the alleged killers were people who were weaved into the fabric of the communities they destroyed?
White supremacy is horrific yet predictable. That is also why for many of us, these recent mass shootings elude coherence.
Most Asians I know feel that these were indeed hate crimes, in the sense that it made existing in an Asian American body feel more precarious. But all over the internet, I've seen other people, well-intentioned and otherwise, point out the identity of the shooter to quell the distress that many of us are feeling. "But the shooter was Asian himself."
What they are really saying is that the shooter was like us, so he couldn't possibly be against us. But what they don't understand is how profoundly this deepens our fear. Violence, especially the white supremacist American kind, is easy for any marginalized person to understand. We've all experienced versions of it and are aware of its ability to metastasize into something bigger. Being made fun of for the smell of our school lunch would naturally lead to accusations that COVID-19 was a product of our filth. Being fetishized would lead to a man killing Asian women for their perceived "sexual deviance."
Again, white supremacy is horrific yet predictable. That is also why for many of us, these recent mass shootings elude coherence. I am sad because I know people who look like the shooter. I am sad because we're not supposed to do this to anyone, and much less to each other.
And then there's the timing of the shootings, which has added another layer to our grief and made it more difficult for us to process it together.
"The fact that these traumatic events occurred during the Lunar New Year, a time of celebration and gathering, makes processing the grief even more difficult, as this is often a time where traditionally we are taught to not think any bad thoughts or speak of any bad things," William Chum, a Queens, New York-based therapist, tells me. "This conflict further perpetuates the stoicism that many AAPI communities have learned to portray in traumatic events. Not feeling able to discuss the fear and grief is extremely damaging to our mental health and sense of connection and community."
This is not the first time a hate crime of this scale against a minority community appears to have been orchestrated by other members of that community. In addition to being Asian, I am also a queer person who vividly recalls these discussions. People speculated that the Pulse nightclub shooter's rage had festered from his own closet, and the Colorado shooter last year claimed to identify as nonbinary. And while the truth about both shooters' identities has been called into question, in both instances, we understood that their supposed queerness didn't take away from our mourning or fear because those identities didn't make us any safer.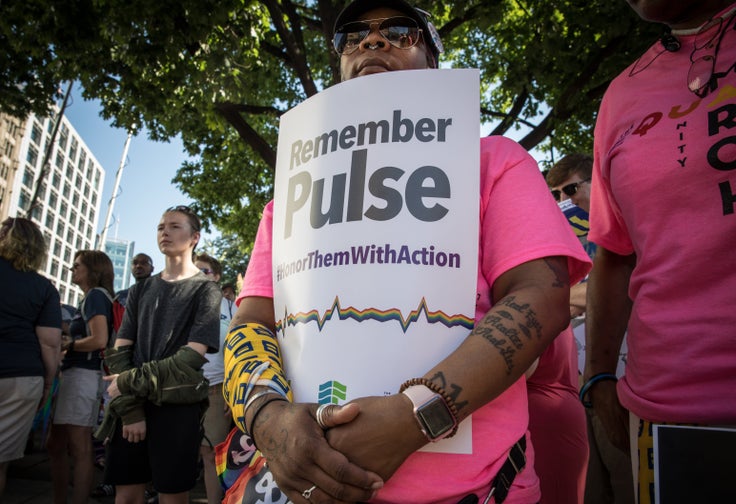 So in the face of the hate crime debate, we must not forget to center our own grief process — and the opinions of those who try to dictate how we should feel. "We are allowed to reflect, process, and hold space for how we're feeling without having to showcase it to the public or speak on behalf of the community," Jazmine Alcon, a New York-based mental health advocate and founder of API Mental Health, tells me. "Our humanity and community comes first before anything else." Alcon also recommends getting involved with mental health organizations that specifically work with the AAPI community, such as the Asian Mental Health Collective.
Also, keep in mind the potency of our mind-body connection, and the various ways in which your grief may be manifesting.
"Pay attention to what your body is telling you. Grief can manifest in body aches, muscle pain, tightness in areas, sleeplessness or heightened agitation," Teng tells me. "Be mindful of these sensations and take action to address your physiology."
Like Chum noted, the Asian American experience is often defined by an instinct to diminish our own feelings of grief and rage, to take up as little space as possible. But our feelings are real, relevant and nuanced. We know that regardless of who holds the gun, our lives feel darkly dispensable in this country. And until that changes, we're allowed to grieve.