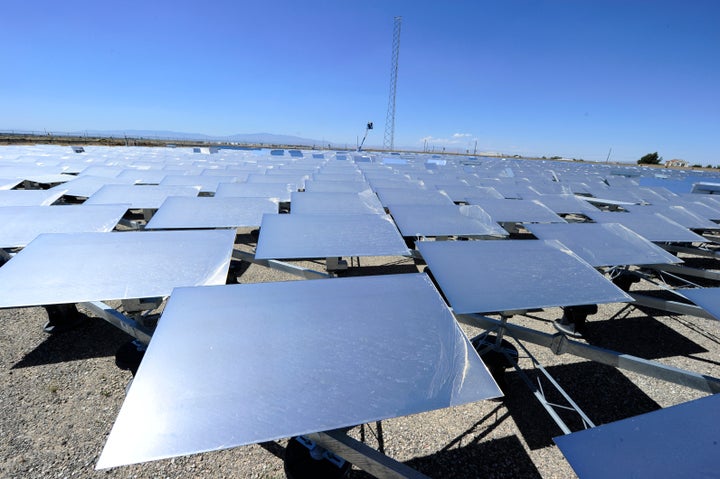 According to a new report, California's solar industry is absolutely booming.
The Los Angeles-based non-profit Environment California claims that the size of California's solar industry has doubled over the past five years. It is now generating over one gigawatt of electricity--enough to power around three-quarters of a million homes.
Easily the largest single center for solar energy production nationwide, California generates more solar power than either France or China.
"California can become the Saudi Arabia of the sun if it continues to get behind big, successful solar programs," report co-author Michelle Kinman told the San Jose Mercury News.
Much of the state's progress in solar power can be attributed to its ambitious $3 billion California Solar Initiative, a coordinated series of grant, rebate and loan programs designed to encourage individuals, businesses, farms and government offices to install solar panels and sell renewable energy back to the grid.
The initiative's eventual goal is to be generating three gigawatts of solar energy by 2016. The report estimates that California's total eventual capacity for producing solar power could run as high as 80 gigawatts.
The initiative has also helped cut the cost of going solar, the report argues. In 2007, the typical residential solar system in California cost about $10 per watt, according to state data cited in the report. This year, costs are averaging about $7.60 per watt, according to the report. (A typical home solar system generates about 3 to 3.5 kilowatts.)

But other forces are playing a part. Solar panel prices have plunged due to a flood of new production in China - the same flood that sank government loan beneficiary Solyndra. And solar lease programs, which allow homeowners to install solar systems without owning the equipment, have surged in popularity, now accounting for more than half of solar installations in the state.
Even so, some have yet to be sold on the idea that a decentralized system of rooftop solar panels will enough to satisfy the state's voracious energy consumption.
"I'm still skeptical of rooftop, residential solar," said Severin Borenstein, director of the UC Energy Institute and a professor at the Haas School of Business at UC Berkeley, told the Los Angeles Times. "[The panels generated a lot of energy], but we paid a lot of money for them. I don't think it's a good use of renewable funding."
The recent high-profile failure of the government-backed Bay Area-based solar company Solyndra has given ammunition to many of green energy's opponents, especially at the federal level, who have used the multi-million dollar fiasco as way to argue against further government funding of solar projects.
Worldwide, the solar industry is also growing at a rapid pace: 65 percent annually over the past five years. This increase is largely due to a dramatic drop in a the price of the solar technology; the cost of installing a solar system in the United States decreased by 17 percent in 2010 alone.
Last year, approximately 17 gigawatts of solar power were produced around the world.
Popular in the Community