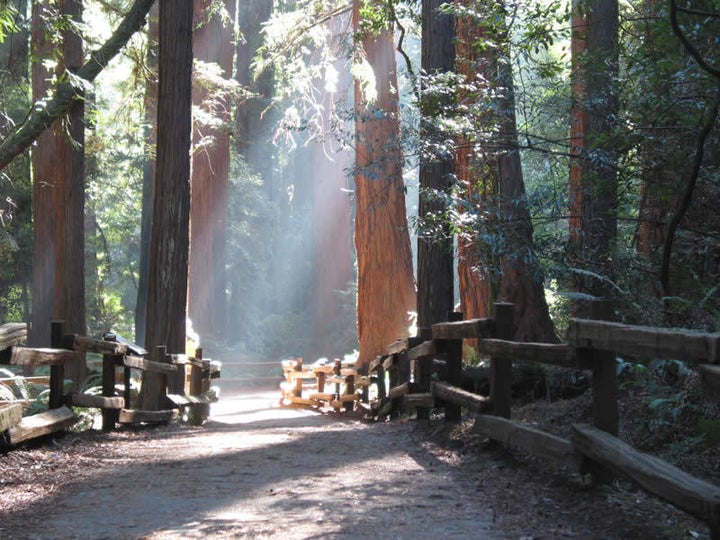 SAN FRANCISCO -- With only weeks to go before a full quarter of California state parks are scheduled to shut their gates due to budget cuts, a pair of Golden State legislators have proposed a last ditch plan to keep the spaces open.
State Senators Noreen Evans (D-Santa Rosa) and Joe Simitian (D-Palo Alto) have introduced a bill aimed at saving dozens of California parks through a combination of redirecting money from elsewhere in the state budget, drawing funds from vehicle registration fees and increasing the cost of entry into the parks.
"The notion of closing 70 state parks is fundamentally ill-conceived--it is penny-wise and pound-foolish--and it does not make sense to take what essentially would be irreversible actions if we go down this path," Simitian said during a Tuesday conference call announcing the legislation. "Ultimately we stepped back and said, 'There's got to be a better way.' "
While some of the precise details of the plan have yet to be hammered out, it will likely involve drawing up to $10 million per year from motor-vehicle funds, another $10 million from the Clean Water State Revolving Fund and $21 million from California's Local Assistance Program. These transfers would last for five years--hopefully long enough for the state's economy to rebound.
The bill additionally achieves savings by employing civilians to do jobs previously performed by comparatively more expensive park rangers, such as leading group tours and collecting entrance fees.
The plan more than covers the $22 million the state was hoping to save by shuttering the parks. The extra money will go towards addressing the over $1 billion in backlogged maintenance work the state's park system has long been putting off due to lack of funds.
The plan has gotten some early kudos from lawmakers on both sides of the aisle; however, members of the state's executive branch appear unconvinced until giving it a more thorough study. The San Francisco Chronicle reports:
Roy Stearns, a parks department spokesman, said he would not comment on...[the] bill.

The California Department of Finance has met with Simitian's staff and is researching his funding proposal, said H.D. Palmer, the agency's spokesman.
Governor Jerry Brown is expected to release a revised budget next week, which could set new funding allocations for the Parks Department.
A report produced by the California Legislative Analyst's Office earlier this year had another suggestion for saving the state's struggling parks system: handing the operation of certain parks over to the private sector. The report projected that by letting either non-profit or for-profit firms take over the day-to-day operation of certain parks, the state could save tens of millions of dollars annually.
Sen. Evans isn't in favor of that particular idea. "Once you privatize a park, you change the essential mission of the park -- it becomes about making a profit," she told The Huffington Post. "My own philosophy is that a state park should be owned and operated by the public. Any time you turn even a portion of a state park away from public control, you always have the problem that the park's interest becomes inconsistent with serving the public."
Over a dozen parks originally slated for closure have been saved by a variety of means, ranging from a takeover by the federal government, transfer to non-profit operation or through a large donation from a private donor.
This isn't the only bill designed to save the parks currently making its way through the state's legislature. Mill Valley Assemblyman Jared Huffman proposed legislation earlier this year that was met with wide bipartisan support.
Even if this bill passes and successfully saves many of the state's parks from closure, it will still have come too late for one California park. Providence Mountain State Recreation Area, near the remote Nevada border east of Bakersfield, has already shut down.
REAL LIFE. REAL NEWS. REAL VOICES.
Help us tell more of the stories that matter from voices that too often remain unheard.