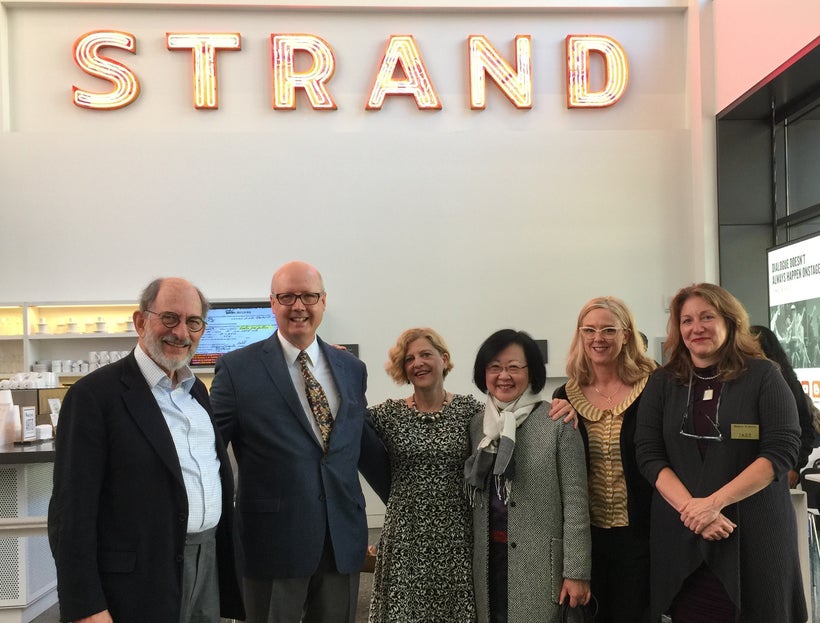 Working with 19 theatres across the country for nearly 40 years, Theatre Forward has seen the growth of its founding theatres from adventurous, risky ventures under the stewardship of visionary founders to today's prominent community institutions that have received national recognition and play a key role in regional economies. Can these legacies be sustained? How has the conversation changed? What does present success mean for the future?
In May, I took a whirlwind visit to two of our theatres, American Conservatory Theater (A.C.T.) in San Francisco, and Center Theatre Group in Los Angeles. Each theatre is celebrating its 50th anniversary this year. A.C.T. was founded by the iconoclastic Bill Ball, and for the last 25 years it has been led by artistic director Carey Perloff. Two years ago, they opened a second dynamic and intimate performance complex, the Strand Theater. This intimate space is focused on its Central Market neighborhood and provides the flexibility to stage a range of work in different formats, as well as educational programs, community group rentals, and performances by A.C.T.'s M.F.A. Program and its Young Conservatory students.
Part urban renewal, part community engagement strategy, part artistic R&D facility, the Strand was the site of presentations by high school students in the ACTsmart initiative that I came to see. (See the full story on Theatre Forward and ACTsmart here.)
ACTsmart brings theatre skills to San Francisco's continuation schools and it is part of Theatre Forward's Staging Success Initiative. I remember hearing it described shortly after its founding by Elizabeth Brodersen, A.C.T.'s Education Director, but I had never seen the program in action. The morning was electric. Immigration and police violence were top of mind to students whose writing and performances captured the tensions of their lives, and those of the nation at large.
Peter Brook's Battlefield, a continuation of his work on the Mahabharata, played at the landmark A.C.T. Geary Theatre near Union Square and I was excited to see it that evening. Simple, almost Greek in its essential structure, Battlefield conveyed elemental human emotions through a series of parables. The production continues the theatre's tradition of hosting international artists such as Dario Fo, Tom Stoppard, and Robert Wilson on this historic stage. Now in his 90's, Brook came to San Francisco from Paris in honor of their 50th Anniversary and spoke at community gatherings about the production.
It was inspiring to see the range of theatre practitioners—teenagers in their very first school production, written by themselves, hosted by the same organization that brought to San Francisco one of our era's most important theatre artists.
In Los Angeles, Center Theatre Group celebrated its 50 years with a two-hour celebration of its artistic history, followed by dinner for 800 at Grand Park in downtown L.A. CTG's legacy of world premieres includes Tony Kushner's "Angels in America: Perestroika," August Wilson's "Gem of the Ocean," Luis Valdez's "Zoot Suit," and Rajiv Joseph's "Bengal Tiger at the Baghdad Zoo."
Charles McNulty's coverage of the event in the L.A. Times is a virtual case statement for the role of all institutional theatres as they mature. Drawing from the final scene in "Angels in America," which premiered at CTG, McNulty said:
"Sitting in the dark, we identify not only with those characters onstage who are grappling with their destinies but also with the strangers beside us who are likewise in quest of meaning, clarity, compassion and truth. We should all aspire, if I may borrow from Prior's parting words, to be theatrical citizens. The rewards of consciousness and connection are profound, and when that stage magic comes together, as it has so regularly over the decades at Center Theatre Group, there's nothing like it."
Click here to read McNulty's full story.
As McNulty states in the story, the premise of these theatres has come under question. Competition with other entertainment media is fiercer than ever. Polarization and inequality make public gatherings and shared experiences more fraught, and even more uncommon. Let alone when the public is asked to share and explore the many difficult truths our country faces now. When every story has two opposite sides, when public discourse has become coarse and threatening, and when economic and public policy priorities are more pressed than ever, where does theatre fit in?
Michael Ritchie, Artistic Director of CTG, focused his remarks on a remarkable message received from a young woman who had participated in the theatre's youth programs, including seeing her first play, her participation in the August Wilson Monologue Competition, and an internship. Now, she was graduating first in her class from college, the first in her family to complete her degree. She attributed her success to CTG. "You've seen what we do," Ritchie said. "This is why we do it."
Homelessness, unaffordable housing, an unraveling federal safety net, the civic challenges faced in cities across the country threaten the very continuation of these theatres at this scale in fiscal terms.
Yet, listening to the ACTsmart students in San Francisco as they put everything on the stage, sharing the inspiration and courage one student found when she first experienced a play; and seeing the fruition of the art form in the hands of its leading practitioners, we are inspired that theatre can be a place of communal sharing and even healing. The line from those students to Battlefield to Center Theatre Group's 50th Anniversary Celebration is fine and bright.
REAL LIFE. REAL NEWS. REAL VOICES.
Help us tell more of the stories that matter from voices that too often remain unheard.
This post was published on the now-closed HuffPost Contributor platform. Contributors control their own work and posted freely to our site. If you need to flag this entry as abusive,
send us an email
.