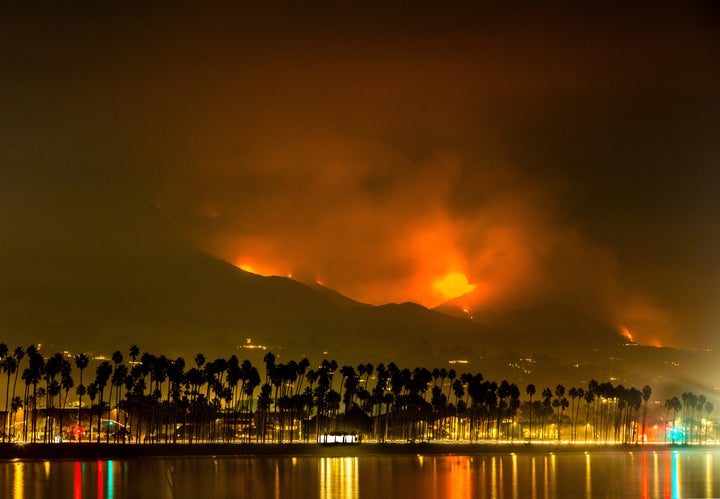 In some parts of Santa Barbara County, the Thomas fire has caused apocalyptic scenes. Ash is everywhere, the air is smoky and there's a persistent pink haze to the light that is like a constant dusk.
The Thomas fire erupted Dec. 4 and has been scorching Santa Barbara and Ventura counties since. The fierce blaze, rare for a December, has torn through 250,000 acres of land, destroyed 700 homes and killed at least two people, including a firefighter who died battling the monstrous flames. 
But among the invisible victims of the fire are hundreds of homeless men and women living in the area. While the fires have been burning in the surrounding foothills, the effects on the streets of Santa Barbara are dramatic.
"There's ash blanketing everything. It looks like a snowfall," the Rev. Julia Hamilton, head minister of the Unitarian Society of Santa Barbara, told HuffPost on Thursday. "Imagine lying down to sleep in the middle of this toxic ash. There's nowhere to go."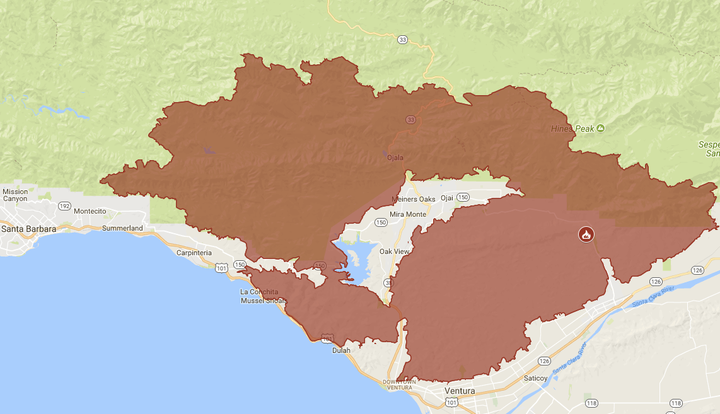 An estimated 1,500 people in Santa Barbara County live on the street or in shelters, according to a 2017 report by the Central Coast Collaborative on Homelessness, although the true number may be higher. For some of those already living outdoors, the health effects have been dramatic, aid workers say. 
A primary issue is the air quality. Public health officials warned in past days that, because of the smoke and ash, monitoring stations in the area recorded high levels of fine particulates in the air. They cautioned vulnerable groups, including children and seniors, to remain indoors. 
"But what if someone doesn't have an indoors?" Hamilton noted. "There's no respite for them from the air quality." 
Maria Long, a clinical psychologist and executive director of Santa Barbara Street Medicine, an organization that provides medical care to people experiencing homelessness, said people on the streets are already feeling the effects.
"People who have a history of asthma or weak lung capacity and respiration conditions are experiencing flare-ups. It's harder to breathe. They're getting headaches and eye irritation," Long told HuffPost. In the past days, Long's team has been walking the streets with medications, seeking out anyone who may need medical care.
Many homeless people suffer from health problems, from the wear and tear of life on the street and from the difficulty of getting medical care for conditions any of us could have. Roughly a third of homeless individuals in the city report having a disability.
Many of the homeless individuals whom aid organizations have served in the past days are seniors with medical conditions. 
Aid organizations have worked hard in the past days to provide extra shelter for those that need it, but for those who are still sleeping on the streets or can't stay in shelters during the day, their best bet to avoid inhaling too much smoke is to wear a mask.
Emily Allen, who directs veteran and homeless services at Northern Santa Barbara United Way, said much of her team's work in the past two weeks has been distributing masks to people on the streets, some of whom she said have been resistant to wearing them. On Wednesday, for instance, the sky was deceptively blue. On a day like that, Allen said, "people may be less likely to wear the mask or seek indoor shelter."
Long echoed the challenge of communicating the masks' necessity. "People in shelters didn't take the fire seriously the first day." Some thought people would be less likely to give money to them with their faces covered. "But now they're wearing masks, and they're scared." 
Some homeless men and women have also lost what they call home, said Rick Raine, who works with the Ojai Valley Family Shelter and Catholic Charities in Ventura County. Raine said he'd encountered individuals who had been living in the forested areas that have now been swallowed up by the fire. 
"That's what they called home, and their homes and all their belongings burned," Raine said. Where displaced residents have evacuated to the homes of friends and family, or even quit town entirely, the homeless can't.
"They couldn't evacuate. They were stuck here." 
How are we going to get the ash off the sidewalks and out of the street?"
Organizations across the county are pulling together to help homeless people cope. 
The Unitarian Society has opened its "warming center" in downtown Santa Barbara early this year to help get people off the streets and out of the "oppressive" smoke and ash. They continue to shelter roughly 40 to 50 guests per night. 
PATH, another local shelter that typically operates a 100-bed facility for people transitioning out of homelessness, opened up an emergency shelter on Dec. 5 to help get people out of the bad air and ash.
In addition to the warming centers and PATH, there are several other shelters in Santa Barbara and Ventura counties, including the Ojai Valley Family Shelter.
But many of those providing services to the area's unsheltered communities said there's simply a shortage of beds for those who need them, partly because one of the largest shelters in the city is being renovated.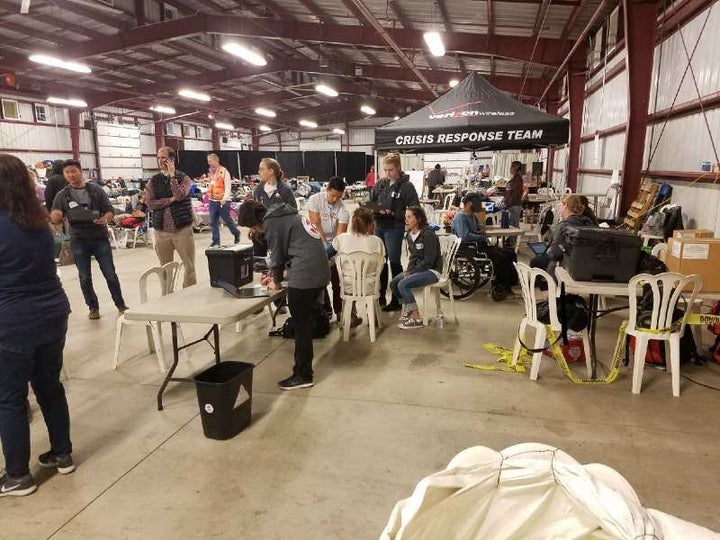 The California Department of Forestry and Fire Protection reported Friday that the Thomas fire was just 35 percent contained, and multiple evacuation orders were still in place in parts of Santa Barbara and Ventura counties. 
But even after the fire is fully contained, the ash will remain, and the homeless populations may face long-term challenges.
"Everything they have with them ― their packs, their clothes ― everything gets infiltrated with this ash. Everything they own will need to be cleaned," Hamilton said.
And reflecting on those who will continue to sleep outdoors, she added: "I look around and think, how are we going to get the ash off the sidewalks and out of the street? It's going to be a long time before we can say that it's cleaned up." 
Calling all HuffPost superfans!
Sign up for membership to become a founding member and help shape HuffPost's next chapter