Five states are refusing to comply with a request from President Donald Trump's voter fraud commission to provide personal information about registered voters, saying it's a waste of money that aims to justify voter suppression.
California, Virginia, Kentucky, New York and Massachusetts said they wouldn't cooperate with the request from Trump's commission, which on Wednesday asked all states to provide personal information about registered voters. In addition, North Carolina said it would only provide information contained in publicly available records.
Trump has claimed, without evidence, that millions voted illegally in last year's presidential election.
California Secretary of State Alex Padilla (D) said the voter fraud commission's request "is a waste of taxpayer money" that aims to ratify a false claim that millions voted illegally. Virginia Gov. Terry McAuliffe (D) called the probe "politically motivated and silly." Kentucky Secretary of State Alison Lundergan Grimes (D) said it was based on Trump's "lie" that millions voted illegally.
California, which had more than 19.4 million registered voters as of February, was the first state to announce it will not comply with the commission's request. Virginia and Kentucky soon followed. New York and Massachusetts joined them on Friday, and North Carolina announced its partial refusal to cooperate.
″I will not provide sensitive voter information to a commission that has already inaccurately passed judgment that millions of Californians voted illegally," Padilla said in a statement.
"California's participation would only serve to legitimize the false and already debunked claims of massive voter fraud made by" Trump, Vice President Mike Pence and Kris Kobach, vice chairman of Trump's Presidential Advisory Commission on Election Integrity, Padilla continued. "The President's Commission is a waste of taxpayer money and a distraction from the real threats to the integrity of our elections today: aging voting systems and documented Russian interference in our elections."
McAuliffe said in a statement there's no evidence of significant voter fraud in Virginia, and "the only irregularity in the 2016 presidential election centered around Russian tampering."
"At best this commission was set up as a pretext to validate Donald Trump's alternative election facts, and at worst is a tool to commit large-scale voter suppression," McAuliffe said.
"The president created his election commission based on the false notion that 'voter fraud' is a widespread issue ― it is not," Grimes said. "Indeed, despite bipartisan objections and a lack of authority, the president has repeatedly spread the lie that three to five million illegal votes were cast in the last election. Kentucky will not aid a commission that is at best a waste of taxpayer money and at worst an attempt to legitimize voter suppression efforts across the country."
New York Gov. Andrew Cuomo (D) said his state also would not comply.
Massachusetts Secretary of State William Francis Galvin (D) said his state won't comply with the request because the voter file "was not part of the public record," spokesman Brian McNiff said Friday.
North Carolina Gov. Roy Cooper (D) said Friday he had instructed election officials not to release information beyond what was public record "because I have concerns that it is an effort to justify the President's false claims about voter fraud."
Critics say that states would jeopardize sensitive personal information on voters if they turn it over, and that the probe is designed to lead to more restrictive voter measures.
Kobach, also the Kansas secretary of state, has a history of exaggerating voter fraud, and has pushed a requirement that voters prove citizenship.
The committee has been slow to assemble, but will meet for the first time on July 19 in Washington.
This article has been updated to include Virginia, Kentucky, New York, Massachusetts and North Carolina.
Nick Visser contributed reporting.
Before You Go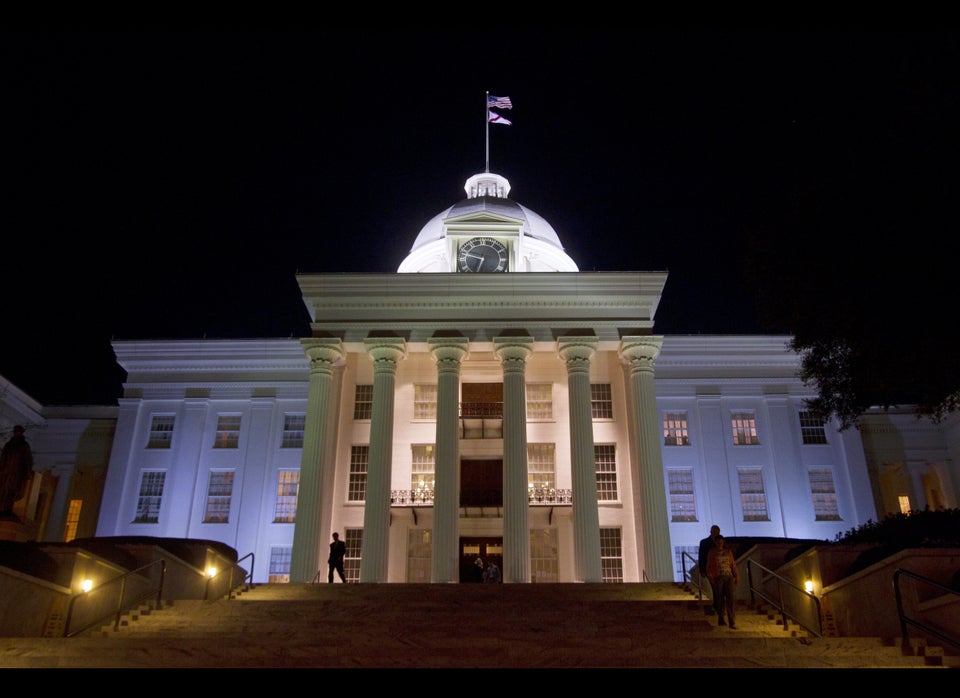 U.S. State Capitol Buildings
Popular in the Community