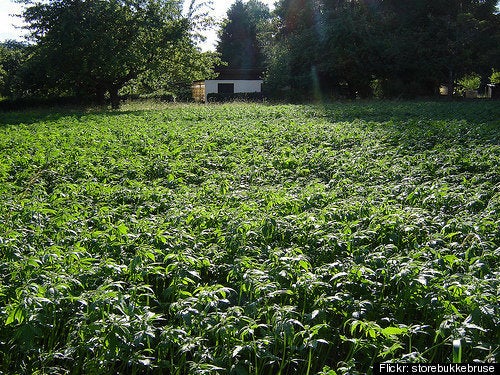 A new advertisement produced by the Marijuana Policy Project was launched this week with the intention of catalyzing new debate about marijuana policy. But in a move the ACLU describes as "bad citizenship," several major television stations -- including NBC, ABC, and FOX affiliates in Los Angeles and San Francisco -- have refused to air it, citing management's "comfort" and "standards".
The 30-second spot features "marijuana consumer" Nadene Herndon of Fair Oaks accusing the Governor and Legislature of ignoring millions of Californians who "want to pay taxes" on their marijuana consumption.
The ad is currently airing on KPIX (CBS 5 Oakland), KOVR (CBS Sacramento), KXTV (ABC Sacramento), KRON (San Francisco), and -- via California cable operators -- on MSNBC, CNBC, and CNN.
However, San Francisco ABC affiliate KGO-TV rejected the ad, telling MPP that they "weren't comfortable" with its content. KNTV -- San Jose's NBC affiliate -- also balked, saying only that "standards rejected the spot." KABC in Los Angeles told MPP on the phone earlier today that the ad "promotes marijuana use" and thus wasn't suitable for KABC viewers. Los Angeles-based KTTV (FOX) and Tribune's KTLA also refused to air the ad.
Alison Holcomb, drug policy director of the Washington ACLU, said that while the refusals obviously don't "implicate the First Amendment from a legal standpoint," she believes the practice "undermines a core principle underlying the First Amendment: that the strength of a democracy flows from the exchange of ideas."
Marijuana decriminalization is getting fresh attention due to broad public support of Assemblyman Tom Ammiano's bill -- AB 390 -- which would decriminalize personal possession of marijuana for adults and essentially treat (and tax) it like alcohol. Support seems to be building at the federal level as well, with several prominent members of Congress recently signing on to cosponsor Congressman Barney Frank's decriminalization bill.
But major hurdles remain for decriminalization advocates, such as this week's locking-of-horns with the management teams of major broadcast stations. MPP's Bruce Mirken told me that the stations' actions were "almost certainly legal, but that doesn't make them right or fair ... they're shutting out one side of a debate that our own governor says [we] should have."
This is not the first time the MPP and its brethren have encountered media double standards; in 2003, Comcast refused to run ads for the MPP-funded New Hampshire group "Granite Staters for Medical Marijuana". Comcast refused to explain their reasoning while simultaneously pledging $50 million in advertising to the Partnership for a Drug Free America. At the time, the PDFA gushed in a news release that it was the "largest single upfront commitment of advertising from a major media company in [our] organization's history." This, while Comcast was refusing to accept paid advertising from those arguing the other side.
The ACLU's Holcomb said such conduct "weakens our democracy and is bad citizenship."
The stations' management teams did not respond to requests for comment.
Related
Popular in the Community