Firefighters battling deadly wildfires in Northern California won't get a reprieve this weekend, when temperatures are expected to top 90 degrees in many of the areas affected by the blazes. 
The ongoing Valley Fire has burned 73,700 acres and more than 500 homes in Lake, Napa and Sonoma counties. It's currently 40 percent contained, according to the state Department of Forestry and Fire Protection (also known as Cal Fire). However, high temperatures could jeopardize efforts to further curtail the blaze: Forecasted highs in the region range from 88 to 100 degrees Saturday and Sunday.
Meanwhile, the Butte Fire has claimed 70,760 acres and 365 homes in Amador and Calaveras counties, and is currently 60 percent contained. Highs of between 93 and 98 degrees are expected in those counties this weekend.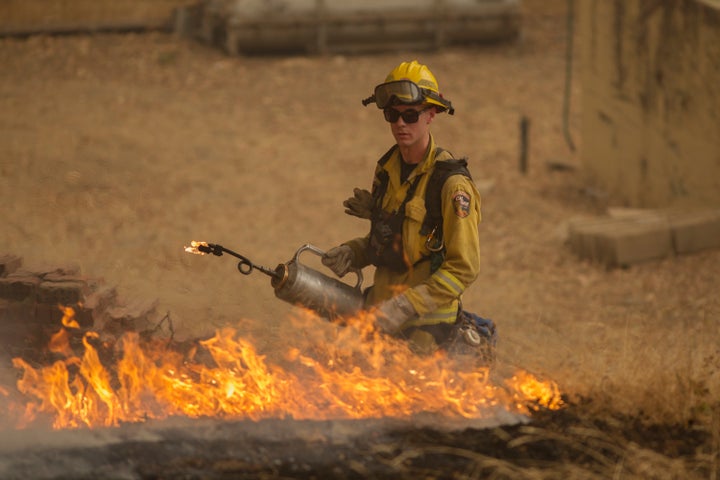 Lucas Spelman, fire captain for Cal Fire, compared fighting fires in high temperatures to working in your garden on a hot day with all your winter clothes on -- for 12 to 24 hours. 
"The men and women out there fighting this fire are trained mentally and physically for this type of thing," he said. "They're going to continue to fight this fire to the best of their ability."
As temperatures rise this weekend, firefighters will be encouraged to take frequent breaks, drink lots of water and watch out for one another. They'll also be given calorie-packed meals to help keep their energy up. 
While firefighters have made immense progress in controlling the Valley and Butte fires, Spelman noted that higher temperatures do raise the risk of fires rekindling or jumping containment lines.  
"Even though the fire isn't burning out of control, we never act like we've got it taken care of until it's completely out," he said. 
California is currently experiencing its worst wildfire season on record, with 92 percent of the state in a severe drought. There have been 5,225 wildfires in 2015 thus far, up 1,583 from the average over the last five years.
The Valley and Butte fires, which both broke out last week, have been some of the season's most destructive blazes, forcing hundreds to evacuate their homes. The fires have also claimed at least five lives.
California Gov. Jerry Brown (D), who has declared a state of emergency in the affected counties to free up more firefighting resources, described the fires as aggressive, unpredictable and "scary" earlier this week.
"We are really in a battle with nature and nature is more powerful than we are," he said.
PHOTO GALLERY
California Wildfires
Calling all HuffPost superfans!
Sign up for membership to become a founding member and help shape HuffPost's next chapter