In a region famous for its wine, another cash crop grows as well: cannabis.
And just like its vinous brother, it, too has been hit hard by the wildfires in Northern California, where raging flames in the last week and a half have destroyed entire farms ― and farmers' livelihoods.
So far, at least 34 cannabis farms in the region have seen substantial losses from the fire, California Growers Association Executive Director Hezekiah Allen told HuffPost on Wednesday.
And the number of farms whose crops were damaged by smoke and ash but not burned directly is far higher, he said, in the "dozens, if not hundreds."
Unlike wineries or other farms with more conventional crops, cannabis growers don't have access to federal crop insurance, due to marijuana's continued illegal status, making their financial losses all the more catastrophic. (One grower who asked to remain unnamed told HuffPost their losses exceed $1 million.) And since the industry also has limited access to conventional banks, loans that could put farmers back on their feet will be hard to come by.
The lack of conventional banking services hits hard in other unexpected areas as well. One farmer who spoke to HuffPost kept significant amounts of cash on hand due to federal banking restrictions. When the fire hit, it literally burned through their revenue that they kept in a storage area on the farm.
Erich Pearson, CEO of the San Francisco Patient and Resource Center, is one grower who sustained devastating losses. His roughly 400-acre farm in Glen Ellen is just down the road from where the Nuns Canyon Fire started last Sunday, expanding rapidly into a behemoth that's so far destroyed 54,423 acres.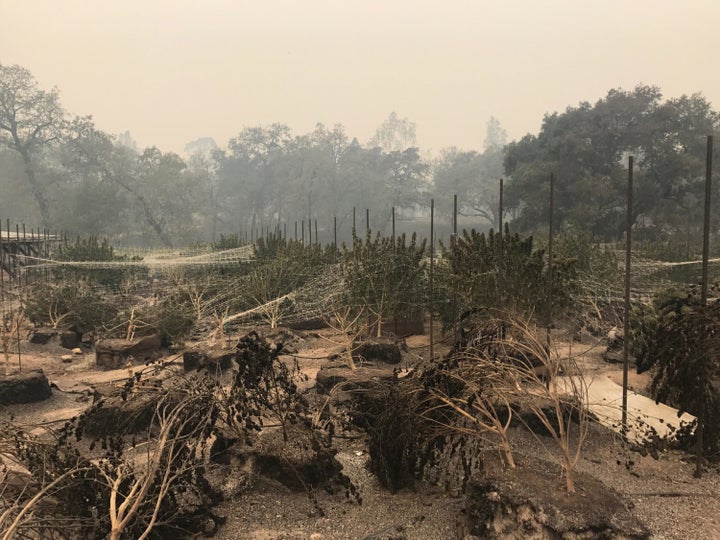 "We lost just about everything, really," he told HuffPost. "We have some plants still left in greenhouses, but ... everything we had harvested to date went up in flames in one of the mini barns that burned to the ground."
"All of the structures, with the exception of one home, were burned down. There were four homes on the property, three homes have burned down and all of the barns," he said.
Pearson declined to put a dollar amount on the losses, but noted it's harvest season, so many growers ― himself included ― had their entire year's crop on hand.
Despite the setback, Pearson considers himself lucky. He plans to rebuild and replant in time for the next growing season, describing his crew as "a resilient bunch."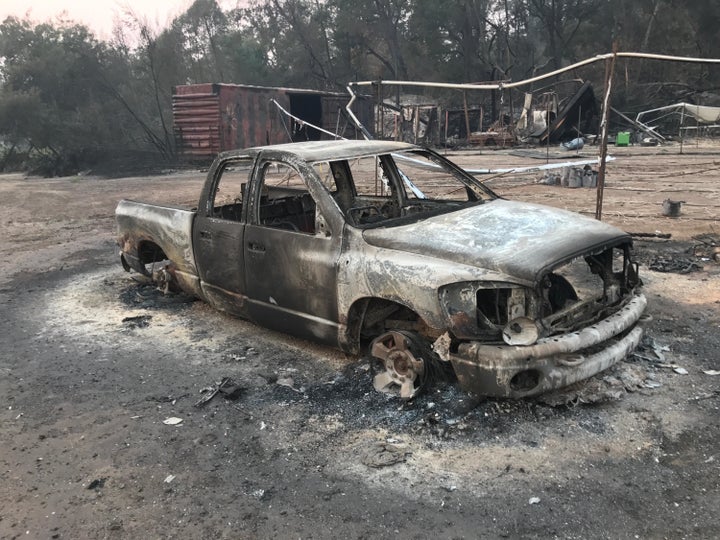 "We are a pretty big organization," he said. "This is not all of our eggs in one basket, so we can take a hit and keep moving forward."
"For a lot of small farmers though we're concerned," he added. "This is the year that regulations are kicking in and also the price of cannabis is falling, so a lot of growers are growing more than they normally do, have invested more to grow that larger quantity and also have spent a significant amount of resources on regulatory compliance in anticipation of a new market, building structures, and things like that."
California produces vast amounts of marijuana. Farmers saw a bumper crop this season, which ensured that these losses, while devastating to individual farmers, are unlikely to impact pricing elsewhere in the state.
Farmers in this northern region of the Golden State, known colloquially as the "Emerald Triangle," have been growing the plant since the 1960s. The industry blossomed in 1996 when California became the first state in the nation to legalize marijuana for medical purposes. Now more than 20 years later, 28 other states have also legalized medical marijuana and California, along with seven other states, have legalized the plant for adult recreational purposes.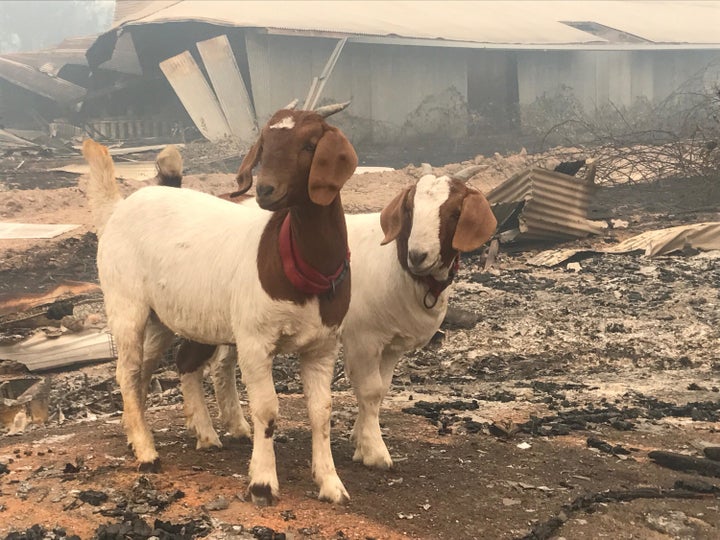 About an hour north of Pearson's operation, Ashley Oldham of Frost Flower Farms in Redwood Valley had a harrowing tale of escape, leaving behind a thriving business and a home that burned to the ground minutes after she evacuated.
Oldham told HuffPost she awoke around 3 a.m. Sunday to a friend banging on her door and screaming, as she was otherwise totally unaware the hills surrounding her house were on fire.
"I'd been hearing these big banging sounds and kind of woke up to that a couple times, but for some reason in my half-dreaming state I thought it was the sound of my greenhouse doors slamming," she said.
"That's when I realized those exploding sounds were actually the propane tanks exploding all around me throughout the neighborhood."
"That's when I realized those exploding sounds were actually the propane tanks exploding all around me throughout the neighborhood."
While she initially estimated she had 30 minutes to evacuate, the 100-foot flames descended on her property almost immediately. Aided by her friend, she grabbed her daughter, her dogs and a filing cabinet, then fled.
"Within 15 minutes of me getting out, my house burned to the ground," she said. "All my product and all of my money didn't make it."
Oldham credits her friend ― whom she says deserves "superhero status" ― with saving her and her daughter's life.
Though she lost all of her harvest this year and her property sustained serious damage, Oldham plans to rebuild. She hopes the county can show some flexibility in its permit requirements for people like her.
As an example, she noted for her to be in compliance with county code she has to have a fence, a permitted residence and a permitted septic system on site. All of those were destroyed overnight in the fire.
"Are they going to give me time, like waive that for a year while I rebuild?" She wondered. "I would hope so."
"It's my life's work, lost."
Support HuffPost
The Stakes Have Never Been Higher
Popular in the Community