This past Friday, more than a week after the Camp wildfire erupted in Northern California's Butte County and reduced the town of Paradise to ash, officials released gut-wrenching new figures: In addition to at least 71 fatalities, the number of people still unaccounted for in that area had soared to more than 1,000 ― up from 631 one day earlier.
By Saturday, those numbers had climbed yet again, to 76 deaths and nearly 1,300 missing persons.
Many feared that surge in the number of unaccounted-for people meant the final death toll from the blaze, already the deadliest and most destructive wildfire in California's history, would grow significantly. But Butte County Sheriff Kory Honea has stressed that the list is raw data and does not necessarily paint an accurate picture of who is missing.
To describe the task of getting a precise count as "difficult" would be a wild understatement, Honea told HuffPost.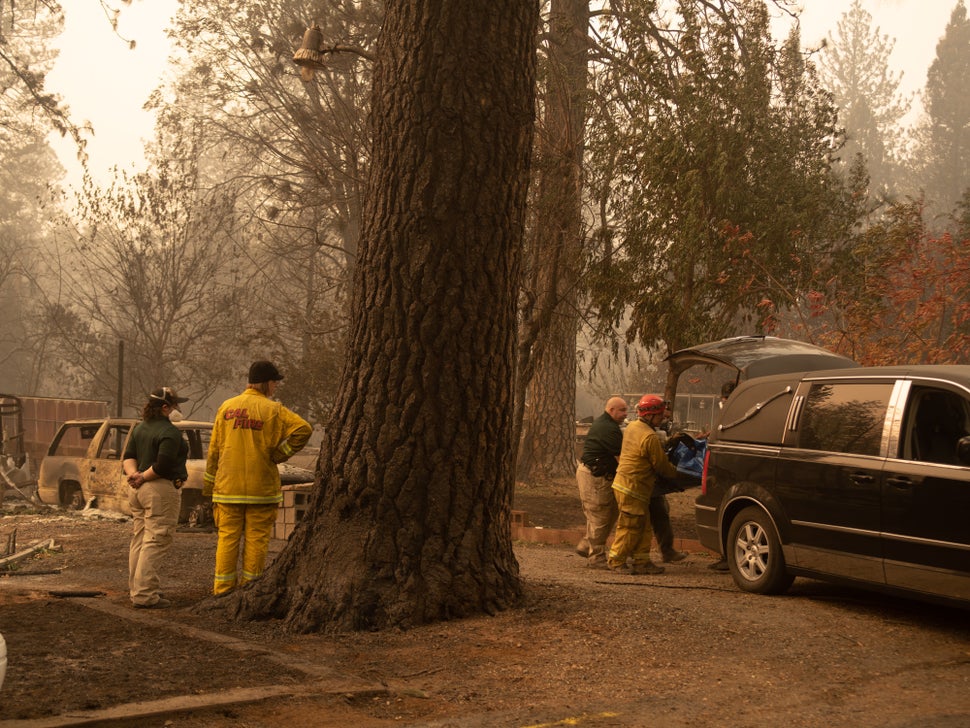 "It would seem that it would be very simple ― just call in and give us the names," the sheriff said. "But given how chaotic this situation has been, the magnitude of the situation, the number of people that we've had to evacuate — it's nowhere near as simple a task as one might think it is at first blush." 
The weekend's dramatic increase in the still-missing count came after officials went back through the massive volume of emails and 911 calls that poured in during and after the inferno swept through Paradise and the surrounding area. In the early stages of the fire, overwhelmed dispatchers simply took down the caller's name, the caller's contact information and whom a caller was looking for. The sheriff's office has since ramped up its resources and combed through those communications, compiling a master list of every person flagged as unaccounted for.
The list is constantly changing. It has included duplicate names and even people who died years earlier. Those who called to report someone as missing don't always call back when they've located that individual. In "many, many cases," Honea said, people on the list have turned out to be safe, completely unaware that someone was worried about them.
"That, I think, owes to the fact that the normal course of how people stay connected with their circle of friends and family has been disrupted," Honea said. "They've been evacuated. Their text messaging, cell phones, landline phones, email, all of that has been disrupted."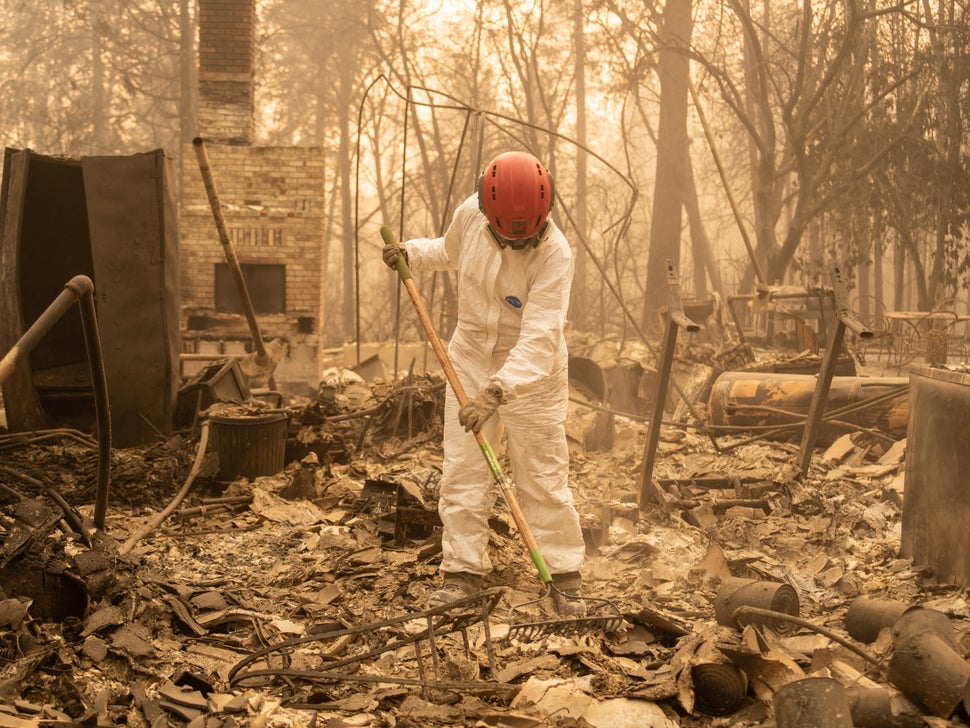 The character of the community in Paradise and surrounding towns like Magalia and Pulga has made this search particularly challenging. Many residents chose to settle down in the foothills of the Sierra Nevadas for the isolation. Some of them are notoriously private; many wanted to live off the grid. They include a lot of lower-income retirees. As a result, a significant number of residents lack cell phones, as well as family and friends in the area whom they might get in touch with after they've evacuated.
Honea reasoned that it would be best to put every possible name on a list, push it out to the public and work through it by asking the community for help locating people. The alternative would have been to tackle it internally.
"My thought process was progress over perfection," Honea said. "The list will fluctuate up and down. As we get more data pushed into it, you'll get more information."
Some 5,000 firefighters continue to battle the Camp fire, which as of Tuesday morning was 70 percent contained. Since Saturday, Butte County officials have also managed to confirm the whereabouts of hundreds of people who were previously unaccounted for. As of Sunday evening, just shy of 1,000 people were on the list, down nearly 300 from one day earlier. And by Monday evening, the count of the missing stood at 699.
"I don't know when I'll feel good again," Honea said Monday evening. "But I'm encouraged by the drop. … I'm optimistic about the process that we have going and I feel like we are getting our arms around it." 
Members of the sheriff's search and rescue team, as well as volunteers, continue going from property to property, using tools and cadaver-sniffing dogs to search for human remains. The death toll from the Camp fire rose to 79 on Monday, after officials discovered the remains of two more people.
The fire has scorched more than 150,000 acres and destroyed nearly 17,000 structures, including 12,637 residences.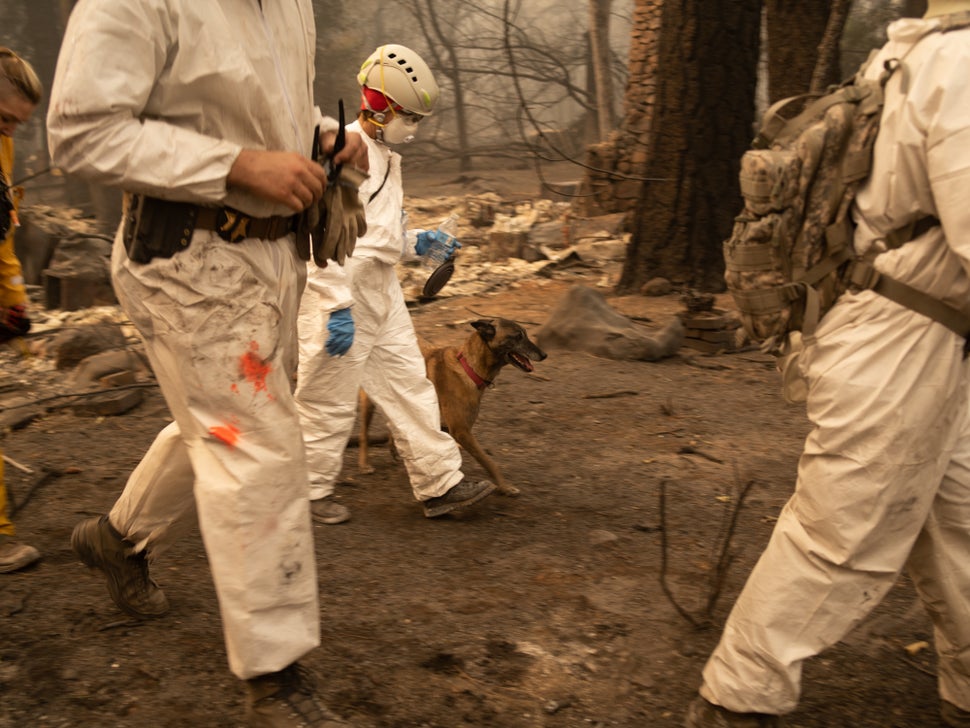 The Camp fire is by far the most destructive wildfire in California's history, topping the 2017 Tubbs fire, which torched some 5,600 structures and killed 22 people. Fourteen of the state's 20 most-destructive fires on record have occurred since 2003.
Additionally, 15 of the state's 20 largest fires on record have occurred since 2002. The Mendocino Complex fire, which burned more than 450,000 acres north of Santa Rosa in July, surpassed last year's Thomas fire as the largest wildfire in California's history.
During his visit last week, Zinke said, "This is not the time for finger pointing." He repeated that line in a Sunday interview with Breitbart News, only to turn around and blame "radical environmentalists," as he often does, for the disaster.
The Trump administration continues to ignore the scientific research showing that climate change is contributing to extreme fires out West and that the effect is expected to worsen as climate change drives up global temperatures and fuels droughts.
Jenavieve Hatch contributed to this report.
REAL LIFE. REAL NEWS. REAL VOICES.
Help us tell more of the stories that matter from voices that too often remain unheard.